Dior made more than a bit of a statement with its Spring 2011 accessories collection, and if you're itching to get your hands on a piece of the brand's lighter, younger handbag aesthetic, Bergdorf Goodman would like to let you start that process now.
The Dior Cannage Tote was first introduced as a Resort 2011 piece, but with Bergdorf's pre-orders expected to arrive in April, that seems to indicate that it will be part of the Spring 2011 non-runway collection as well. (Or maybe instead? Has anyone seen earlier-arriving orders for this bag?)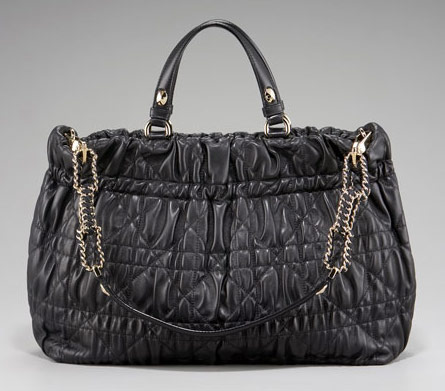 Whichever collection this bag may technically reside within doesn't actually make a lick of difference in its wearability or functionality, both of which this bag has in spades. But it also has something else which has been missing from Dior over the past few seasons – easiness, suppleness, and the ability to be used as an everyday bag by women spanning a wide range of ages and life experiences. Perhaps only Dior's Granville tote has similar achievements in those areas in the recent past, and that bag became so popular with celebrities that I got quite tired of writing about it over at BagThatStyle. Here's hoping that Dior has the same success with this tote. Buy through Bergdorf Goodman for $2600.