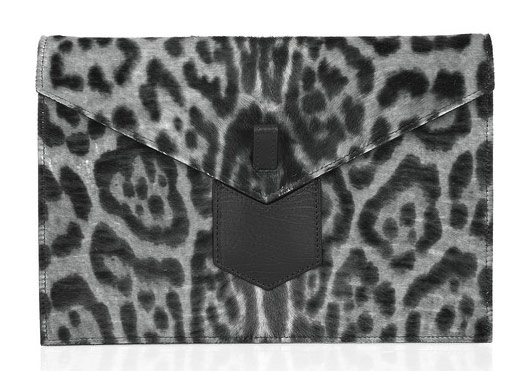 There's nothing to dislike about the Yves Saint Laurent Printed Calf Hair Clutch and I won't let you or anyone else tell me otherwise!
Leopard is a certified trend for the time being, and I tend to like grey leopard just as much as, if not more than, the traditional kind. Not only would actual leopards look really cool if they sported this color combination, but the mixed tones of grey and black tend to have a slightly harder edge than their tan counterparts. Lucky for me, then, that I got to fondle this clutch in person the same day that it showed up on Net-a-Porter.
Calf hair's texture varies widely from brand to brand, and the type that Yves Saint Laurent uses is one of the softest that I've felt. The color variation is excellent, and for those among us who want to embrace the trend without committing to a larger bag or a brighter color scheme, this little clutch is perfect (not to mention much less expensive than the YSL Leopard Roady.) Buy through Net-a-Porter for $995.