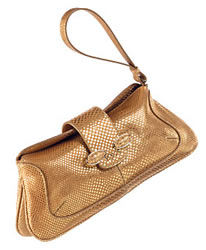 Continuing our report on Parisian fashion, we turn to one of our more elegant, less in-your-face designers, Tod's. The Tod's two story store was conviently located right across from Hermes' plex and impressed with a clean, white store front. The two large windows immediately gave us a good idea on what there was to be expected inside the store: tons of chic bags.
Hung on a filigree brushed steel holder, Tod's Venghe Pochette in silver seemed to stand out above all other handbags. The clutch's fancy name already suggests a plethora of elegance, but its live appearance revealed some very nice features that rank it right up there among our favorites. The pochette screams of attitude and is the perfect companion for a dazzling night out. The Venghe Pochette is made from exotic karung reptile leather that shimmers like a disco ball when the spotlight hits it. It may have actually just been the sparkling from the fluorescent tubes in the store that drew us over to the bag, now that I think about it.
However, the clever feature about this clutch was revealed upon taking a peak inside: the fold-over top is enhanced with discreetly hidden magnets that smoothly snap the flaps in place. It was so nifty in fact, that I couldn't stop playing with it. Its inside is made of fine satin-finished textile lining while a beveled bottom allows bag to sit upright at times it's not in action. The silver bag went for EUR 780. In the US, it is available from ELuxury in gold for only $745. It's all relative afterall.