Well. I guess we know what happened to the rest of Megs' pink fox.
I'm sorry, that joke was inappropriate. I'm one of those people that makes terrible jokes at the worst times when I'm uncomfortable. And, suffice it to say, the Roger Vivier Foxtrot Clutch makes me really uncomfortable. I think it's looking at me. It's like one of those creepy haunted house paintings where the eyes move to follow you, and come to think of it, that's exactly where this clutch belongs – in a house of horrors.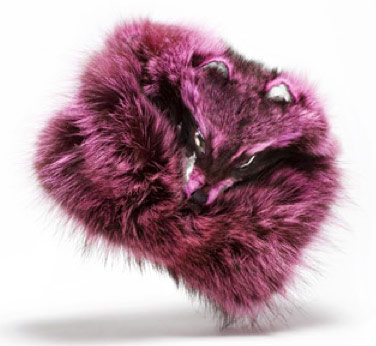 Let's get this out of the way first: I don't buy or wear fur personally, but I don't have any ill will toward those that do. It's not my business, just like it's not my business if you're a vegetarian or if you drive a gas-guzzling car (which I do, but I digress.) What I have a problem with, however, is bad taste and a gross disregard for those that have to look at you, and this clutch exhibits both.
I don't think that anyone that buys leather bags would want a cow head attached to her purse, and as such, I don't think that condoning the use or consumption of fur means condoning the idea of having an actual animal head hanging from your bag. I know that older furs often left heads and feet attached, and I can't understand, for the life of me, why anyone would still consider that a good or fashionable idea. I also can't imagine why Style.com would include something so poorly designed or that so gratuitously flaunts death in their Fall Accessories Report. Vivier makes some beautiful shoes and accessories, but this makes me look at the line in a new light, and not a good one.
Image via Style.com.