We've featured several non-leather clutches in the past few days that have had price tags north of two grand, and commenters seem displeased at such prices for bags that aren't made out of some kind of animal-derived material. Well! We certainly don't want anyone to be displeased, so I present for your consideration the Pauric Sweeney Tullio Lizard Clutch.
It's made almost entirely of exotic lizard skin, it has clean, architectural lines, and the combination of neutral colors would go with a variety of nighttime looks. At only slightly more than $1000 for all of that, the price sounds positively fair when looked at in comparison with the clutches we've written about recently.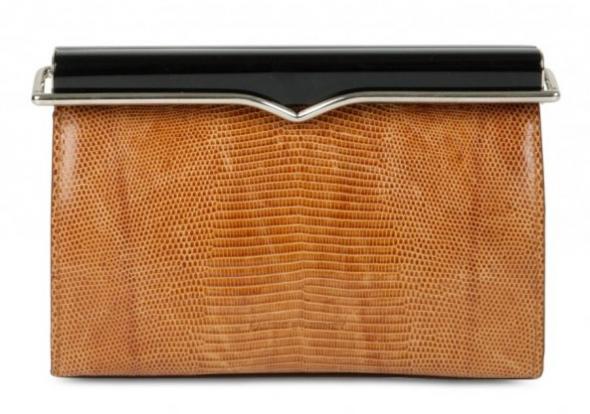 The clutch may be simple, but its details are perfect, and that's what counts in any design. The smooth, black patent of the small top flap provides and excellent foil for the nubby texture of the tan lizard below, and the gentle dip in the metal bar separating the two is a well-edited flourish.
While this clutch may not be cheap, it certainly presents a better overall value than a lot of options that we've seen recently. Plus, the bag is timeless enough in its lines and composition to be a closet staple for years to come. Buy through Luisa Via Roma for $1088.