You know what I really appreciate? The return of the oversized clutch. I've got lots of keys, a keyless-entry fob for my car and a Blackberry with a case on it, all of which have to leave the house with me no matter what. I've encountered a fair number of miniscule handbags that wouldn't have fit one of those items by itself, let alone all of them together – don't even think about adding in a lipgloss or card case.
The designers at Miu Miu know my struggle, obviously, which is why they've been so kind as to create the Miu Miu Oversized Sequin Clutch. Finally, I can carry a sparkly little bag that's not actually too little to be useful.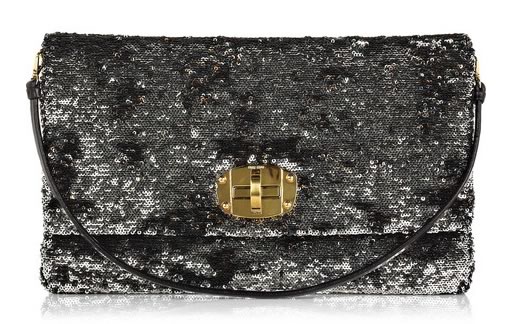 Miu Miu did a good job of keeping the colors of this clutch neutral so that it won't overwhelm an outfit – when a bag is this big and this shiny, also choosing a statement color would perhaps be too much for a lot of potential customers. The subtle gold, silver and green variation could go nicely with a lot of different outfits without upstaging the other elements of an ensemble. In addition to all of that, if you need your hands free for something, it has an optional strap. Sign me up, please. Buy through Net-a-Porter for $995.