Anyone who watches Project Runway with any regularity knows that Michael Kors is all about classic American sportswear, and his handbags usually reflect that ethos. They're rarely fashion-forward or challenging, but they're almost always made in functional shapes and of beautiful leather.
The Michael Kors Hadley Python Clutch is about as edgy as Kors gets, but as the old saying goes, nothing ventured, nothing gained. With this design, the brand has gained itself a place in fall's military trend as well as my handbag-loving heart.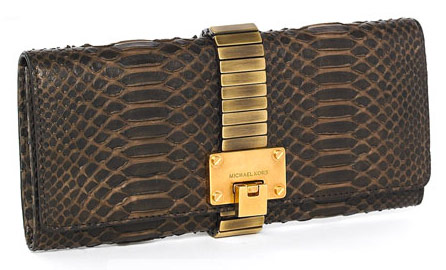 Brown python perhaps isn't very edgy, but the color variation in this instance is just enough to perfectly accent the natural texture of the python, and the slightly bronze finish gives the material a bit of a Mad Max feel. The closure is easily the most interesting part of the design, however, and it simultaneously looks like the strap of a perfectly aged vintage watch and some sort of post-apocalyptic metal belt. Since the lines of the clutch are simple, all of those subtly different elements work together to make one beautiful clutch with lots of style. Buy through Neiman Marcus for $995.