It's so rare that Nancy Gonzalez makes a misstep. Her handbags may not be revolutionary, but it's nearly impossible to go wrong with exotic materials, beautiful colors and simple shapes. It appears as though she has handbag design nearly down to a science.
The Nancy Gonzalez Hand-Held Croc Clutch is merely the most recent in a long line of sartorial successes from the brand, and as always, I'm drooling over it. Bicolor bag design is difficult to do well (as we're also discussing over at PurseBlog Savvy currently), but I have absolutely no complaints about this clutch. Well, other than the fact that it isn't in my closet, of course.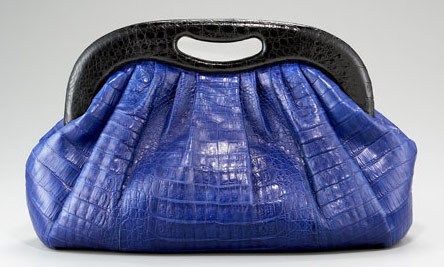 The slouchy finish of the blue croc attracts me to this clutch more than anything else. Crocodile is usually a material reserved for structured, rigid bags, and I always enjoy seeing it used in a soft and touchable way. And if you purchased this clutch, you'd be touching it a lot – not only is it beautiful, but at 16 inches wide, day-to-night transitions would be effortless. Buy through Neiman Marcus for $3200.