One complaint I've long had with Balmain's handbags and shoes is that they never seem to embody the luxe-punk aesthetic of the brand in quite the way that the clothes so convincingly do. As the old saying goes, it looks like I should have been careful what I wished for.
For what it's worth, the Balmian Safety Pin Leather Clutch is a bag that finally looks like it belongs under the same name as Christophe Decarnin's ready-to-wear. As it turns out, though, that's not such a great thing.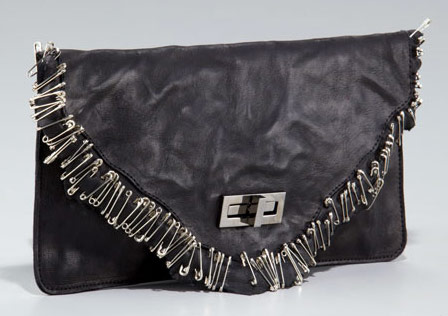 Look, I get the whole punk thing. I had a black crossbody bag covered with safety pins when I was in high school, and it's probably still in the back of my closet somewhere. But that bag was cool, not only because I was 17, but because I had bought it at a thrift store and put the safety pins on it myself. I was an actual part of the subculture that the look represented, unlike the millionaires (and the models who spend their money) who will buy this clutch with its artfully pre-arranged safety pins and not realize that not only do they look very 2009, but they also look like morons because they spent a grand to have someone else attach safety pins to a black envelope clutch. Although if you like this bag, I have a one-of-a-kind crossbody I'd like to sell you.
I dunno, you guys. I'm just feeling a little aggro today. Let's call it Fashion Week stress. Still, though, my point stands. Balmain needs to take a lesson from Alexander McQueen on how to translate this aesthetic to luxurious, artful accessories. Buy through Neiman Marcus for $1210.