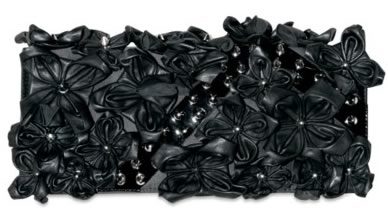 I have a fantastic clutch that I love to bring out. It is a clutch that is textured, elegant and nothing short of fabulous. Of course I have my own preferences and you do as well. However, no matter who likes what, there is something utterly fantastic about this clutch. I cannot get over how luxurious the detailing at the front and the back of this clutch is. For some, the front might seem overdone, but it's not. It is perfect for the right occasion and with actually more outfits that you can think of.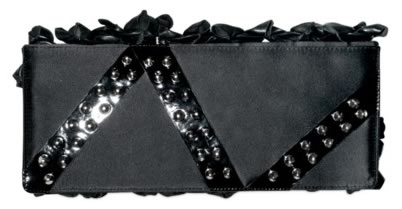 This DSquared Leather Flower and Satin Clutch is one that I voe to make my own. Before I start writing about the details, I have to write about how extremely versatile this clutch is. It might surprise you, but this is the kind of clutch that would be awesome with a pair of boyfriend loose fitting jeans and a button down shirt. At the same you could use this clutch with an awesome short or long dress, or perhaps a pair of your favorite skinny jeans and sparkly top. You can beat that.
Now the clutch itself, again, it is gorgeous. It is hard to miss all of the leather and satin flower detailing at the front of the bag. If that same detailing was on the back, I would say it was too much. But turn the clutch around and you will find a much more sleek look. A slight bit of studding combines feminine and rocker elements perfectly and flawlessly. I simply love this clutch. Buy through Luisa Via Roma for $1195.