When Amanda covered the Derek Lam Python Elsa Clutch last summer, she was not keen on the bag. And you all shared your opinions, mostly saying that you disagreed and loved the bag. I was not moved either way. But now I am and I have to share it with you all.
It was as if the other photo made the bag look bland and lackluster. Or maybe it was even the color of the bag. But once this bright turquoise Derek Lam Elsa Leather Clutch caught my eye, I felt overcome to share it with you.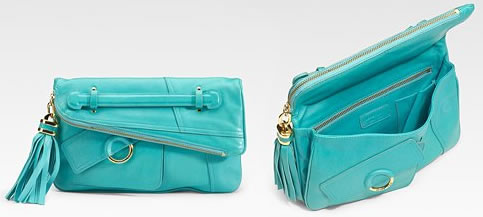 Firstly I will admit my love of the color turquoise. It is a genius color, not quite green and not quite blue, but a stunning eye-catching compilation. While I was unsure about the design of this clutch before, I now love it. Why? Because it is different. Many clutches have expectable designs, with little difference setting them apart from the next.
But this design is distinctive and brings us asymmetrical touches and additional design elements. The zipper compartment flap is asymmetric and there is a side tassel. With all the extra looks, we find that each is usable and not just for show. Pockets are ample in this clutch, which is always a plus. And dimensions are spacious yet not overwhelming, 7″W X 11″H X 2″D. A couple months ago I would have passed this clutch by, but not this time. Buy through Saks for $790.