So Balmain is trying out the whole handbag endeavor. And the consensus is a bit of mixed with mostly a side of "ehh". I felt entirely underwhelmed and let down. Fairly simple messenger style bags were released with a few adornments, but all the exact same design. And the price was exorbitantly high for a new line of bags that were not hand-stitched.
I ignored and moved on. And the handbag-o-sphere went silent about Balmain. But now Net A Porter popped up with a few clutches and it time for a review.
Come on Balmain, I expect more from you. It is not that these clutches are not ok, because, well, they are. They are simple clutches. Simple designs. But the worst part about the simplicity of it all is that the final product is rather simple. One option is the Balmain Night Punk Studded Suede Clutch. This option brings us precisely the same bronze, pewter, and silver-tone studs as one of the messenger bags they released. The shape of the clutch, again simple. Entirely simple, so much so that I find it to be boring in its shape. Oh, and the price tag is a whopping $2,710 at Net A Porter. You read that right. And the clutch is not even oversized.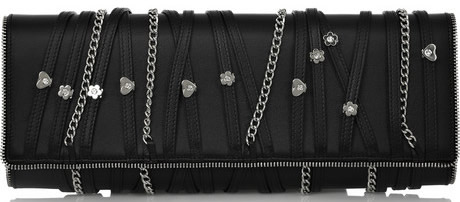 The second Balmain clutch I can withstand a bit more. It has a bit more of a punk edge to it. The Balmain Night Pearl Leather Clutch features black leather with silver tone embellished heart and flower charms. Also there is crossover leather strands across the front and back of the clutch, adding volume. This clutch gives me the feeling of the pin up girl, a feminine dress with killer heels, bright red lipstick, and this punk rock clutch. The price is more manageable than the suede studded version, but I am still no where near clicking to buy. $2120 via Net A Porter.
Overall I am still rather underwhelmed with Balmain bags. Their clothing and shoes are a force to be reckoned with but their bags need work.