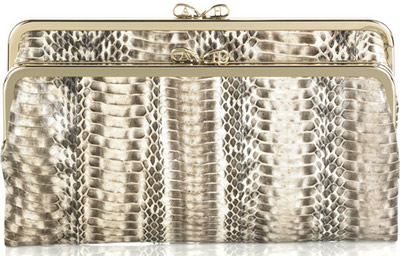 Welcome back Anya Hindmarch, it has been a while since we have talked about you. The best way to strike up the conversation again is with a great handbag, and you have delivered.
Anya Hindmarch has always brought us beautiful bags, problem is there are not large amounts of them. When I saw this clutch I had to write about it. It is ladylike and sophisticated, simple and exotic, practical and chic. This my friends is the Anya Hindmarch Luce Snakeskin Clutch which is made of light brown snakeskin with gold-tone hardware. The color palette is soft and neutral. I am not always drawn to gold hardware, but on this clutch it is perfect.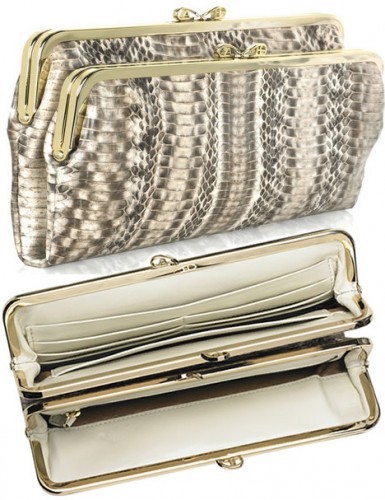 Another reason I adore this clutch is because it is wallet-style. I was sharing with our fans on Facebook yesterday that when I am in a hurry I leave the house with only my wallet. If I could find more wallets that double over as clutches while being statement pieces on their own, I would be set. This is what Anya Hindmarch brings us.
This clutch has pockets and space without losing its elegant design. Actually, I am quite surprised by the functionality of this piece. Just check out the photos; pocket after pocket after credit card slot after slot, after zippered pockets all over. And then when you close it all up, the look is stunning and not too busy. The two twist-lock fastenings at the top fold out to reveal a zipped pocket and pockets for cards. Along with that there is a concealed magnetic fastening at the top, a zip fastening back pocket, and an entire section for cash, notes, cell phone. That is right, I said cell phone. The true test of this clutch being workable for me is if all of my wallet essentials along with my cell phone fit inside. I won't really know that unless I saw this clutch in person, but I would like to think that it will get the job done.
Oh yeah, one last point. The price, for a large snakeskin clutch with this kind of craftsmanship and beauty, is only $595 via NAP.