In grade school we had to do a project on Joan of Arc. I don't remember any specifics other than if you dressed up you got extra credit. And being the type A personality that I am, extra credit was just about the best thing ever. Any way to make a grade go over 100% or get multiple check plus plus or A ++ had my name all over it. And give me a sticker that says "You're a Star!", whew, that was like Christmas morning. So, I didn't just dress up. My mom and I drove all over town to find the most authentic-looking Joan of Arc ensemble. I had a metal chain vest on while I presented, and it was awesome.
All I can't think about when I see this Christian Louboutin bag is that day back in 3rd grade. Granted the Christian Louboutin Carillon Quilted Clutch is not made of metal, rather silver quilted leather with sequined disc embellishment. This effect from afar appears like pounded circular metal and I love it.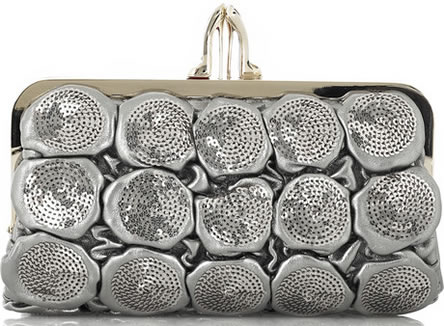 Of course there is the shoe-embellished clasp fastening at the top of the bag (so un Joan of Arc like). On the inside you will find red grosgrain lining and a pouch pocket. Some may say this piece looks futuristic, but I am reminded of my project and it almost appears a bit industrial. Bottega Veneta once made a Knot Clutch of metal, but this has a different vibe. Even close up, while you can recognize it is leather and sequins, the circular pattern the sequins are arranged in adds a special touch. What can I say? Kind of in love. Buy through Net A Porter for $1,155.