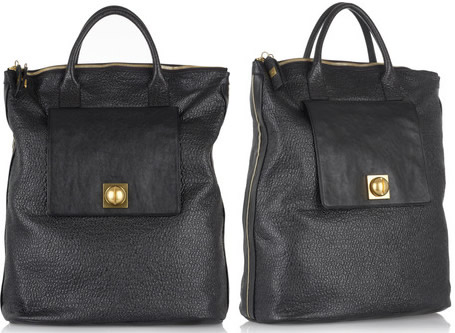 I am thinking they should change the name of this bag. This bag should be called the Chloe Hella Large Tote versus Chloe Hedda Large Tote. Dimensions are large, 22″x22″x7″ with a short handle drop of 4″. I am having a hard time even reviewing this bag because of the size factor and the obvious weight factor that will come into play.
One thing Chloe bags are very well-known for is their hefty weight. The leather Chloe uses is extremely thick and sturdy. It has become rather expected from Chloe bags. I still love my Chloe Paddington, but I would be lying if I said it never gave me a problem because of how heavy it is. And now this bag comes into the picture.
The Chloe Hedda Large Tote is a cool bag, don't get me wrong. There is a very urban street chic vibe going on. The double handles only have a 4″ drop so this would need to be carried in the crux of your arm or by hand. The body of the bag features black stamped leather and gold tone hardware. The front features a fold-over flap with a turnlock fastening, which seems to be a trend we also saw on the Coach Kristin collection recently. All I need to finish my review of this bag is a scale to weigh it, and/or a half day carrying it around with my typical essentials to see how heavy it is. Chances are this bag will double as a weight lift workout for those that carry it (make sure to switch up arms!). For me, this bag is too much to handle. Buy through Net A Porter for $2030.