Fair warning: this edition of our celeb bag round-ups is a solid 50% Chanel, Céline and Hermès. This intel probably elicited one of two responses: squeals of excitement or groans of fatigue. If you're in the latter camp: I sympathize, but our celeb friends clearly do not. But you should know, however that the other half of the bag picks are pretty killer. If you're in the former camp: we love you, please never leave. If you're in neither camp, well, you're probably just here because you googled "Olivia Munn's dog". It's okay, we will gratefully accept your patronage.
1 / 8
Here's everyone's favorite occasionally-still-on-TV news correspondent Barbara Walters, carrying the a ruby red Ralph Lauren Ricky Bag similar to the one that we saw Allison Williams with last week. (Apropos of almost nothing, Allison Williams just happens to be news correspondent Brian Williams' daughter. Ralph Lauren: popular with journalists and the journalist-adjacent.)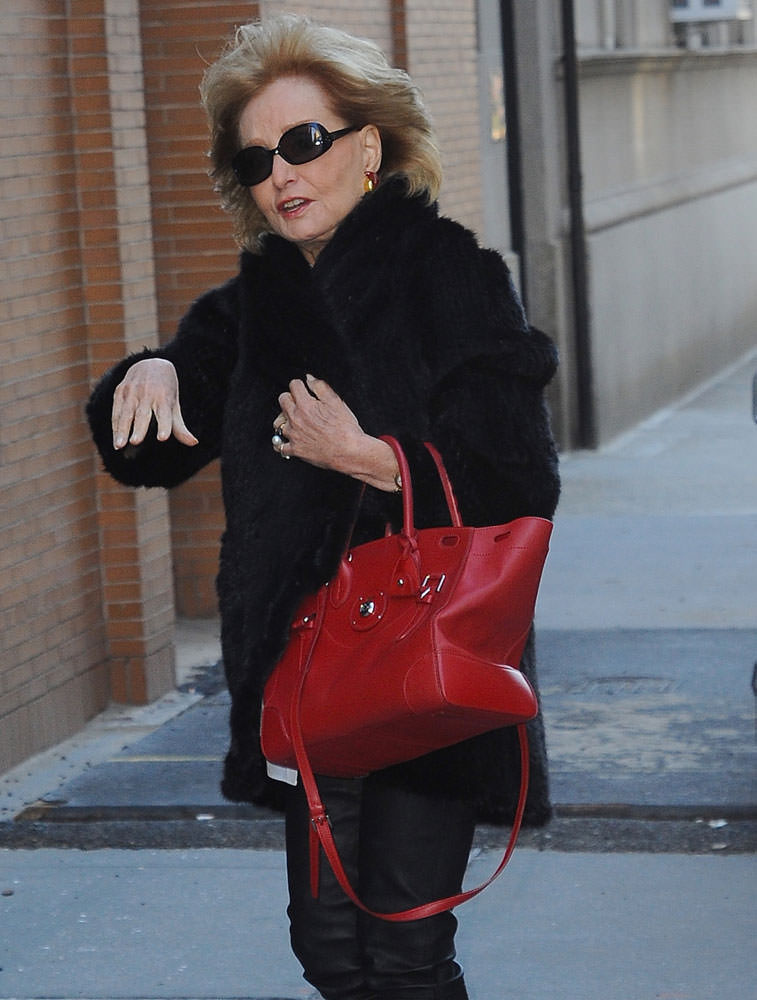 2 / 8
Bethenny Frankel
Chanel Classic Flap Bag
This photo is largely representative of most of the Bethenny Frankel photos we get from our photo service. She's carrying Chanel and her daughter Bryn, who is, in turn, carrying a baby doll and her own bag.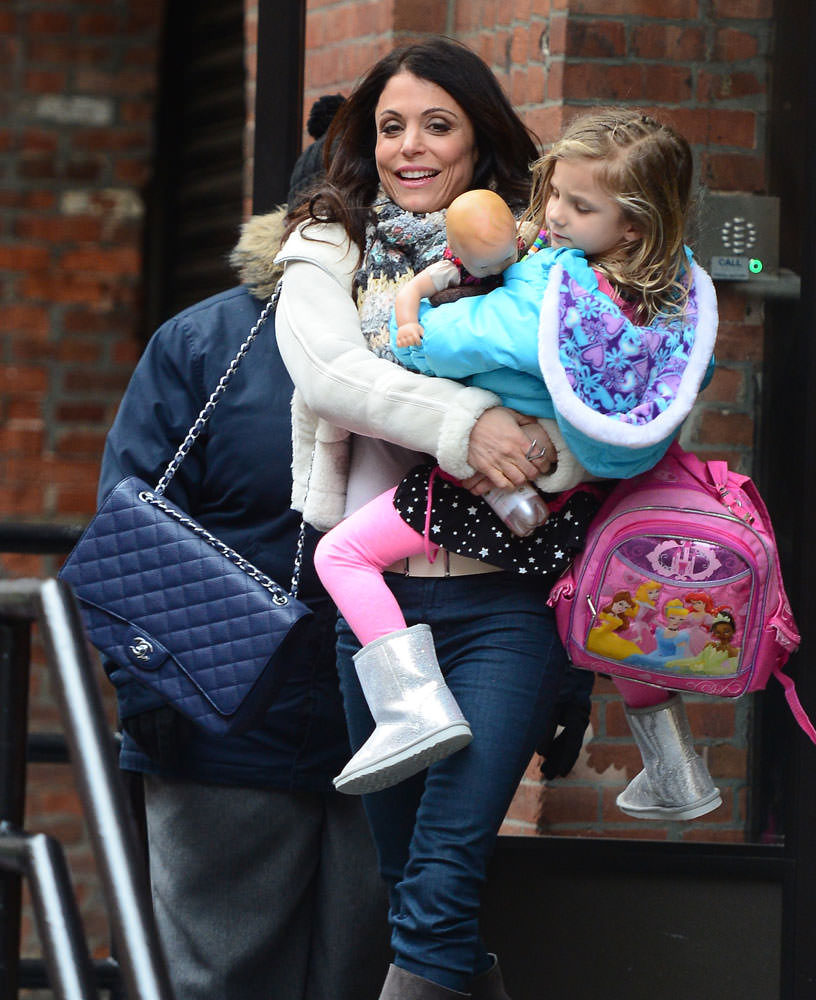 3 / 8
Emma Stone
Gucci Jackie Soft Shoulder Bag
$2,350 via Gucci
Krista Stone
Louis Vuitton Speedy Bandouliere Bag
Yes, as you might've guessed, this is Emma Stone and her mother Krista, leaving a bodega in NYC. Emma's carrying a Gucci bag that she's been favoring lately, and Mama Stone is carrying a little Louis Vuitton. Pretty. Friggin'. Adorable.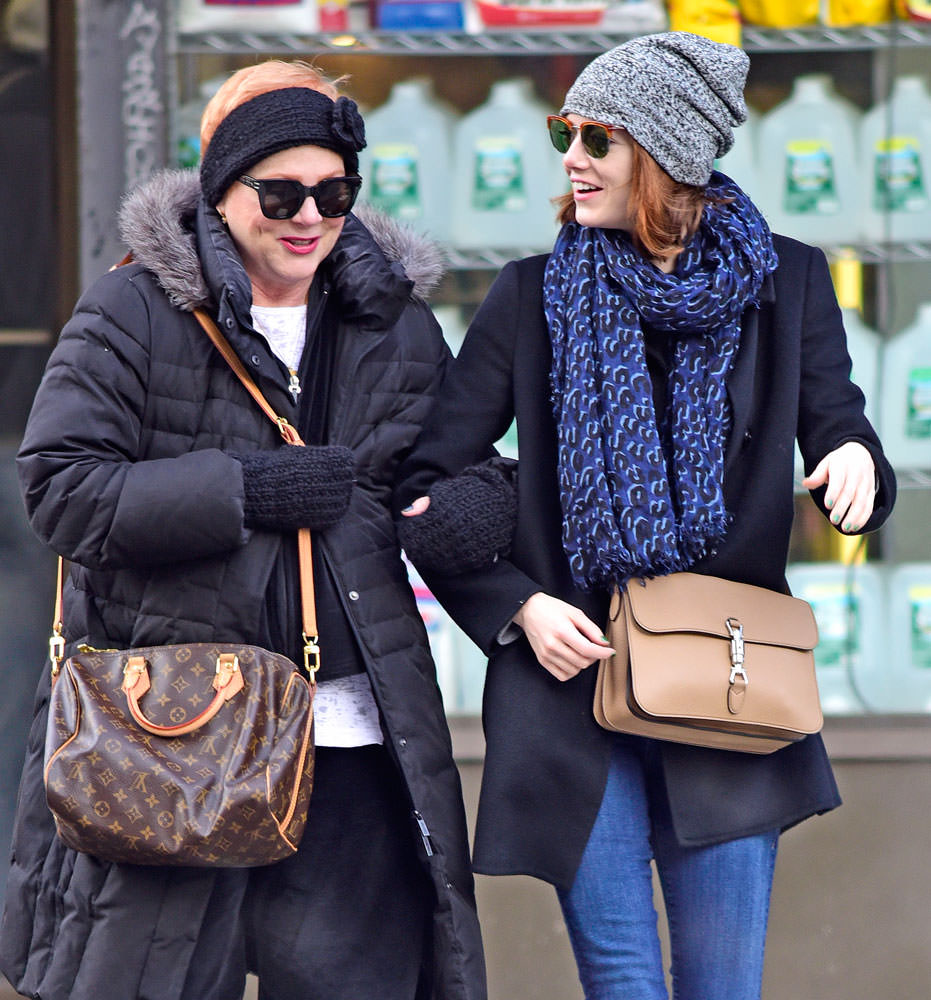 4 / 8
Here's actress Gabrielle Union, catching a flight out of LAX. She's carrying one of the more Rockstud-arrific bags that Valentino has to offer. And if you're wondering what Gabrielle Union is up to these days, she's been starring in the Being Mary Jane, BET's first and only scripted series, since 2013.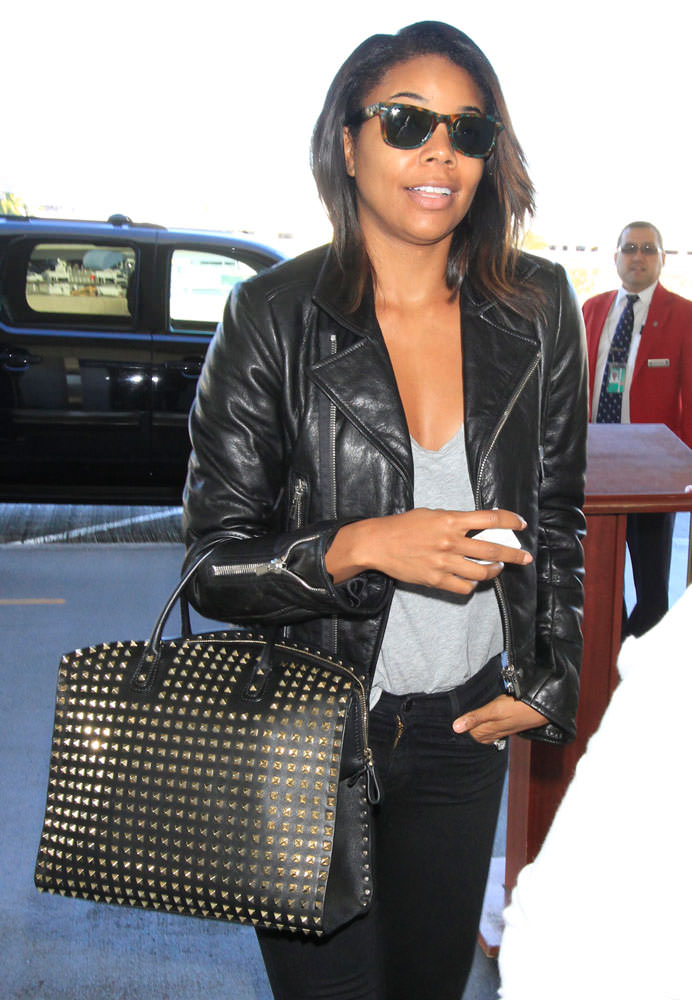 5 / 8
Hilary Duff
Céline Trio Bag
Here's the Duffster, going to a meeting in West Hollywood with a black Céline Trio Bag in tow. Strangely enough, I don't think I've ever seen a celeb carry this bag in black before. Is it just me, or does it seem very un-Trio-like in black?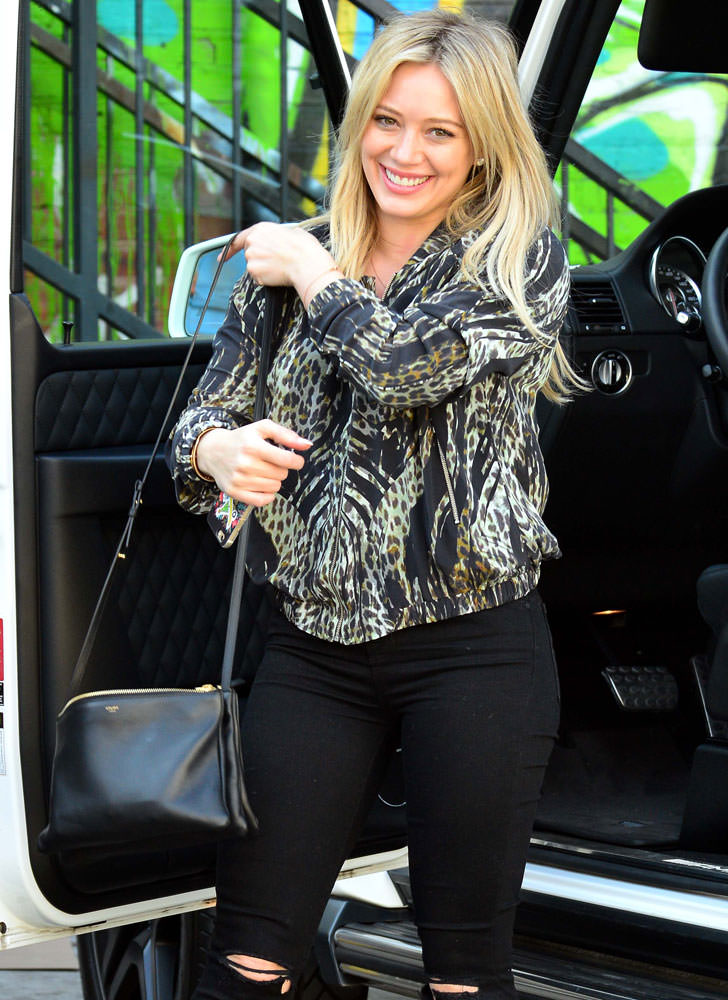 6 / 8
Khloé Kardashian
Chanel Cosmetics Case
Sometimes, something the size of a coin purse will meet your needs for an entire afternoon, especially if you're just having lunch with the fam at Maria's in LA. It helps if you're a Kardashian and your multiple personal assistants are waiting in the wings to meet your every waking need.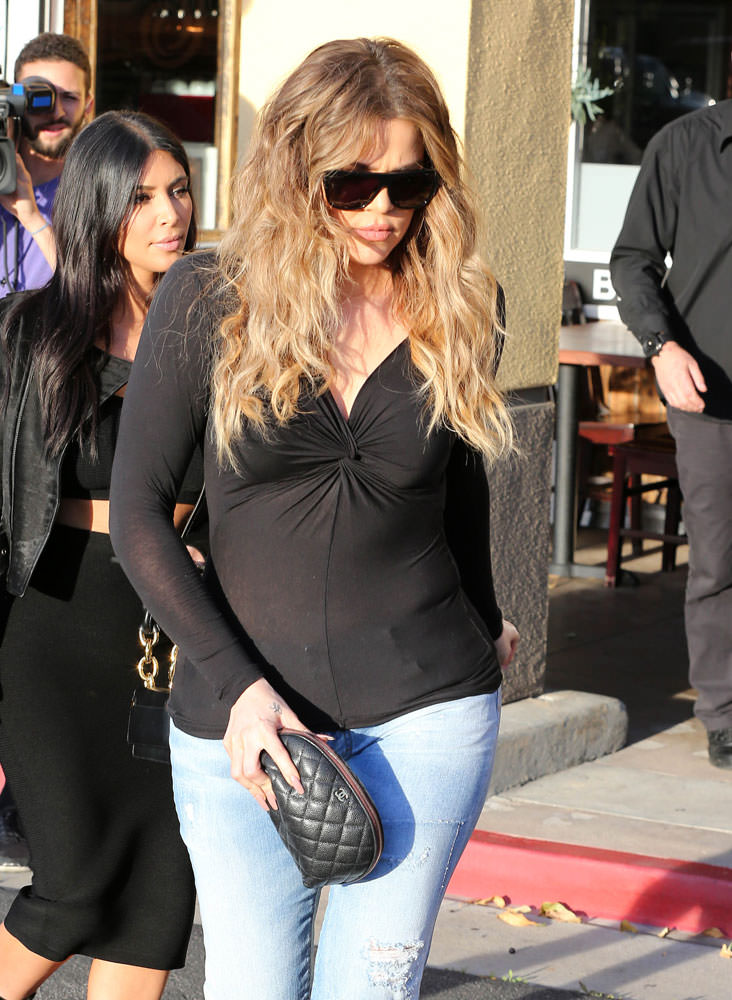 7 / 8
Melanie Brown
Hermès Birkin
Here's Scary Spice, leaving NBC Studios in NYC with a very posh navy blue Hermès Birkin. Have I mentioned how glad I am that we, as a society, have brought Melanie Brown back into the relevant US pop culture fold? Kudos to us.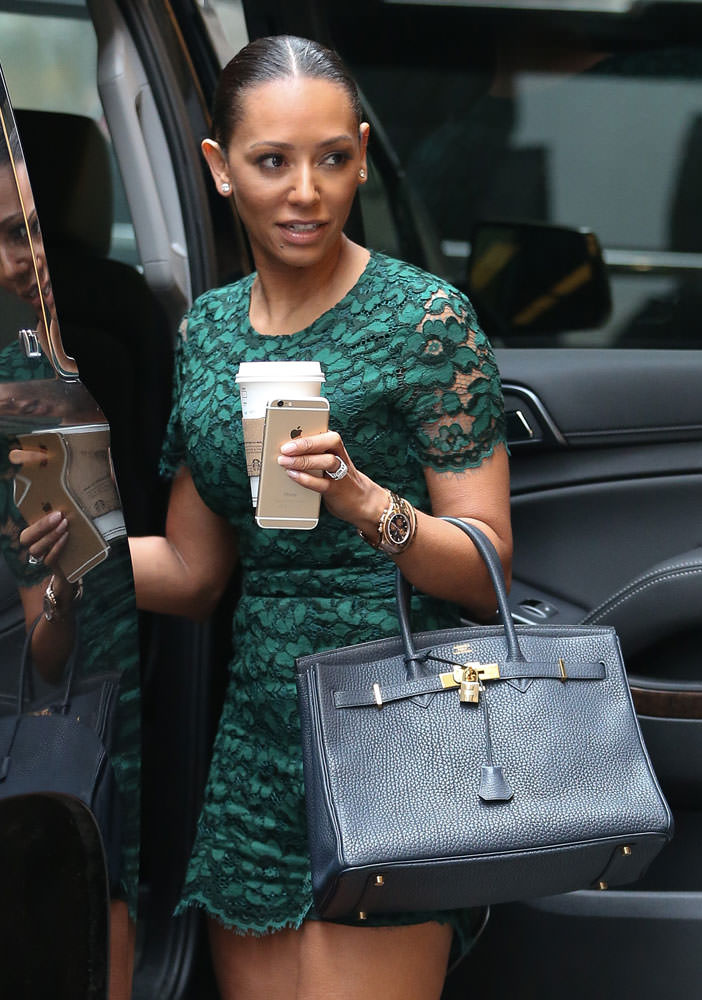 8 / 8
Olivia Munn
Goyard Sac Marquises Tote
Goyard is having something of a moment in early 2015. Celebs on both coasts are suddenly loving Goyard bags in white--we saw Pam Anderson carrying a similar, but more structured, Goyard Saigon Bag in LA just last week. Also, I feel the need to point out that there is a dog in Olivia Munn's Goyard, just in case you missed it at first glance. That's her adorable rescue pup Chance.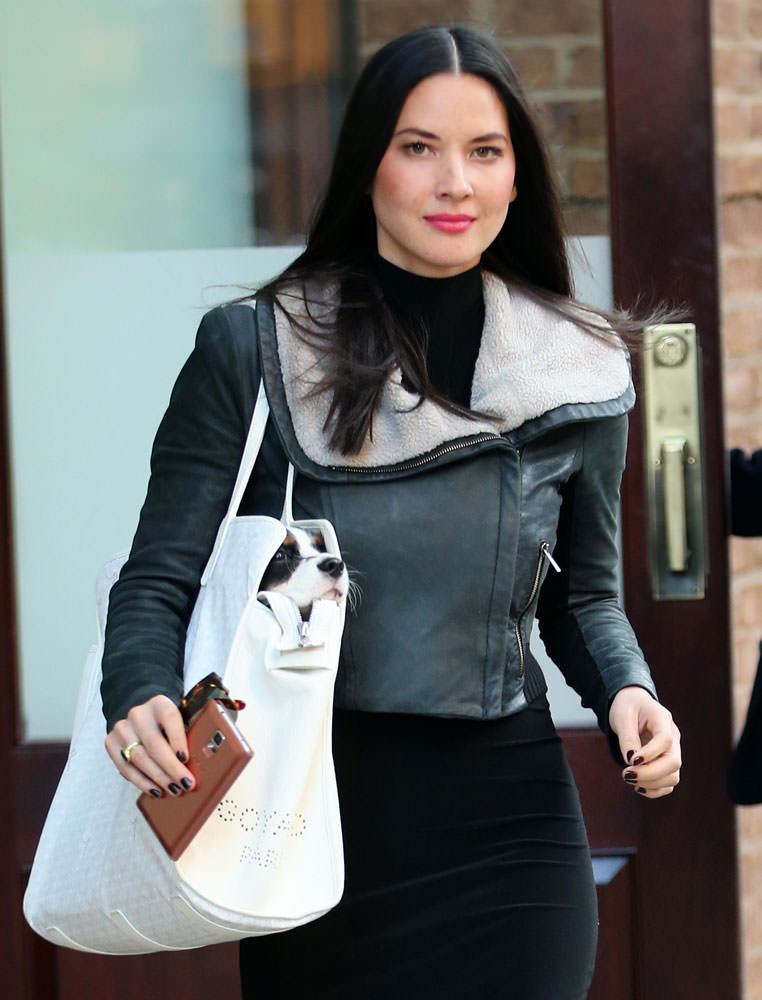 P.S. Please consider supporting our small, bag-loving team by clicking our links before shopping or checking out at your favorite online retailers like Amazon, Neiman Marcus, Nordstrom, or any of the listed partners on our shop page. We truly appreciate your support!