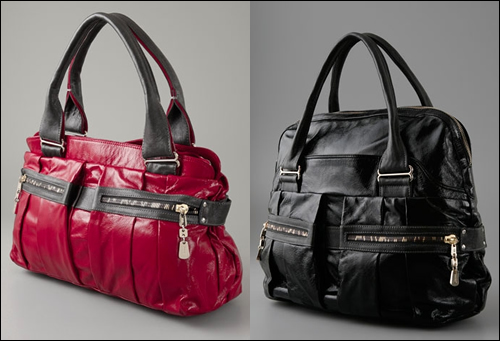 See by Chloe Day Tripper
I gave a bland and blah review to See by Chloe Bags a month ago. On the particular See by Chloe Bags I reviewed, you all mostly agreed. The bags lacked any design innovation; they merely looked like colored leather stitched into a sac. So should I take back what I said now? Because the See by Chloe line is more expansive and the See by Chloe Daytripper Bag is the new go-to bag for many celebs. The See By Chloe Daytripper bag has been the new favorite bag of Miley Cyrus, Jessica Alba, and Leighton Meester, as all three ladies were spotted carrying it in different bright hues recently. Now am I taking back what I said about the See by Chloe Bags? Partially, yes.

This is the Daytripper, the golden child of See by Chloe. The bag is casual and sports a laid back vibe, with double top handles and an optional shoulder strap. And while this bag has been spotted on many celebs, I have to question if they actually decided they wanted this bag, or See by Chloe sent out a large shipment to celebrities in hope that they would carry the bag. Now, I am not finding fault with shipping out bags to gift them, because the bag can become something that a celeb likes and then it will be all they carry. But typically when we see celebs sporting the exact same bag around the same time, they may have received it as a gift.
But back to the bag. So the See by Chloe Day Tripper is available in a clutch, satchel/shoulder bag, and tote. Of the three versions it is the See by Chloe Day Tripper Medium Shoulder Bag that is my favorite, and the favorite of the leading ladies. Available in cherry and anthracite, this bag is offset with black patent leather. There are pleated zipper pockets at the front and a magnetic patch pocket at the back. The smaller clutch is available in blue and the tote is available in black.
Am I a convert? Actually, yes. I am clicking on order just yet, but I really do like the Day Tripper. See by Chloe got it right with this bag and I am happy to see celebs out sporting this line. The shift from the $2500 bags to the less than $800 bags is a shift that has been a long time coming, and is giving many designers a chance to make it in the handbag world. Buy the anthracite See By Chloe Daytripper via Nordstrom for $695. Buy other See by Chloe bags via Shop Bop.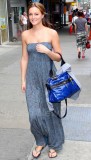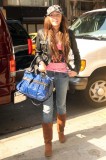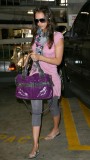 Images of Miley and Jessica via CelebrityGossip.net