Jennifer Aniston has been a longtime favorite leading lady of mine because she's the beautiful girl next door with a smile that lights up anyone's day. Jennifer is a natural beauty, dressed impeccably all the time in a way that is casual, accessible and easy to appreciate, even for people who don't care about fashion at all. Jennifer mixes high and low, and can often be seen in her favorite jeans paired with a premium designer blazer. Her personal style is simple and refined, which shows in her handbag collection as well. I've never seen her carrying a bag with any sort of obvious logo on it, which totally fits Jen's style. She is who she is, and no one will change that.
A major congrats to the newly engaged Jennifer Aniston and Justin Theroux, and we'd like to celebrate their special occasion by taking you behind the scenes to explore The Many Bags of Jennifer Aniston.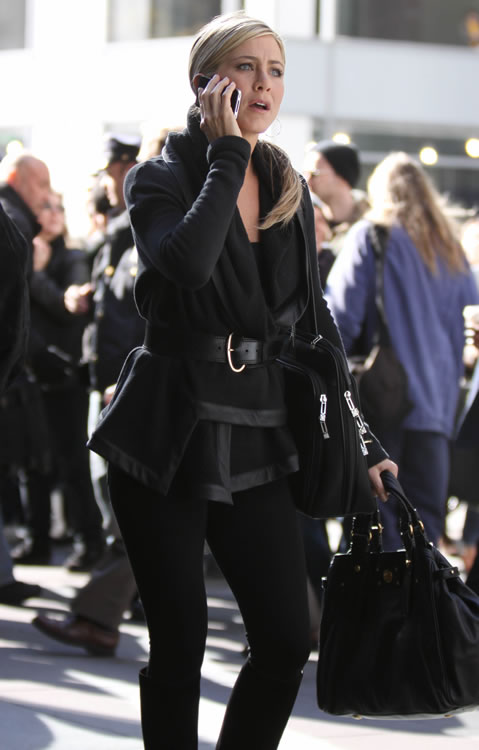 I had to start with this image because Jennifer looks absolutely stunning in all black. I love the pairing of all things black, like her Wayne Hooded Loose Sweat Jacket along with her Marc by Marc Jacobs Totally Turnlock Lucy Bag. Shop Marc by Marc Jacobs via ShopBop.
1 / 18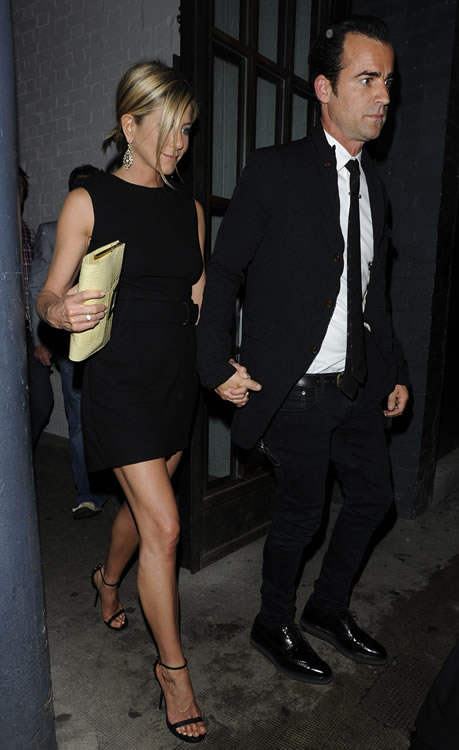 A stunning Alexander McQueen belted cape dress, Jennifer looked ravishing leaving a restaurant with her beau. With this look Jennifer paired Gucci Kinga studded platform sandals and a light matching clutch. Shop Gucci online and Alexander McQueen via Net-A-Porter.
2 / 18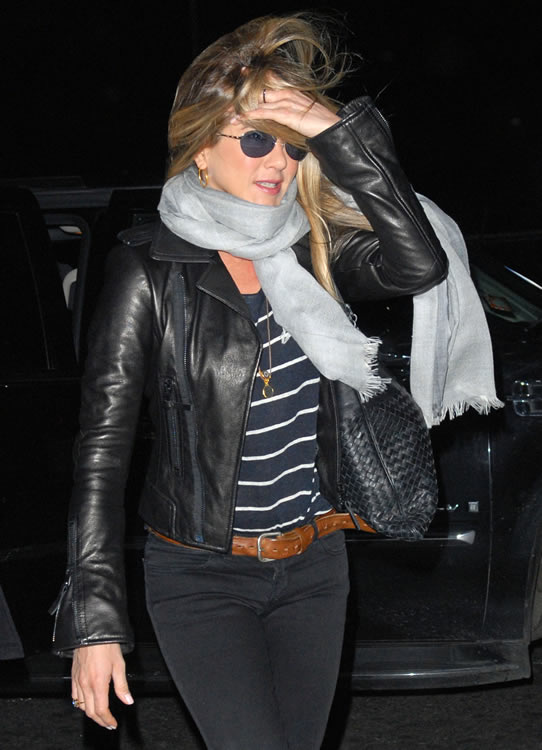 Classic and refined, just like her personal style, Bottega Veneta is the perfect designer for this A-list actress. Jennifer carried a Bottega Veneta Intrecciato Shoulder Bag with another dark ensemble. Shop Bottega Veneta via Net-A-Porter.
3 / 18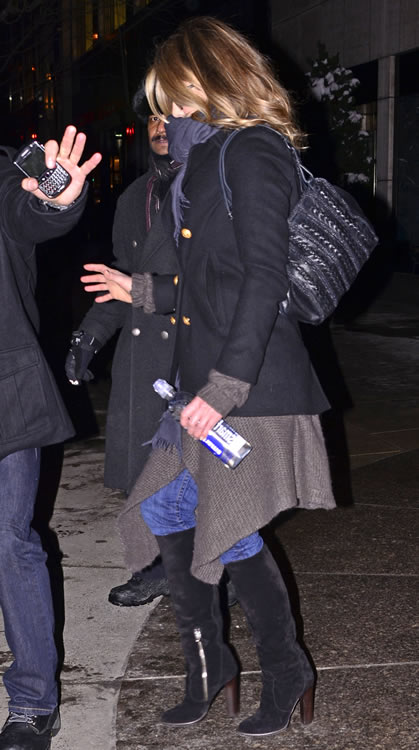 Another day, another pair of jeans, and another classic Bottega Veneta bag for Jen Aniston like this one from a few seasons ago. Shop Bottega Veneta via Net-A-Porter.
4 / 18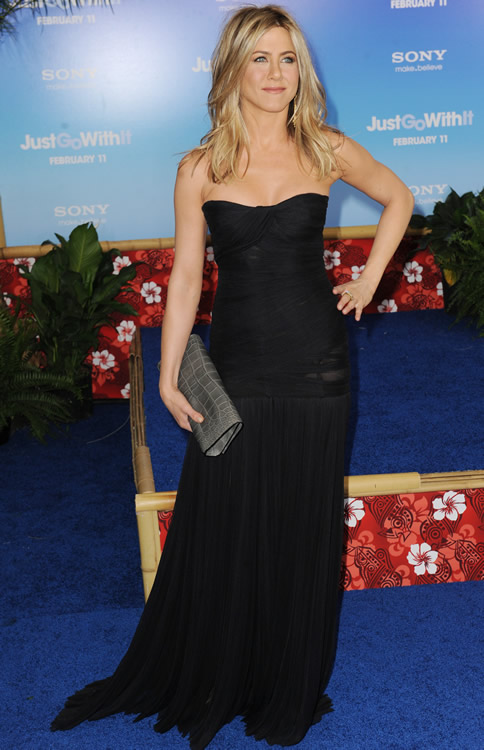 Jen looks amazing on the red carpet, and this is a perfect example. With a Dolce & Gabbana Strapless Black Gown and Gucci Sandals, she carried a custom Burberry Alligator Clutch to the event. Shop Burberry via Net-A-Porter.
5 / 18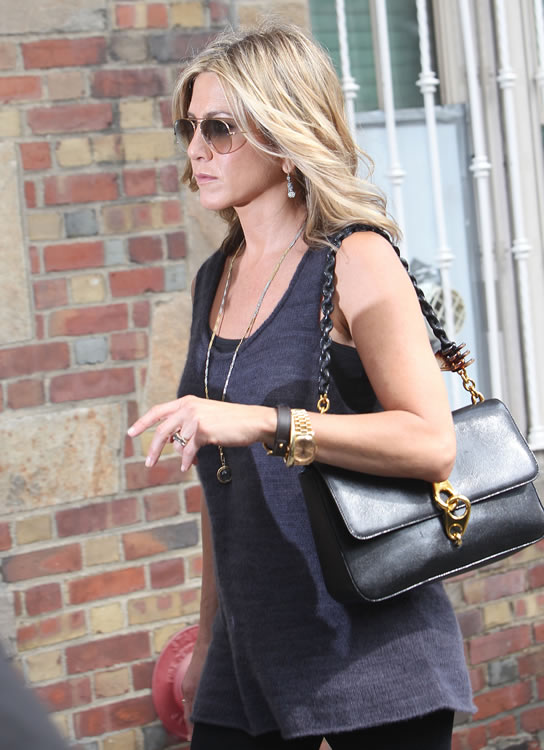 I never realized how many Tom Ford bags Jennifer Aniston carried until I was doing this post. She is a major Tom Ford fan-girl and this is one of the slew of many to come. I like the playful clasp finish and chain shoulder strap on the Tom Ford Carine Handbag. Shop Tom Ford Handbags via Neiman Marcus.
6 / 18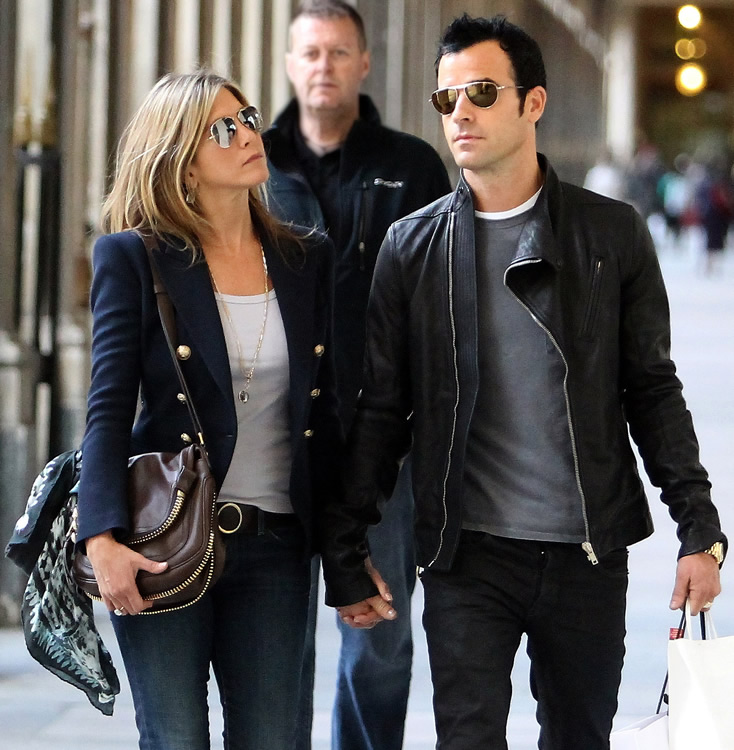 But Jen's favorite Tom Ford Bag is clearly her Tom Ford Flap Over Zip Bag. This is one of many times she can be seen carrying it. Shop Tom Ford Handbags via Neiman Marcus.
7 / 18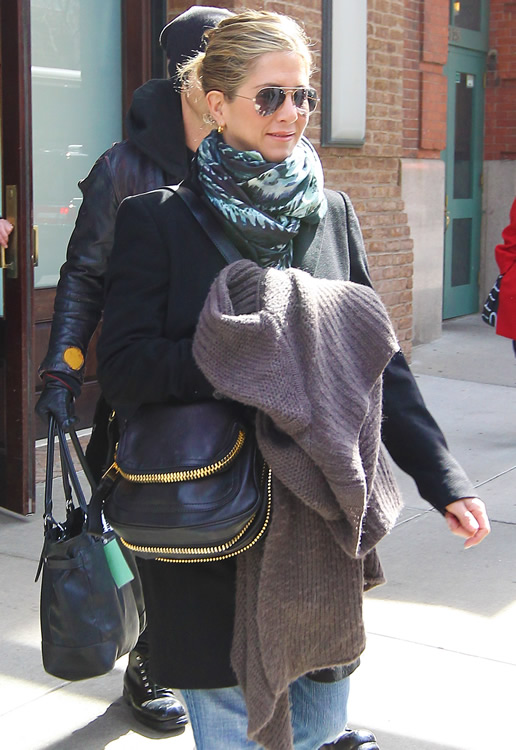 Here is another time...
8 / 18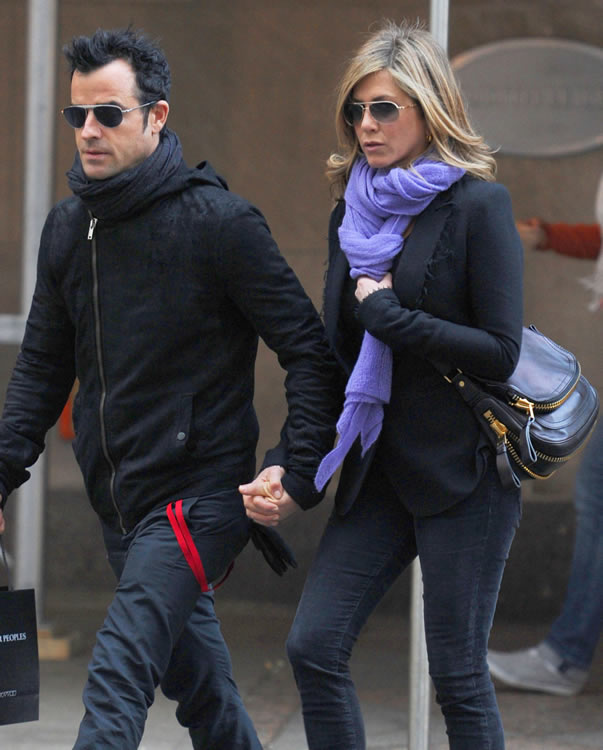 ... and once more.
9 / 18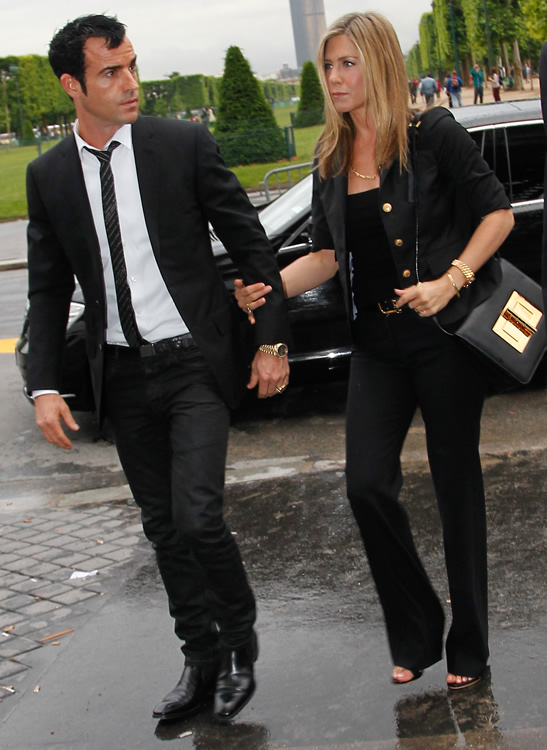 She may carry her Flap Over Zip Bag the most often, but my absolute favorite Tom Ford Bag Jen totes is her Tom Ford Natalia Bag. The large center hardware on the smaller compact bag is simply divine. Shop Tom Ford Handbags via Neiman Marcus.
10 / 18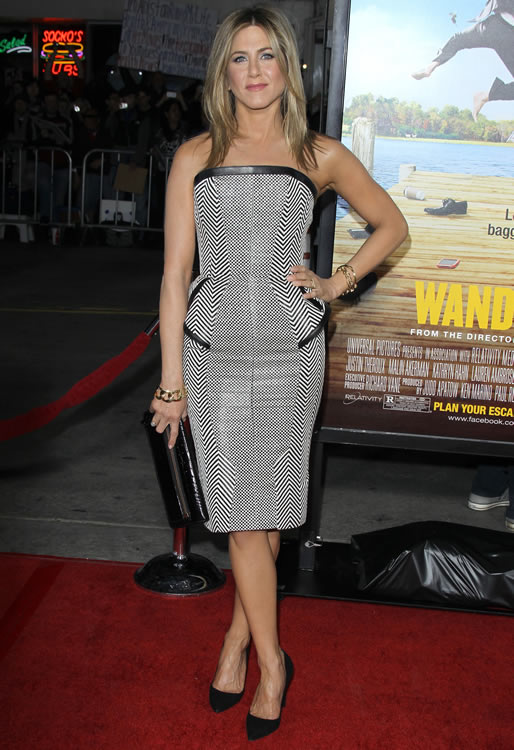 While we are still talking Tom Ford, I adore this slight peplum Tom Ford Dress along with her black Tom Ford Alligator Pochette Jen carried. Shop Tom Ford via Neiman Marcus.
11 / 18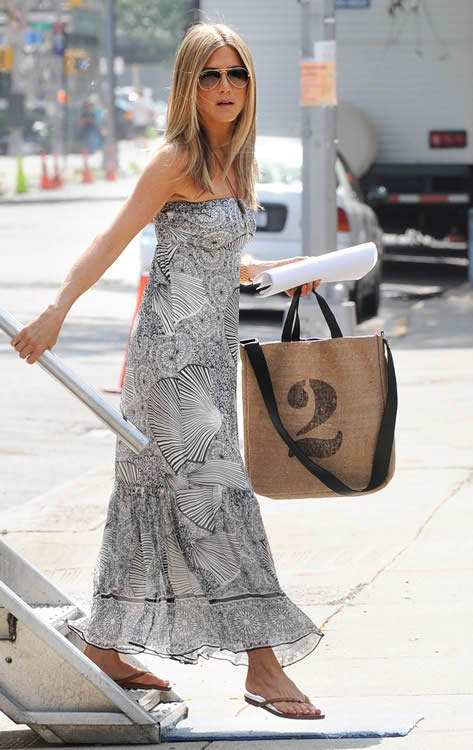 Jennifer may be seen in premium designer wares, but she also supports charity and was spotted carrying a FEED 2 Kenya Bag, of which partial proceeds go to feeding hungry children of the world. We love to see a great lady promoting great causes.
12 / 18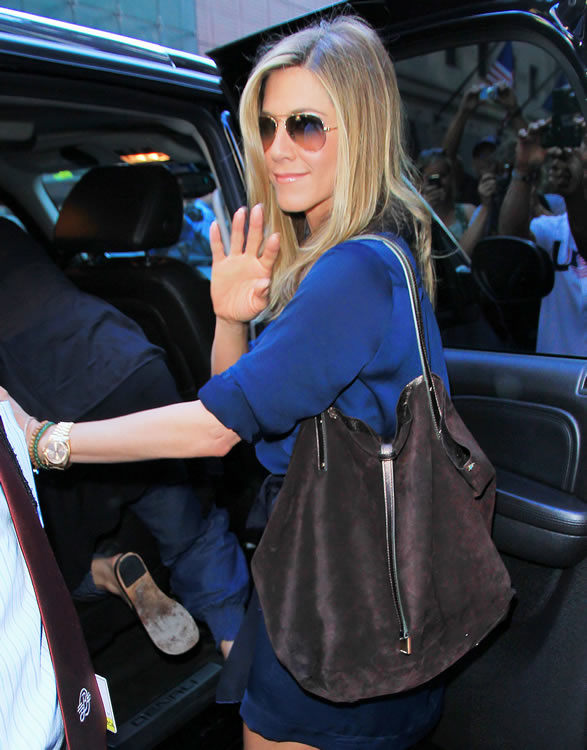 I couldn't place this bag at first, but then it hit me - this is a Tiffany & Co. Reversible Tote. And you know what? I like it on Jen and I'd like it for myself. Shop Tiffany & Co..
13 / 18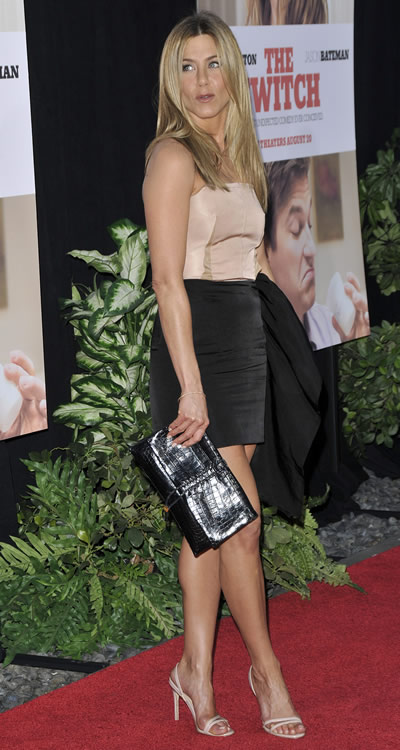 All it takes is a bi-color Lanvin dress to show off Jennifer Aniston's fabulous figure. When your body looks like hers, keep your wardrobe simple and accessories clean. Another obsession, her Salvatore Ferragamo Clutch. Shop Salvatore Ferragamo via Neiman Marcus.
14 / 18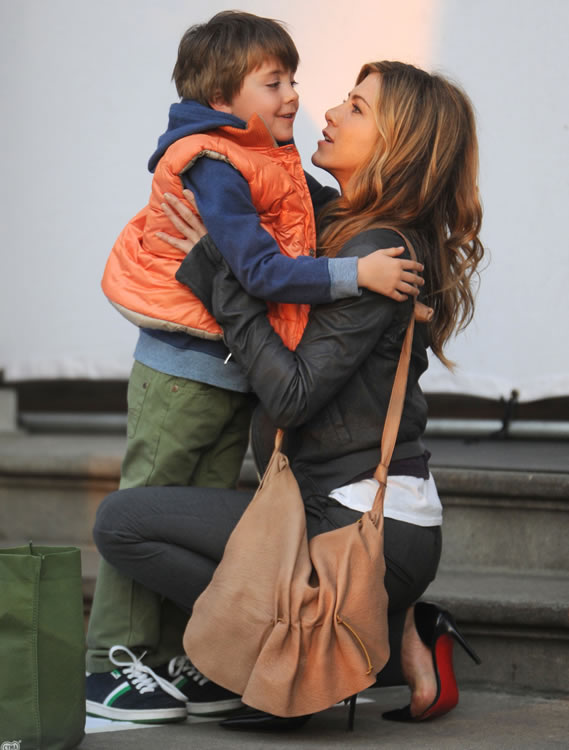 This photo is from quite a few years ago and was taken on set of a movie Jen was filming. I miss people talking more about Carlos Falchi and I still think this bag is totally interesting. Shop Carlos Falchi via Saks.
15 / 18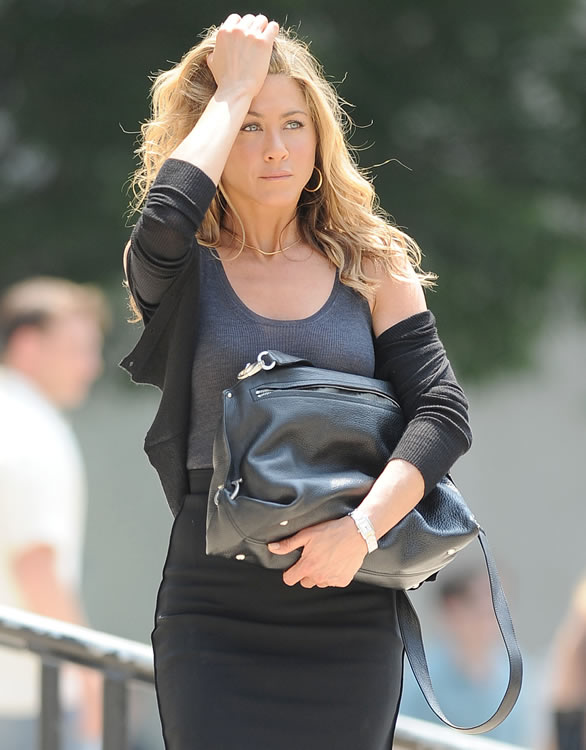 Earlier I mention Jen's love for Tom Ford, but it also must be said that she adores Salvatore Ferragamo. Her accessory wardrobe is filled with Ferragamo pieces, just like the Salvatore Ferragamo Sophia. Shop Salvatore Ferragamo via Neiman Marcus.
16 / 18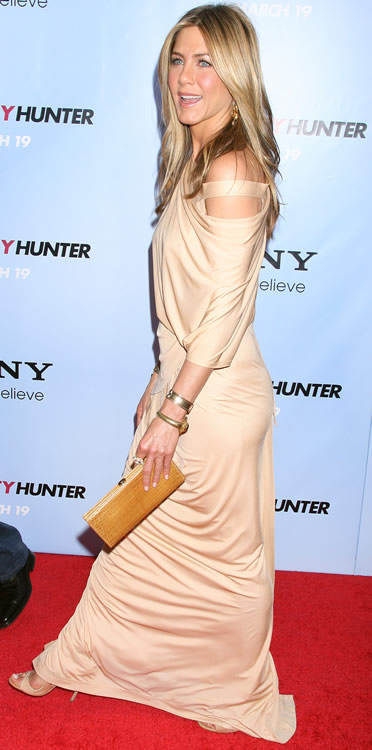 As you have seen, Jen really loves to wear dark colors, especially on the red carpet, but this was a great occasion when she stunned in a Donna Karan number. With the draped gown she paired gold bracelets, nude heels, and another Ferragamo piece - her clutch - to complement the entire ensemble. Shop Salvatore Ferragamo via Neiman Marcus.
17 / 18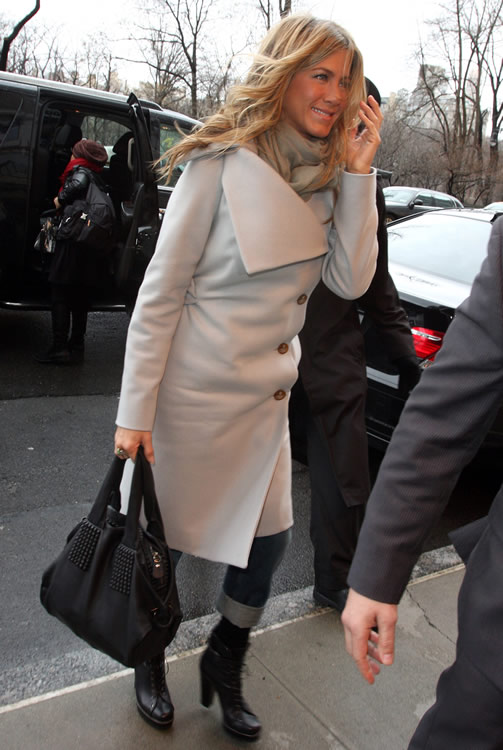 And because she can't get enough here is another Ferragamo bag, her Salvatore Ferragamo Floriana Bag. Told y'all she loves them too! Shop Salvatore Ferragamo via Neiman Marcus.
18 / 18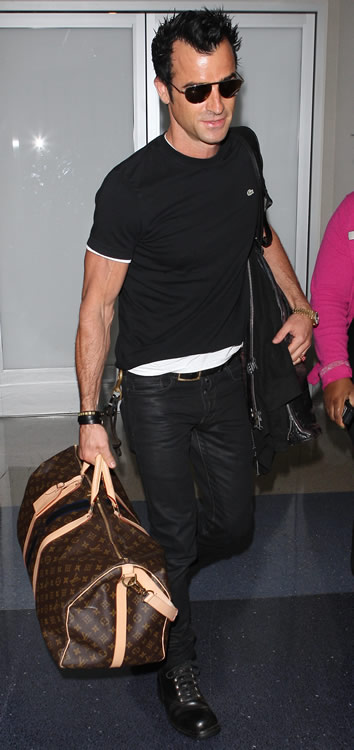 And just for fun, I decided to throw in a pic of Justin Theroux carrying a Louis Vuitton Travel Bag! Looks like Justin doesn't mind logos, but Jennifer does.