It can be oddly easy to forget that stars are actually people. The vast majority of famous folks conduct their private lives in ways that aren't all too unfamiliar - they decorate for the holidays, they take their kids to fun activities on the weekends, they gather up for family photos. There's perhaps no better place on Earth to observe this phenomenon than the Mr. Bones Pumpkin Patch in West Hollywood, California. At Mr. Bones, you can see, be seen, pick out some pumpkins, play in a bounce house with your kid and get your photo taken by the paparazzi, all in one afternoon.
For the occasion, both paparazzi and celebs of varying tiers come out in force, and although some of them seem to leave their handbags in the car (unsafe, ladies!), plenty trot into the pumpkin patch with handbags worth drooling over. Some of them do it to entertain their kiddos, other are clearly just there to bask in the flash bulbs - we're ok with either, as long as a good bag is involved.
1 / 23
---
As you'd imagine, Mr. Bones is primarily popular with celebrity moms of small children. That includes Heidi Klum, who carried a Jimmy Choo Boho Bag in suede. Buy through Nordstrom for $1,495.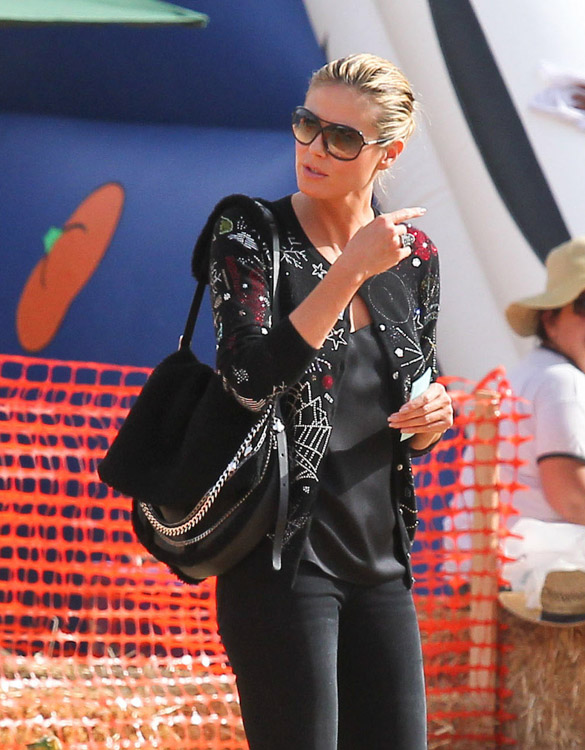 2 / 23
---
Some, like Real Housewives star Joanna Krupa, don't let their lack of kids keep them away from the photographers. This cork clutch seems like a questionable choice for fall, even in Southern California.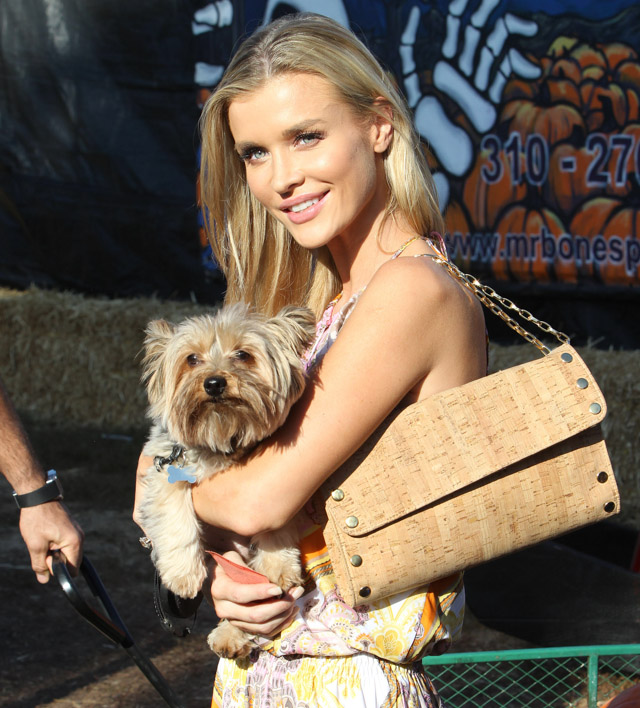 3 / 23
---
Model mama Alessandra Ambrosio visits Mr. Bones a lot. First with her Givenchy Pandora Bag! Get one of your own for $1,865 via Barneys.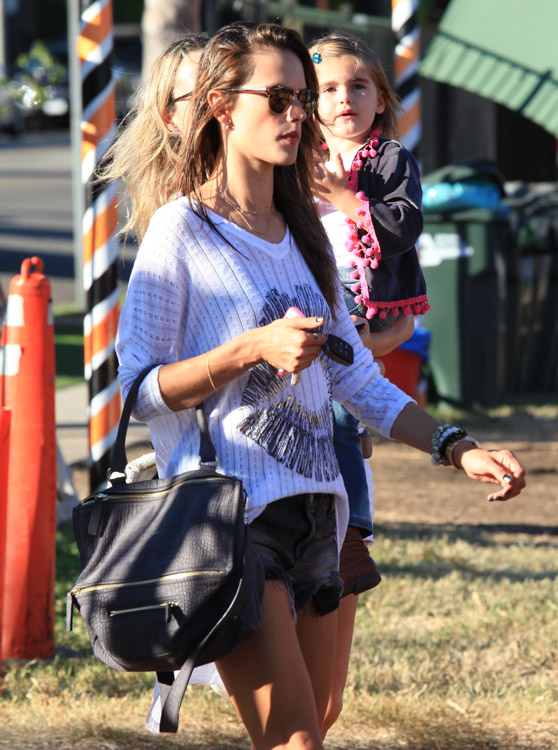 4 / 23
---
We then spotted Alessandra Ambrosio again, this time with a Dolce & Gabbana Miss Sicily Knit Bag. Buy a red lace version of the bag for $1,845 via Nordstrom.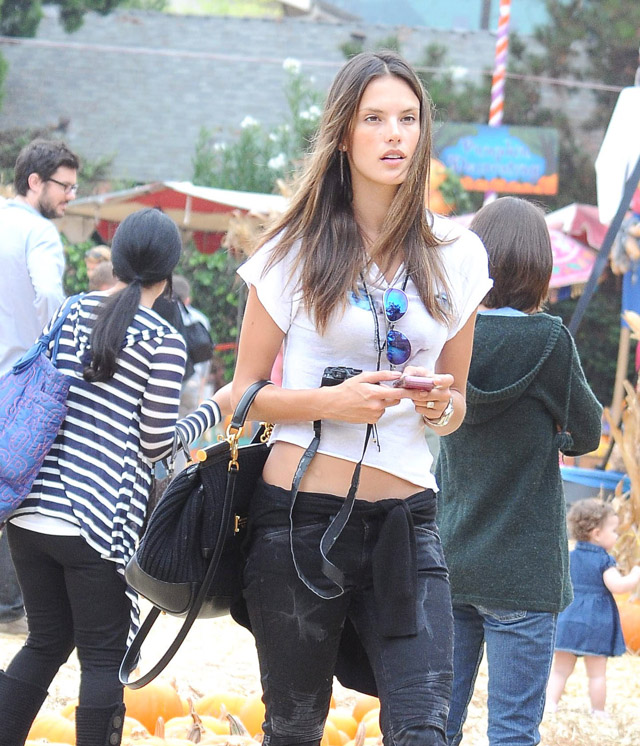 5 / 23
---
And last but not least, Alessandra Ambrosio popped up again, this time with a Chanel Python Classic Flap Bag, which is perhaps the fanciest bag we spotted in all of our pumpkin-picking research.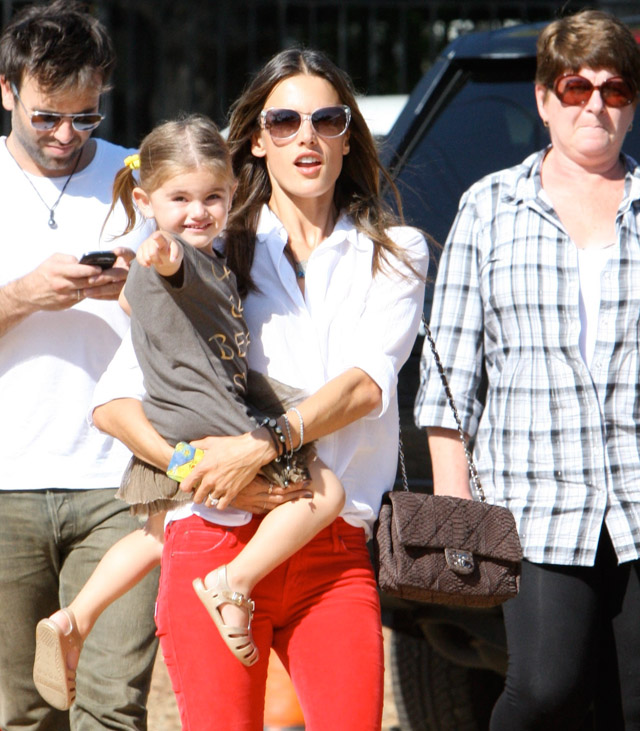 6 / 23
---
And then there are celebs who are moms but who'd also really like to have their picture taken if possible, like Kristin Cavallari carrying a Z Spoke Zac Posen ZS920 Satchel. Shop ZAC Zac Posen bags via Bloomingdale's.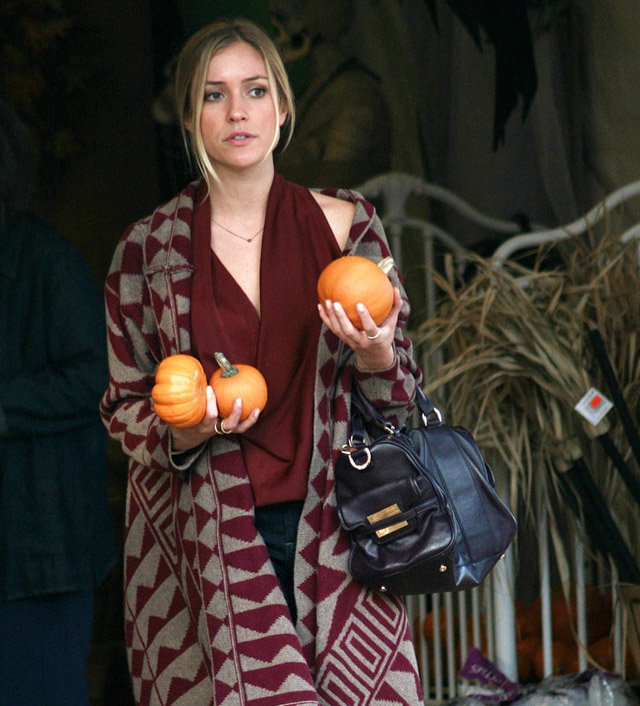 7 / 23
---
Kristin isn't nearly as obviously spotlight-hungry as Paris Hilton, though, who doesn't have kids and probably didn't even buy a pumpkin to take home. We're not mad at her Chanel Classic Flap Bag, though.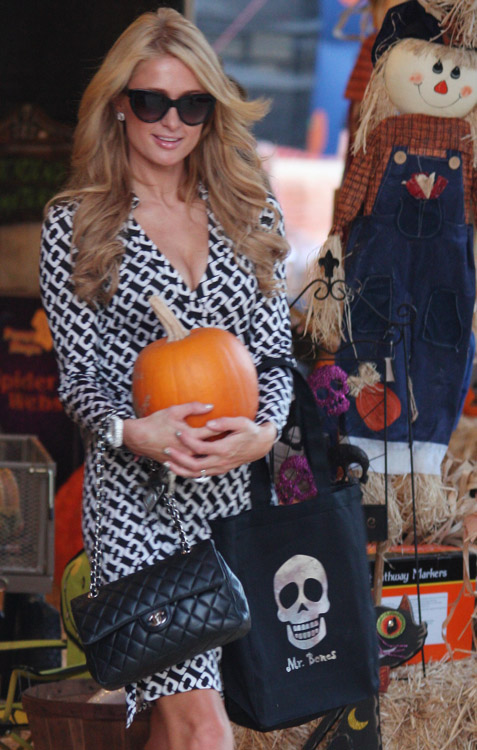 8 / 23
---
In previous years, Paris Hilton has preferred her Chanel Medallion Tote for her pumpkin publicity tours.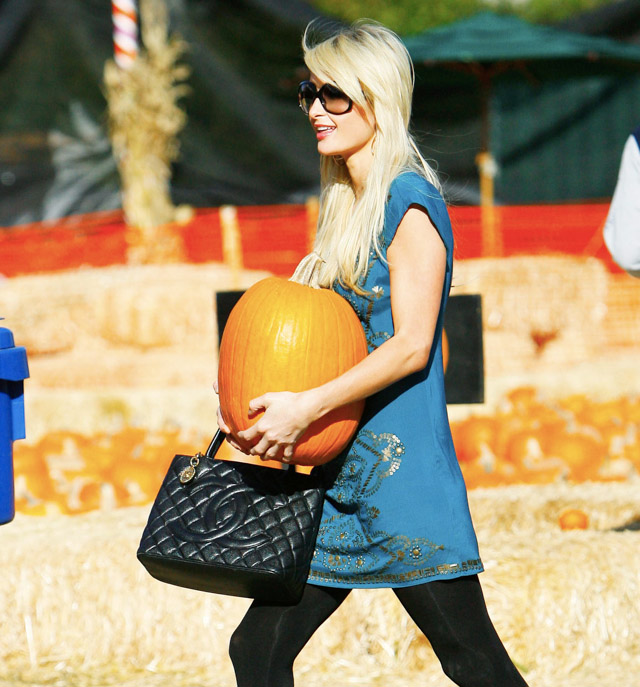 9 / 23
---
Sometimes frequent visitor Jessica Alba looks dismayed at the sight of the pumpkin paps, but this particular patch is so notorious that you'd think she'd pick a different gourd source if she didn't want to be photographed. There was more than one in my hometown, there HAS to be more than one in Los Angeles. Still, we're into her Chanel Reissue 2.55 Flap Bag.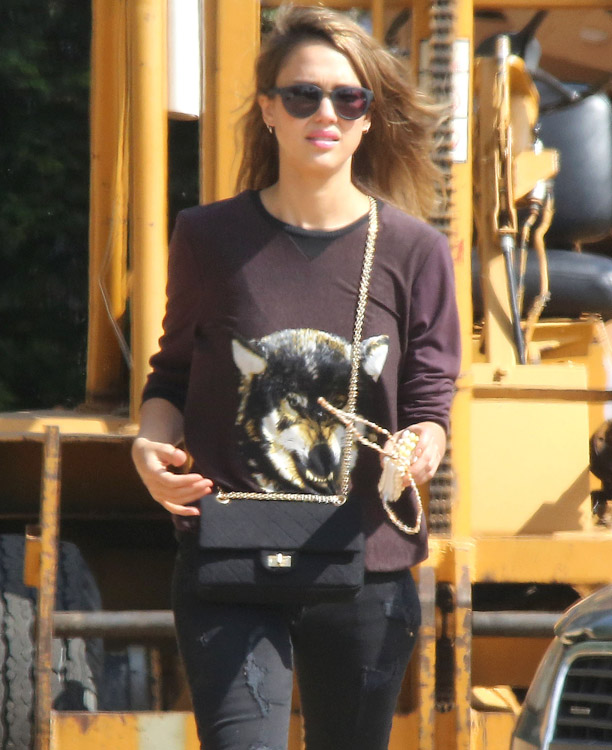 10 / 23
---
Jessica Alba doesn't approve of the crowds when she's carrying her Valentino Rockstud Trapeze Tote, either. Buy through Intermix for $2,395.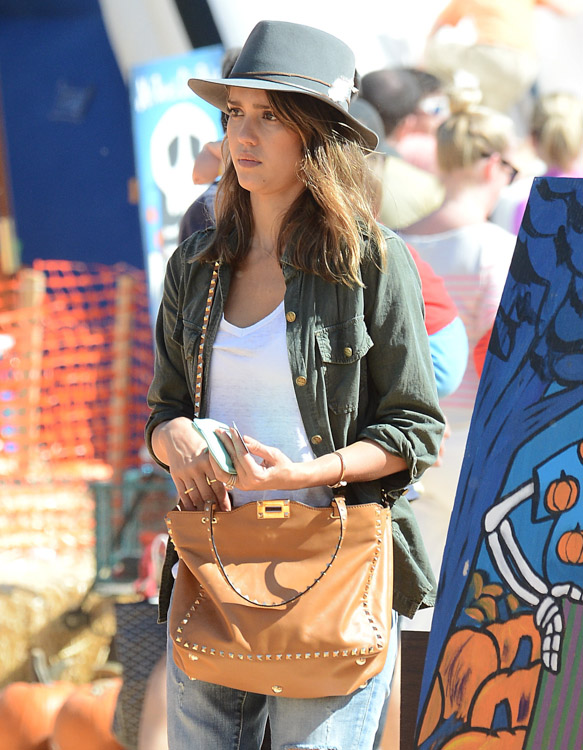 11 / 23
---
We told you Jessica Alba goes to Mr. Bones a lot - she was back again with her Ralph Lauren Stirrup Shoulder Bag. Get the haircalf version for $2,950 via Ralph Lauren.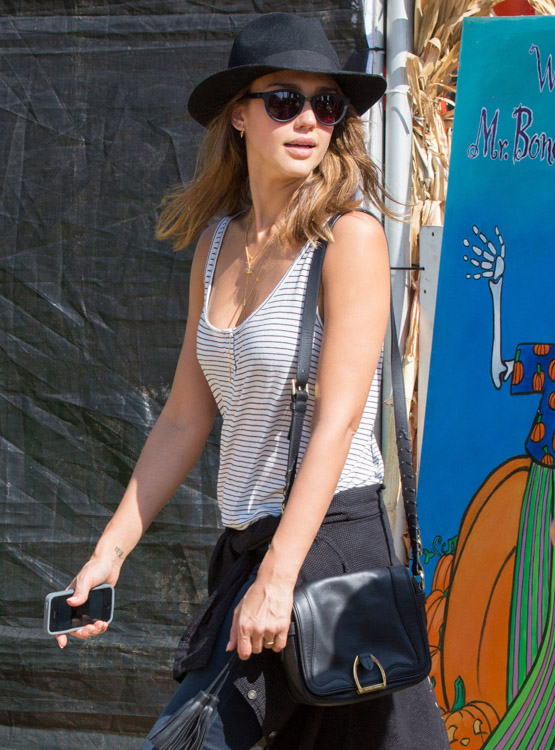 12 / 23
---
And one more visit for Jessica Alba, who carried a bag we had previously overlooked in her collection - an Yves Saint Laurent Besace Messenger Bag. Shop Saint Laurent bags via Neiman Marcus.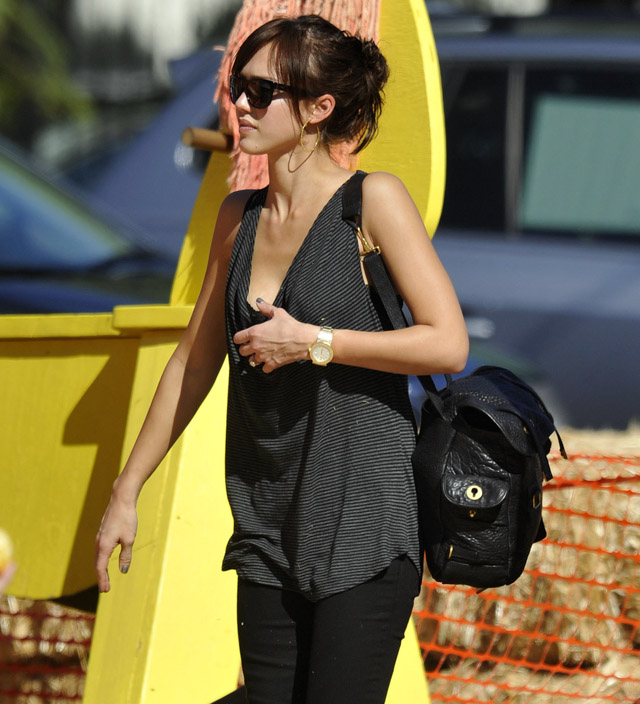 13 / 23
---
Somewhat non-intuitively, one of the most discreet and seemingly attention-shy Mr. Bones visitors we found was former adult performer Jenna Jameson, seen here with a Balenciaga Giant City Bag. Buy through farfetch.com for $1,831.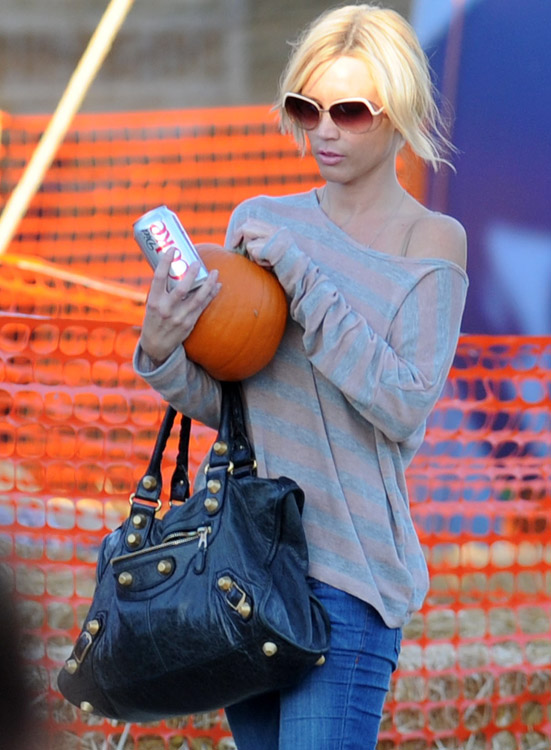 14 / 23
---
Real Housewife Kyle Richards and her Devi Kroell Python Hobo look a little more happy to see the cameras.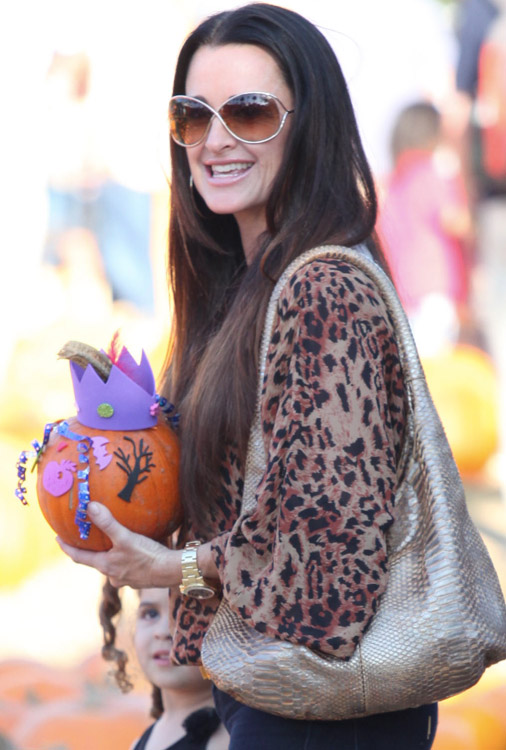 15 / 23
---
Kyle Richards came back again with her Givenchy Antigona Bag in leopard. Pick up this season's leopard Antigona for $3,440 via Net-a-Porter.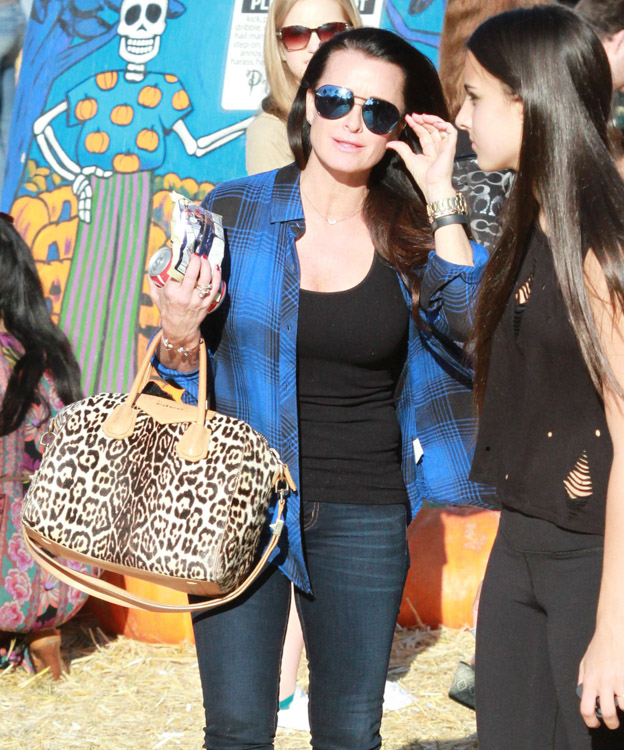 16 / 23
---
And here's Kyle Richards for a third visit to the pumpkins, this time with a Chanel Cerf Tote.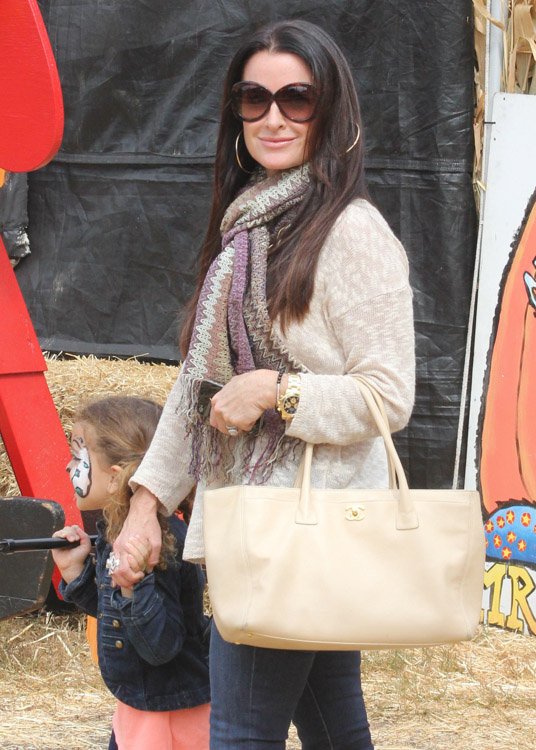 17 / 23
---
In general, Chanel seems to be the brand of choice for Mr. Bones-goers. Here's GG from Shahs of Sunset, picking up a pumpkin with her Chanel Classic Flap Bag.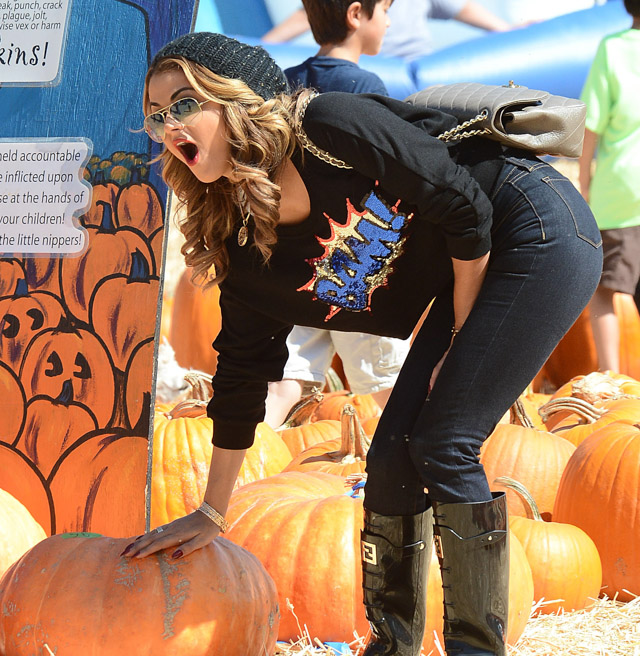 18 / 23
---
Angela Simmons also carried a Chanel Classic Flap Bag, as did the friend (perhaps her sister?) that accompanied her.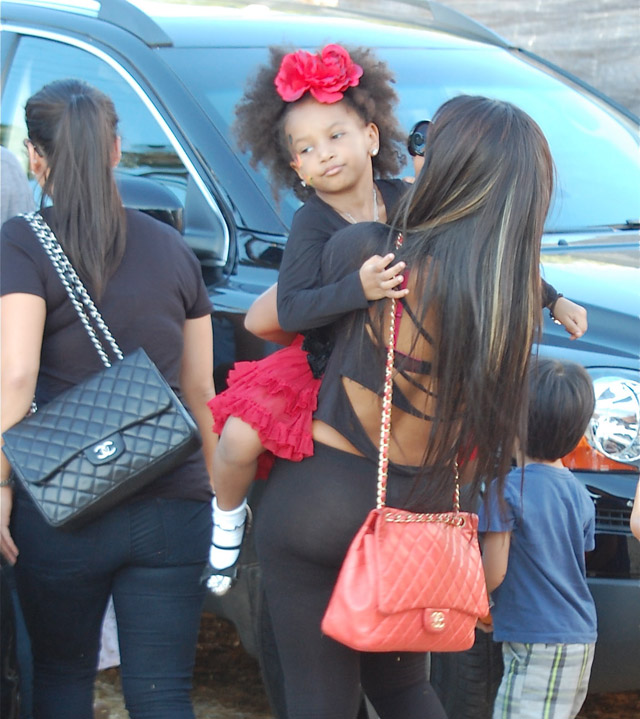 19 / 23
---
On the opposite end of the spectrum, bag-wise, has been Christina Aguilera, who carried...I don't even know what this is, besides a mess.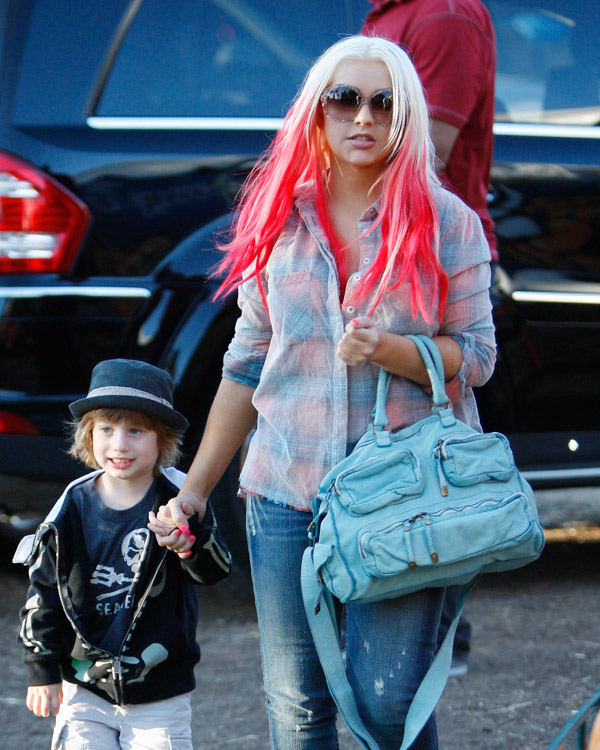 20 / 23
---
Speaking of messes, I'm pretty sure that what Christina Aguilera is carrying here is a fake, gross, wannabe-Prada bag. I almost didn't include it, but it's appropriate for a bit of Halloween fright. You can buy authentic Prada via Neiman Marcus.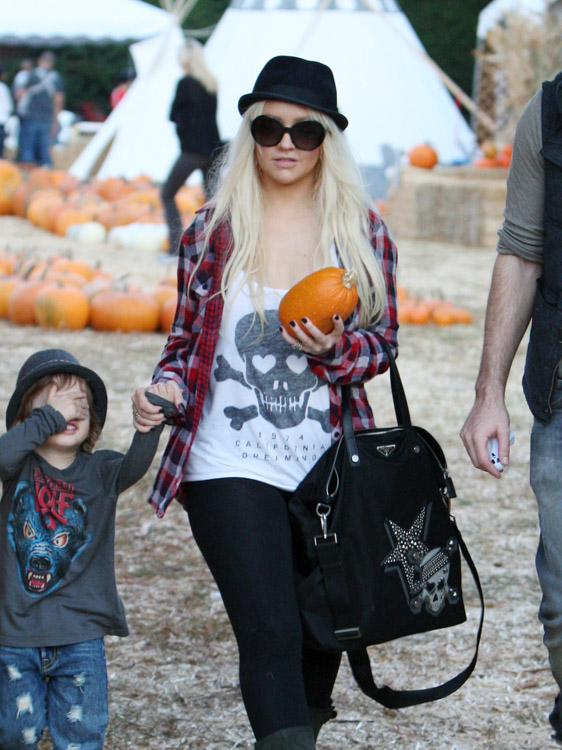 21 / 23
---
Emma Hemming, wife of Bruce Willis, carried what is perhaps the bag in this set most appropriate for outdoor fall activities - a little vintage-looking leather crossbody that reminds us of J.W. Hulme's heritage bags. Pick up a similar minibag for $240 via ShopBop.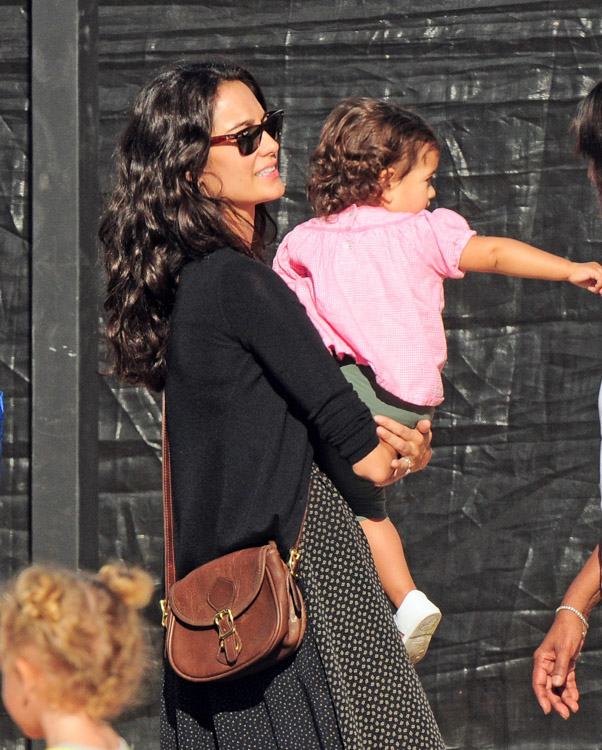 22 / 23
---
Petra Eccelstone, on the other hand, chose a suede Celine Phantom Luggage Tote. Not quite as outdoorsy!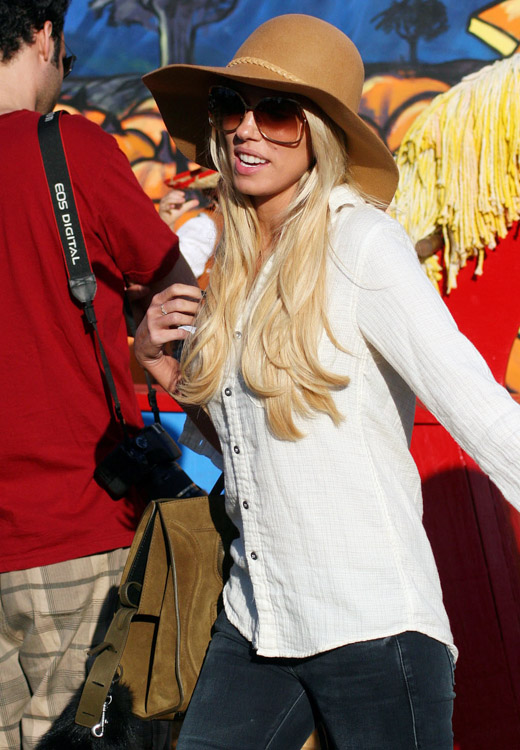 23 / 23
---
I love that Michelle Monaghan carried a Coach Legacy Duffle Shoulder Bag to pick a pumpkin with her daughter - it's the new version of the same bag my mom used to carry when I was a little girl! Pick up your own for $348 via Coach.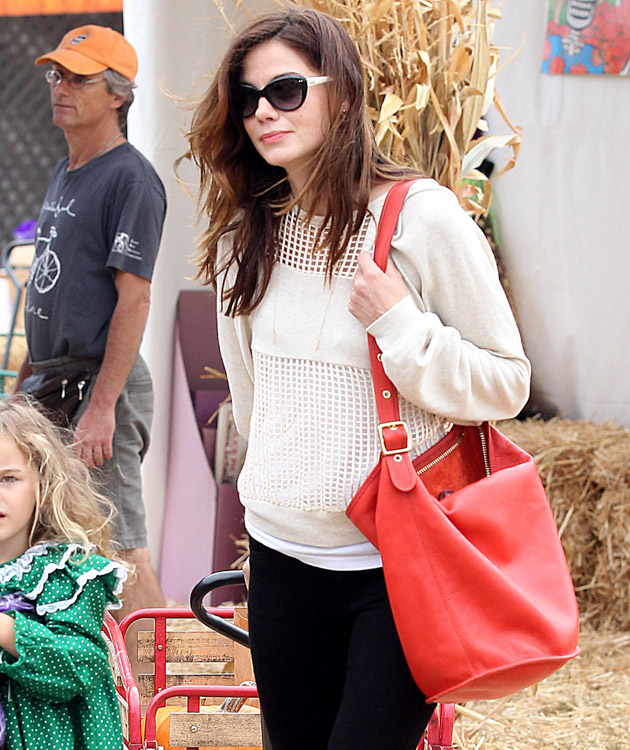 P.S. Please consider supporting our small, bag-loving team by clicking our links before shopping or checking out at your favorite online retailers like Amazon, Neiman Marcus, Nordstrom, or any of the listed partners on our shop page. We truly appreciate your support!