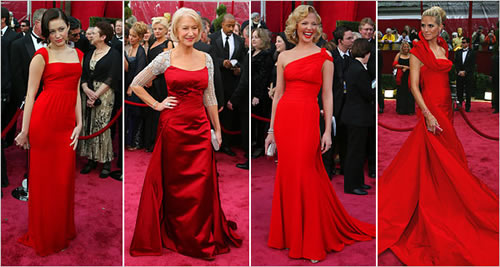 From left to right, Miley Cyrus, Helen Mirren, Katherine Heigl and Heidi Klum on the red carpet
At the 80th Annual Academy Awards all of the major actors and actresses made appearances on the red carpet. The red carpet was taken over by red gowns. Many of the leading ladies in the acting world came out in sultry regal reds, including Katherine Heigl, Helen Mirren, Miley Cyrus, Ruby Dee, Anne Hathaway and Heidi Klum.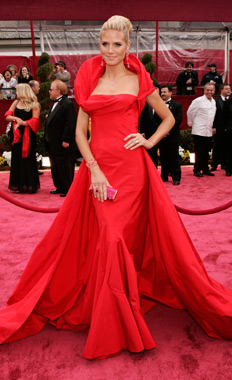 Heidi Klum not only showed up in a breathtaking red gown, but the dress is also will go to the Diet Coke Red Dress Program. Klum's involvement will help raise awareness of women and heart disease through the Diet Coke Red Dress Program. Her gown is a stunning red silk taffeta bustier gown designed by John Galliano Haute Couture. Enter for a chance to win the dress Heidi wore on the red carpet at My Coke Rewards.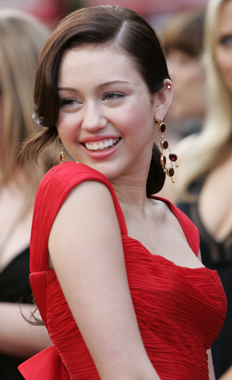 The young starlet, who has literally taken over the musical world, Miley Cyrus wore a Valentino chiffon gown. The hem went to the floor, which will make all parents of Hanna Montana fans happy. Her bronze lizard clutch was adorned with Swarovski crystals and designed by Mary Norton.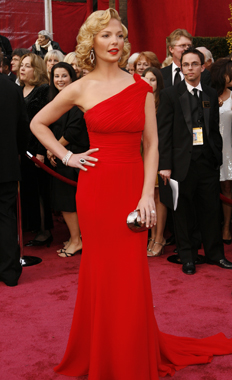 Katherine Heigl opted for a red silk Escada column gown with one-shoulder design and draped and pleated bodice. Her handbag was the Kase Jimmy Choo clutch in silver with clear crystal.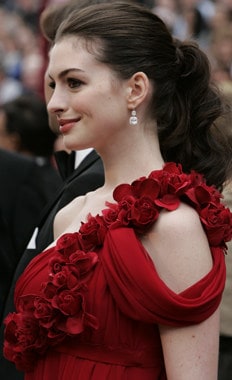 The fair-skinned beauty, Anne Hathaway, wore a red Marchesa gown with rose detailed one-shoulder strap.
[Images via New York Times and Oscars]