It's no secret that at PurseBlog, we love fashion–it comes with the territory. Fashion is pretty much a way of life for us, an obsession, a one-true-love kinda deal. However, if there is one thing–anything at all–that rivals our love for fashion, it's our love of food. One of the greatest things about NYC (besides, of course, fashion) is the constant availability of amazing new things to eat. And we love checking out a new spot, whether it's a classic, tried-and-true New York restaurant we've just never hit up before or the trendiest new brunch spot in town. We are excited to share with you where we're eating and, of course, what we are carrying along the way.
Just like the rest of the fashion industry, we are Insta-obsessed, and Instagram is good for inspiring more than just our latest shopping must-haves. Unless you've been living in an alternate universe, you're likely well aware that Instagram is brimming with dining inspo. All our favorite NYC-based bloggers and influencers are constantly sharing where (and what) they are sipping, munching and avocado-toasting. Recently, many of our favorite Insta girls began popping up at Oficina 1M, a rustic, market-to-plate Italian eatery in Nolita.
Nolita is home to many share-worthy hot spots, and Oficina 1M is no different. This café is seriously charming, with rustic wallpaper and decor. There is even an old motorbike inside, which adds an old-world European flair. Pull a vintage stool up to the bar for drinks and light bites, or hang at one of the restaurant's many tables for a casual, sit-down meal. This enchanting little spot could call our names at any time of the day, but something about it just screams brunch, and that's exactly what we did on our visit to Oficina 1M.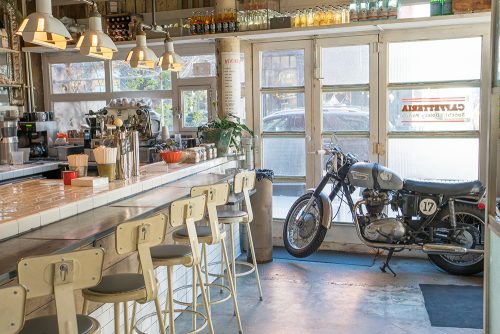 Reservations: Accepted via OpenTable.
Brunch Menu Price Point: Shareable plates from $3 to $20, Mains from $10 to $23 and Sweet Treats from $4 to $16.
Where: 371 Broome Street at Mott Street, NoLita.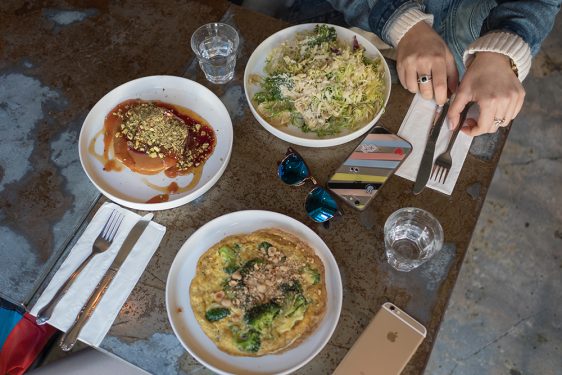 What We Ate: Frittata al Tartufo, Insalata di Stagione (artichoke and parmasean cheese that day) and Ricotta Pancakes.
The Must Try: Oficina's Ricotta Pancakes truly are the star of the show. Light and fluffy, with a deliciously creamy ricotta interior, they are one of the eatery's most Instagram-friendly dishes. Pro tip: Order them as an extra to share with the table because they might be a bit too rich to eat as your main!
Bonus: To wrack up lots of Instagram envy, make a reservation–by phone only–for Oficina's exclusive pink table. We can't say for certain if it exists, as we didn't see it with our own two eyes, but according to our investigative scrolling, it's a real thing. Let us know if you snag the coveted table–we're already jealous!
https://www.instagram.com/p/BQD2TRqBSfy/?taken-at=1021503834
Over all, we say Oficina 1M is a place to see and be seen, and the food does not disappoint! We can't wait to visit again soon.
Oficina 1M Website
Oficina 1M Instagram
Oficina 1M OpenTable