Maxi-purses have long been a trope of much derision within the cultural lexicon.
It's the accessory du jour of the expecting journalist in Netflix's Inventing Anna – while the eponymous anti-hero of the show herself traipses around with a bunch of sleek Céline, Dior and Prada numbers. In Lauryn Hill's 1998 musical production, Everything Is Everything, the pop-star's cropped denim jacket and braided Fendi Baguette pairing stands in stark contrast to a passerby balancing a gorgeous – but nevertheless gargantuan – tote, as she rages into a payphone.
Heck, even former Vogue writer Liana Satenstein admits to lugging around a veritable landfill of a Louis Vuitton Multipli Cité up and down NYFW: "never a bride, always a bridesmaid!"
In fact, you can carry a glam baguette or a sultry mini-bag all you want in the evenings, play-acting your way to your best Kardashian-Jenner-Hadid lives. At the turn of the week though, it is to your tattered tote of troubles that you must return.
But as the fashion gods would have it, there comes a time when even the most humdrum of haulers gets its shot at stardom (I mean, just look at fanny packs if you don't believe me). And today, it is these utterly unglamorous utensils of daily life that we celebrate: our dearly-despised maxi-purses, in all their glorious surpluses, slippers for the subway, and faded Whole Foods receipts.
Ladies and gentlemen, welcome to the era of the messy bag.
Jane Birkin – the Muse of the Moment
Like much else in fashion, the messy purse trend derives from the Birkin. In this case though, not just any Birkin, but Ms. Birkin's Birkin.
Famously rebellious, the Anglo-French chanteuse has come to embody the essence of both London in the Swinging Sixties and the playful Parisienne of the eighties. And her choke hold on the fashion crowd till this day is no small feat, churning out decades of tabloid fodder detailing how exactly to achieve that flirty, eyebrow-grazing fringe, or styling wicker baskets the French way. Atop all of that, however, sits her Birkins, which she reportedly owned only five pieces of throughout the entirety of her lifetime, and that are a direct manifestation of her individuality.
Often stuffed to the brim, with an assortment of tchotchkes, prayer beads, watches, and more spilling out of its voluminous bowels, Birkin's Birkins were worlds apart from the curated, mysterious "ladies who lunch" persona Hermès has crafted. Rather, much like her Paco Rabanne and Martin Margiela dresses, her bags were subject to the same carefree disregard: used on some occasions as a bed for her cat; on others, as she freely admits, to haul "half the furniture from her house."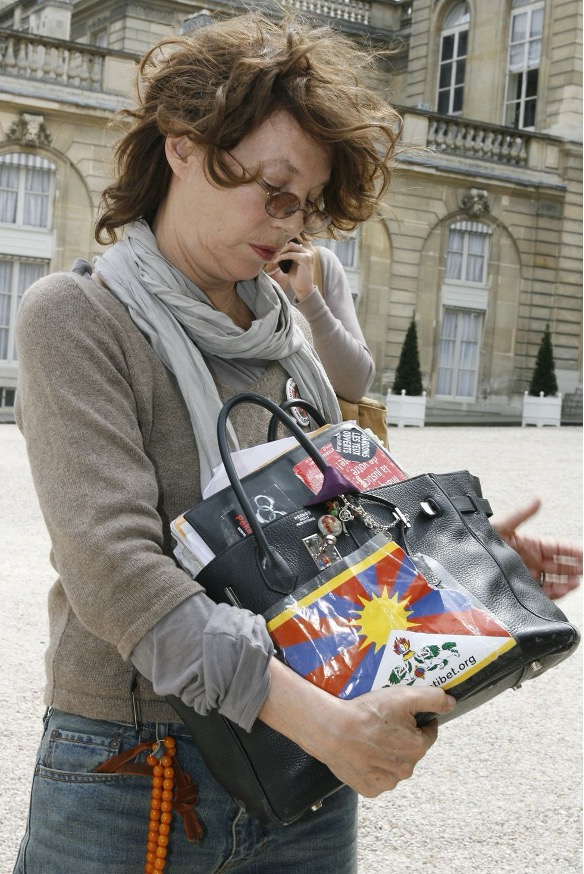 But even though her ethos is clearly not likely to resonate with the "no bags on the floor" crowd, in many ways, Birkin did democratize her namesake carryall. It allows us to dream of making our daily schleps feel ever-so-slightly luxurious, to revel in the banality of our burdens, and appear somewhat less frazzled in the process.
After all, we may have evolved, but our loads haven't gotten any lighter!
SS24 – the Season of the Messy Bag
It is thus that we find ourselves face-to-face with what Marie Claire dubs "the Jane Birkin effect."
Of course, it's been in the works for a while now, championed by the likes of Mary-Kate Olsen, Marc Jacobs, Francesca Eastwood, and most recently, Julia Fox, whose elegantly disheveled (and in Fox's case, hacked with a machete) carryalls set ablaze the idea of treating our handbags with any degree of veneration – even if they'd cost us $10,000. It's fascinated the TikTok crowd, warranted its own article in the NYT, and for Spring/Summer 2024, reared its head on the runway.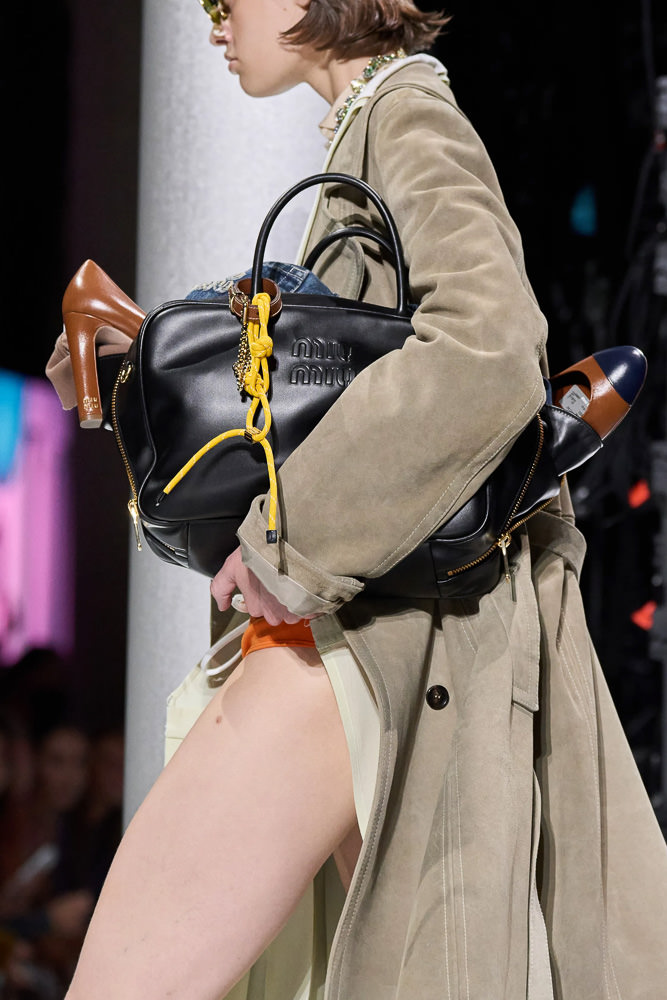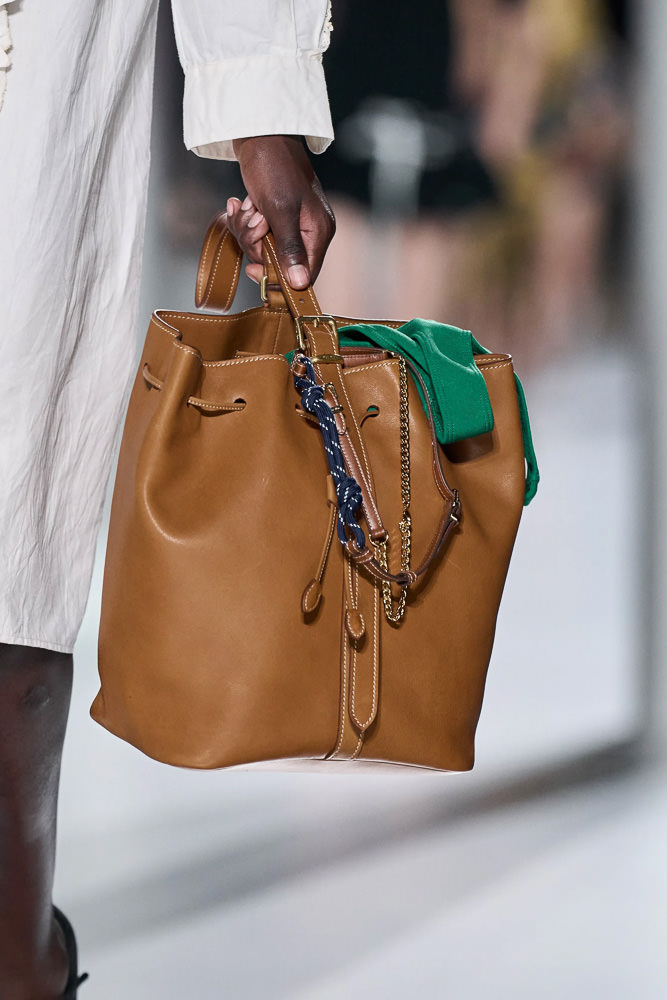 Messy bags from the Miu Miu SS24 runway.
In fact, at Miu Miu, where mini-skirted models toted dainty little satchels in the crooks of their arms only last season, now had the same bowlers lived-in and stuffed with wedges, clothes and trinkets. Over at Balenciaga, the abuse went a step further, with artificially distressed and discolored maxi-flaps decorated with oversized padlocks, chains and keys. Even Mathieu Blazy's Bottega unveiled supersized totes sporting rolled-up newspapers.
And if nothing else, the charm (and the chic!) of a beaten-up handbag that so accurately draws upon everyday life was clearly not lost upon the audiences. Accordingly, it seems, vintage Moto bags, the original reticules of resilience, have returned to the rues of Paris this season!
A Sign of the Times
Of course, decimated decadence has long held its own ground within the realm of fashion. It's faithfully served women (and men!) who have lives to lead beyond the Instagram feed, who take pride in the wear and tear and scars of their adventures.
But having the style grace the runway – where, in some cases, the same sleek silhouettes of past seasons have now been given the gritty makeover – takes a stand on consumerism that spans far beyond the territory of fashion. It shows us what our handbags were meant for in the first place – to be used!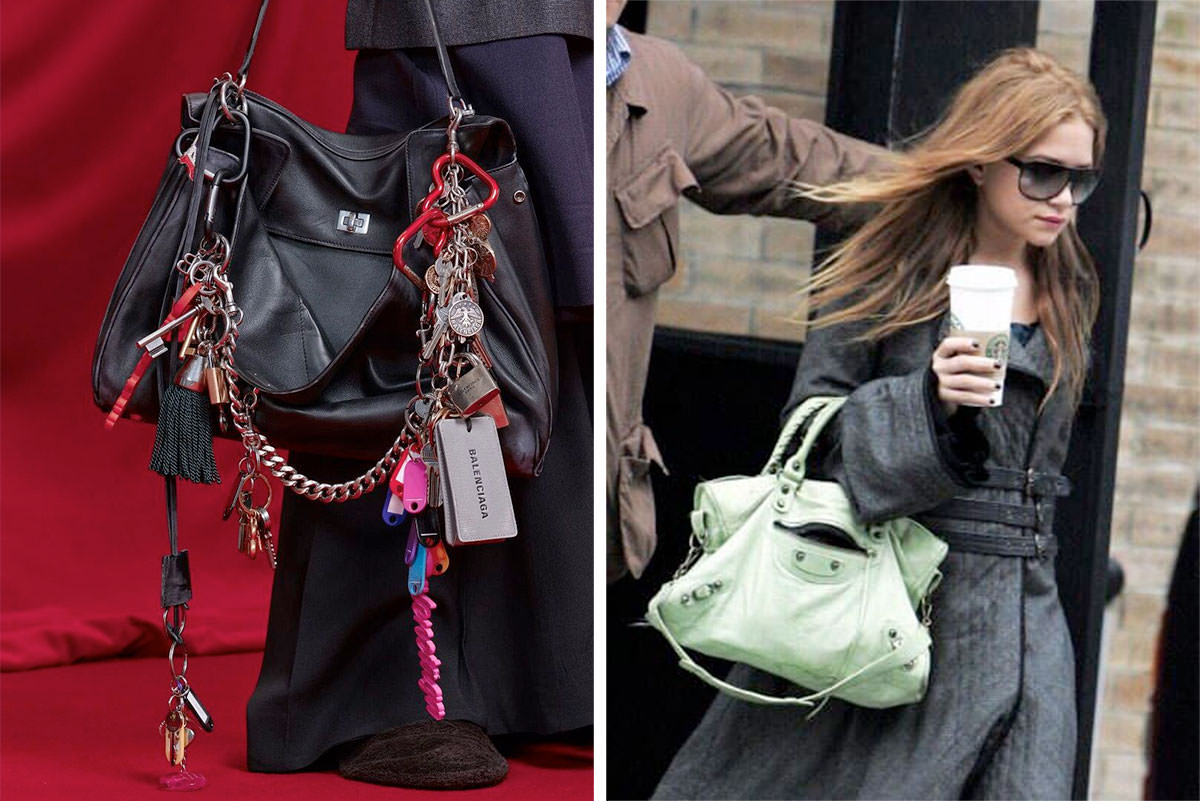 More importantly, however, with a purse seemingly on the precarious verge of explosion, designers perhaps ask only one thing of us – to live in their creations, to instill personality in otherwise inanimate beings. The wear and tear, that's merely part of life. It tells our story to those we pass on to – of our triumphs, heartbreaks, and of a life well-lived, especially when so many around the world are deprived of one.
After all, nothing in life is perfect, so why does your bag have to be?