Last month, just as NYFW was winding down and PurseBlog was amping up to head across the pond, I snuck away to Paris for a vacation with my mom to celebrate her 70th birthday. We arrived in Paris on the 11th of September and stayed for a week, and IMHO, the timing was *chef's kiss.*
While being in Paris during Fashion Week is an entirely different ballgame, we were traveling strictly for pleasure. We did not want to be in the city when the traffic is worse than it is on a typical day, lodging is more expensive, and getting dinner reservations is like trying to snag the latest It-bag. We wanted to enjoy the nice weather and not sweltering heat, and the timing of mid-September was just perfect.
Paris by Day
It was not my first time in Paris, but it was my mom's, so while she wanted to do a few touristy things, we also wanted to sneak in some time to experience the city as the locals do. We stayed in the 6th arrondissement, which I found to be an ideal location. Every morning, we'd wake up and head out of our boutique hotel, which was located on the fairly busy Rue Bonaparte, and watch Parisians rushing to work, and I really felt the hustle and bustle of real life in Paris.
Almost immediately, I began bag-watching, and while in some cases it was hard to tell who was a tourist and who was not, for the most part, I found it easy to differentiate. I enjoyed the people watching and taking in the fashion of regular everyday Parisians before the fashion set touched down.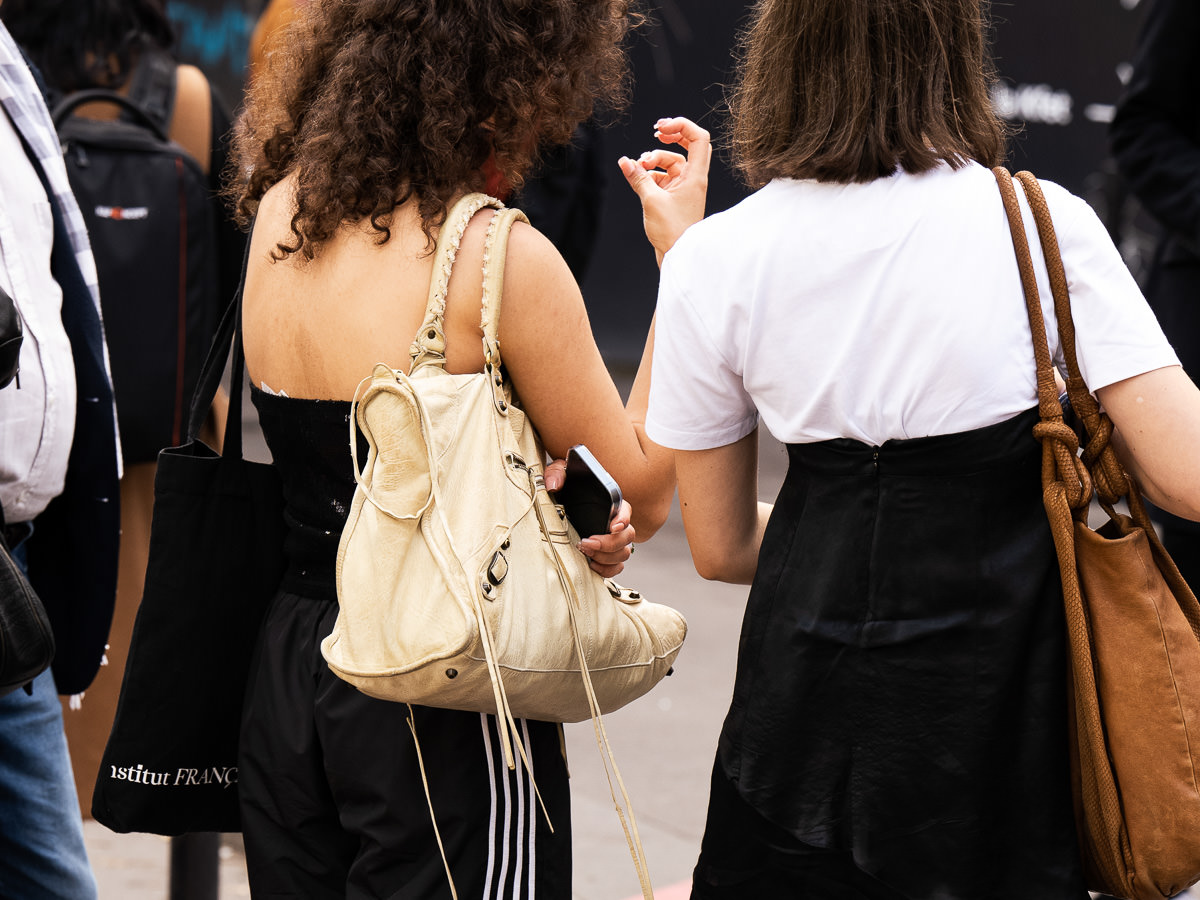 The Balenciaga Moto Bag Lives On
The bags that I noticed time and time (and time) again took me back to the early aughts. I could not go an hour without seeing someone toting a classic Balenciaga Moto Bag. From City Bags to Work Bags, Sunday Bags, and more – Vintage Balenciaga is currently IT in Paris. I noticed them a lot during the day on the streets, but I also noticed it at night, too. I have family in Paris, and thanks to my cousin's great advice, I dined at a few local spots, which made the fashion spotting much more authentic. Even my mom began to point out the Balenciagas by the end of our trip, and I was left running to the resale market, wishing I had added a vintage Balenciaga to my rotation before leaving NYC.
Do you enjoy bag-spotting while on vacation? What bags have you seen?