Over ten years ago, I bought my first Bottega Veneta bag in Venice, Italy. I still remember what I was wearing that spring day and how enamored I was with the store. I had only been to Europe a couple times before that and finally had some money to spend on a great designer bag, and I knew I wanted a Bottega Veneta. The brand works leather so meticulously and beautifully that many fans of the brand will never be satisfied with anything else, and it's easy to see why. My first bag got me hooked, and since then I've added multiple special order items and beyond to my collection.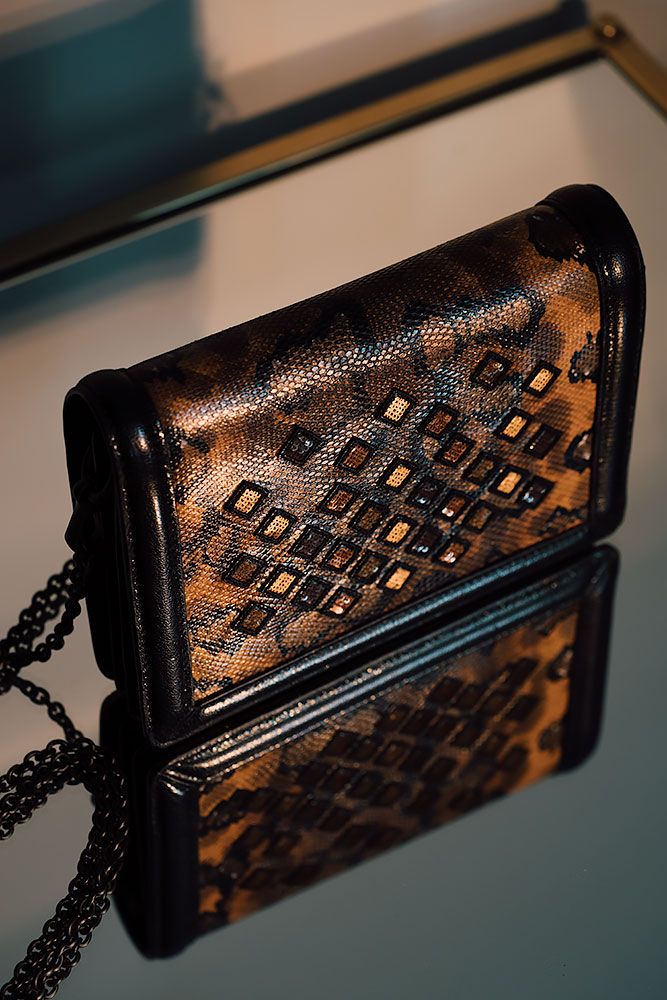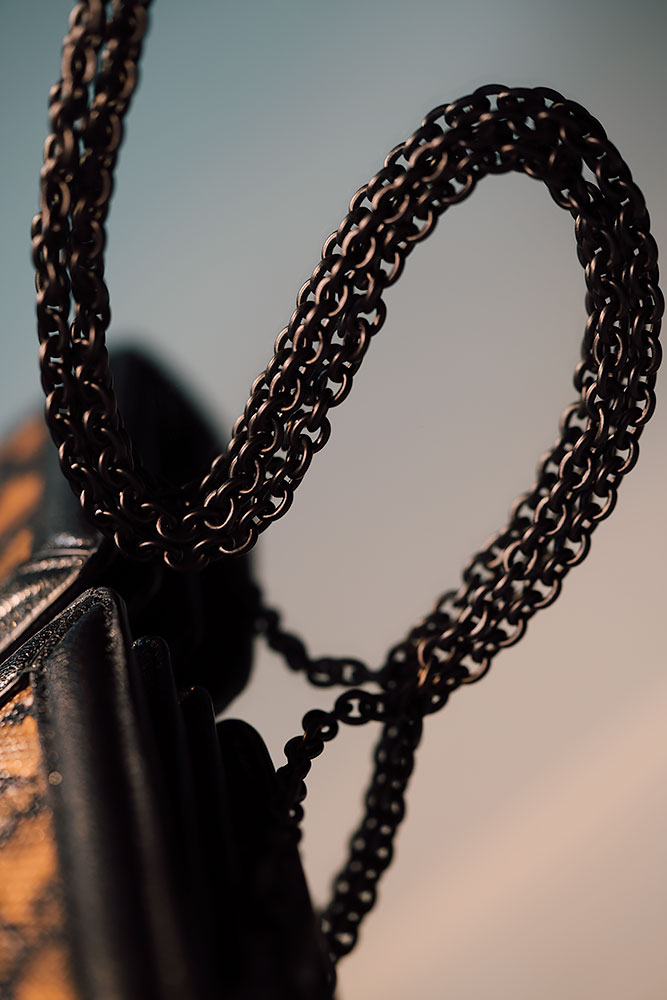 Bottega Veneta Mini Montebello Bag in Ocre Karung ($2,100)
I've also worked with Bottega for years to share the latest designs with our readers, and when I heard about this new bag, I fell in love. I'm excited to introduce the Bottega Veneta Mini Montebello, a versatile design that is both compact and also fits plenty, while showcasing the best of what the brand offers. I'm a Bottega Veneta mega-fan (remember, I have two special order Knot Clutches, which you can see here and here) and since starting PurseBlog, I've only become a bigger fan of a brand that prides itself in the quality and craftsmanship of its designs. That's why this bag spoke to me from the minute I saw it—all of the best parts of the house can be seen in the work.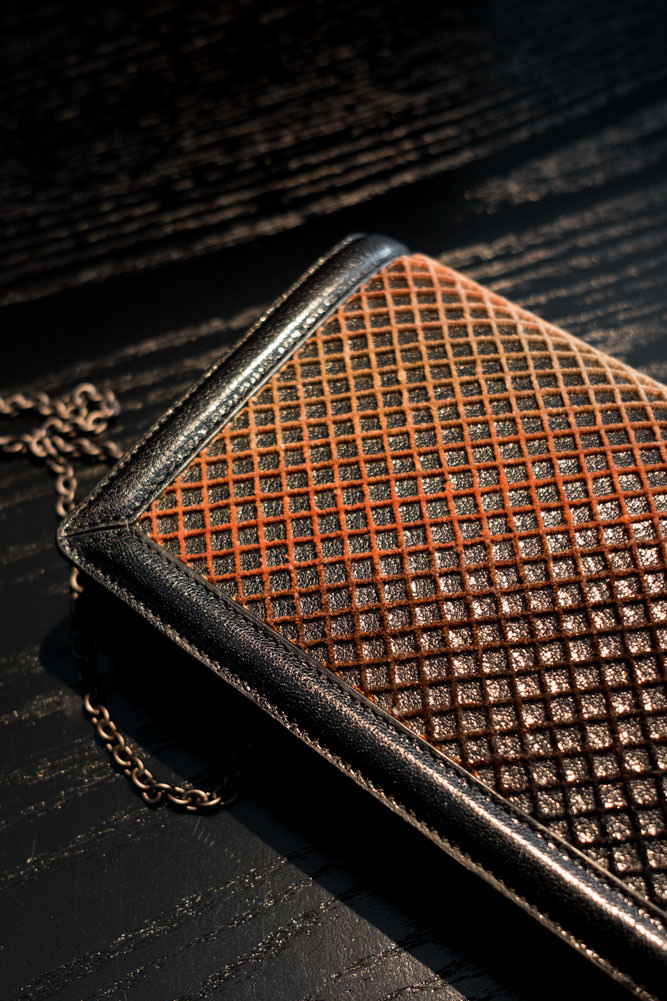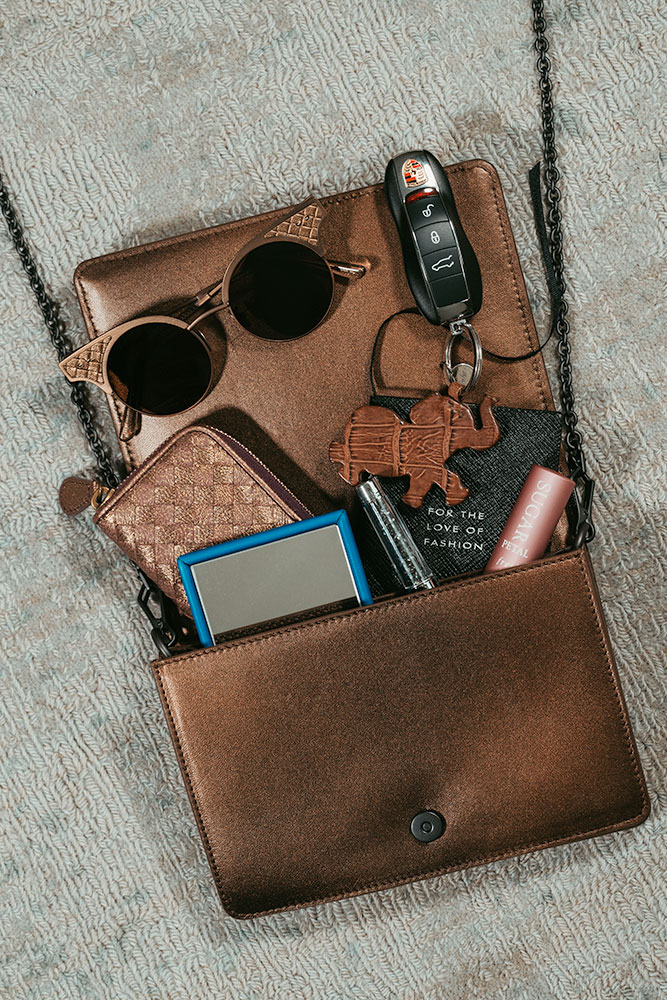 Mini Montebello Bag in Calvados Goat ($1,700) ($1,700)
Recently, Bottega Veneta moved its atelier from Vicenza, Italy, to an historic, 18th-century Villa in nearby Montebello Vicentino. This bag is named after the new home to the Atelier and embodies much of what the house prides itself on: sleek design, versatile wearability, and intricate details. There are countless options when it comes to the Bottega Veneta Mini Montebello (I'll share links to my favorite below), and each offers a different appeal.
This bag can be described as a clutch meets a wallet-on-chain bag. One of the biggest questions I am asked when it comes to more compact bags is what fits inside, and in this case, I took time to try out different items so I could share that info with you. This is where the Mini Montebello proves to be larger than a wallet on chain, as the bag fits quite a bit more. I had no problem carrying a small wallet (a card case is ideal for space saving purposes), my car keys, a lipstick, my phone and sunglasses. It all fit inside, and depending on which items you need with you, you can likely make it work inside of this bag. I love a bag like this that easily goes from day to night because of its ability to hold more than a clutch while still remaining small enough to not look out-of-place for a night out.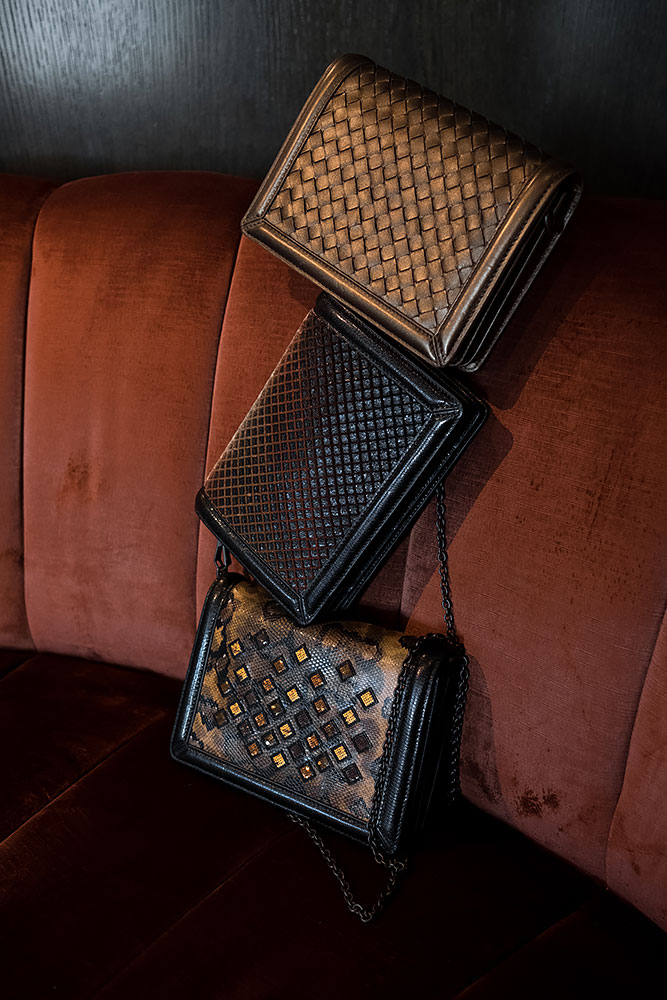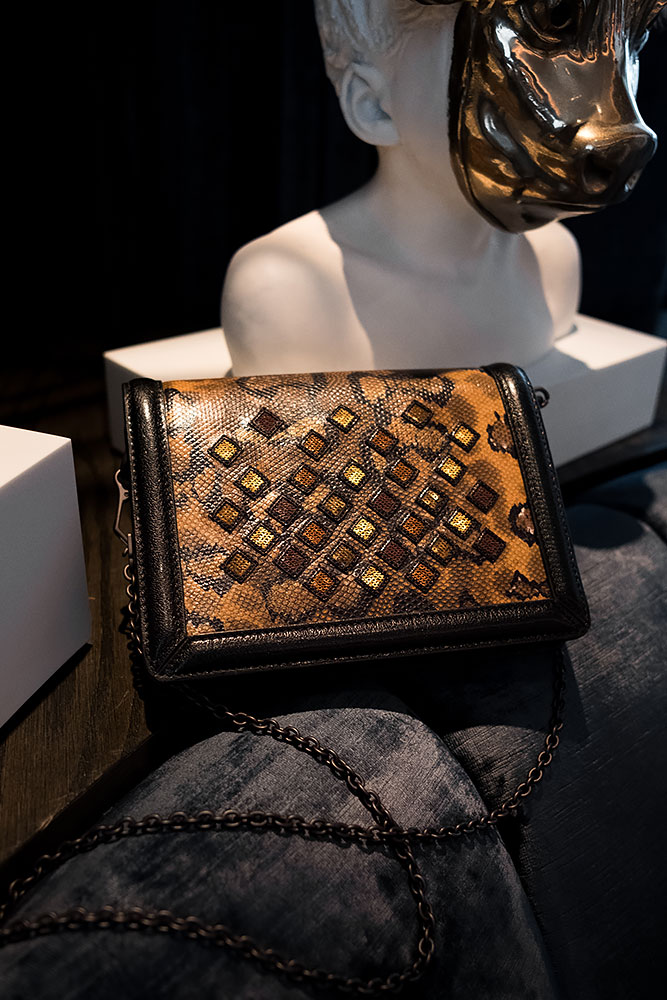 Mini Montebello Bag in Calvados Goat ($1,700) – Ocre Karung ($2,100) – Dark Copper Intrecciato Nappa ($1,700)
Since having Millie, I am more and more drawn to bags like this: practical, versatile, light, and easy to carry. The chain strap is long and allows you to carry the bag crossbody (which is a must for me now), and the size fits essential items while keeping the bag lightweight. In fact, Bottega Veneta tends to have very lightweight leather bags overall, which I am always drawn to — who doesn't want a beautiful leather bag that won't weigh you down or dig into your shoulder?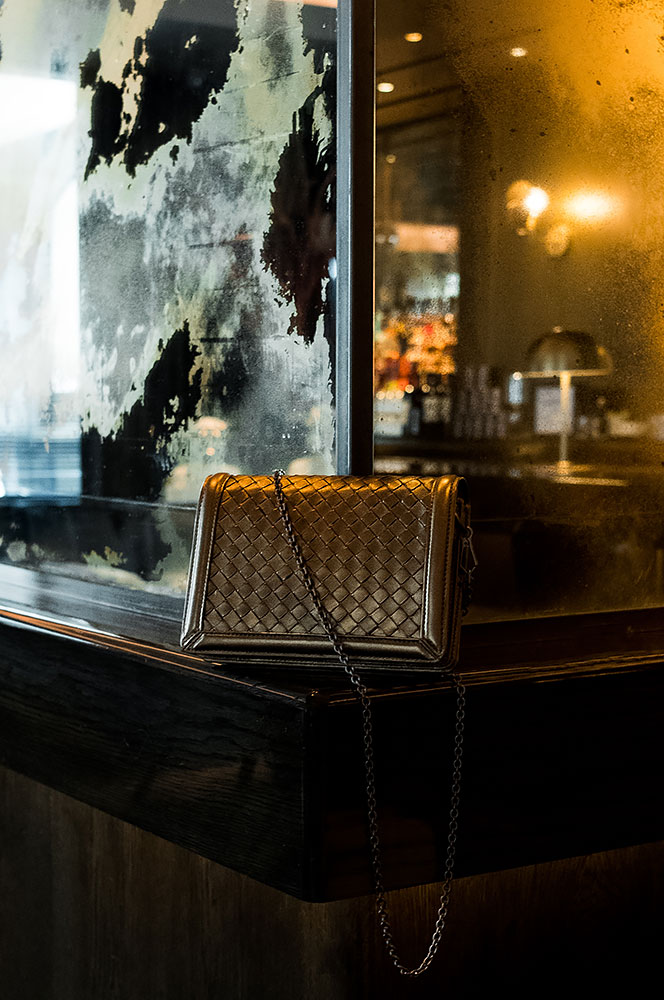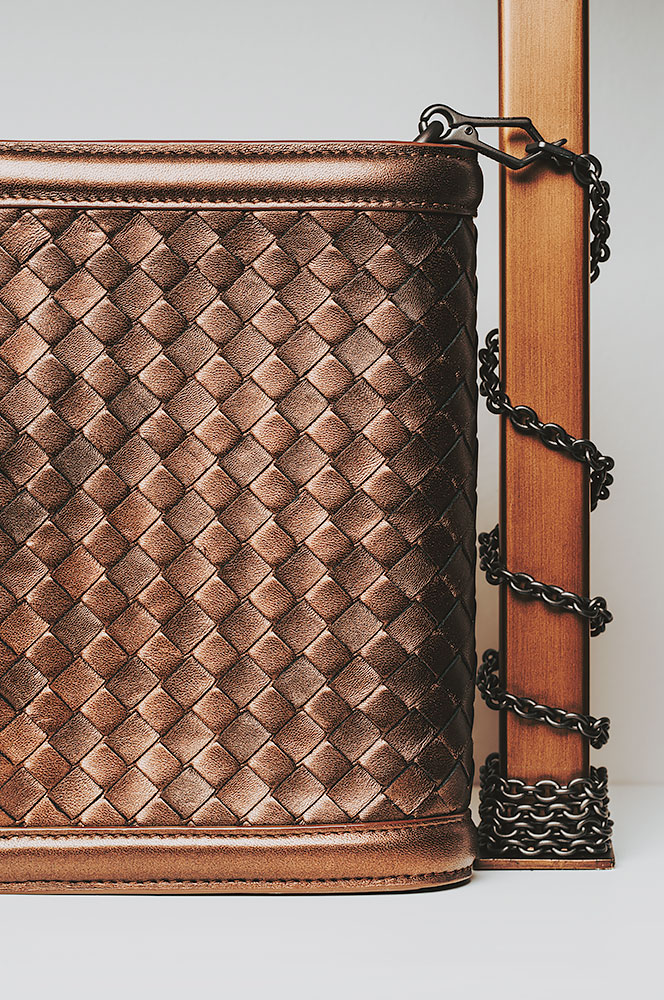 Mini Montebello Bag in Dark Copper Intrecciato Nappa ($1,700)
As for the options, there are so many. We got to see an Intrecciato version, which comes in three metallic colors, and if you've been wanting to add a classic Bottega Veneta bag to your collection, this may be the one for you. There's also an incredibly cool version in a velvet ombre criss-cross pattern that comes in three colors, which made me want to stare at it for hours. If you want something exotic, there's a Karung lizard version with diamond-shaped sequin embroidery (which costs a bit more at $2,100).
If you asked me for my personal favorite, I think I'd have to say it's this one. This Bottega Veneta Mini Montebello is made from an exclusive gold jacquard weave with a compact 3D effect, giving the final product just the right amount of glitz without being over-the-top.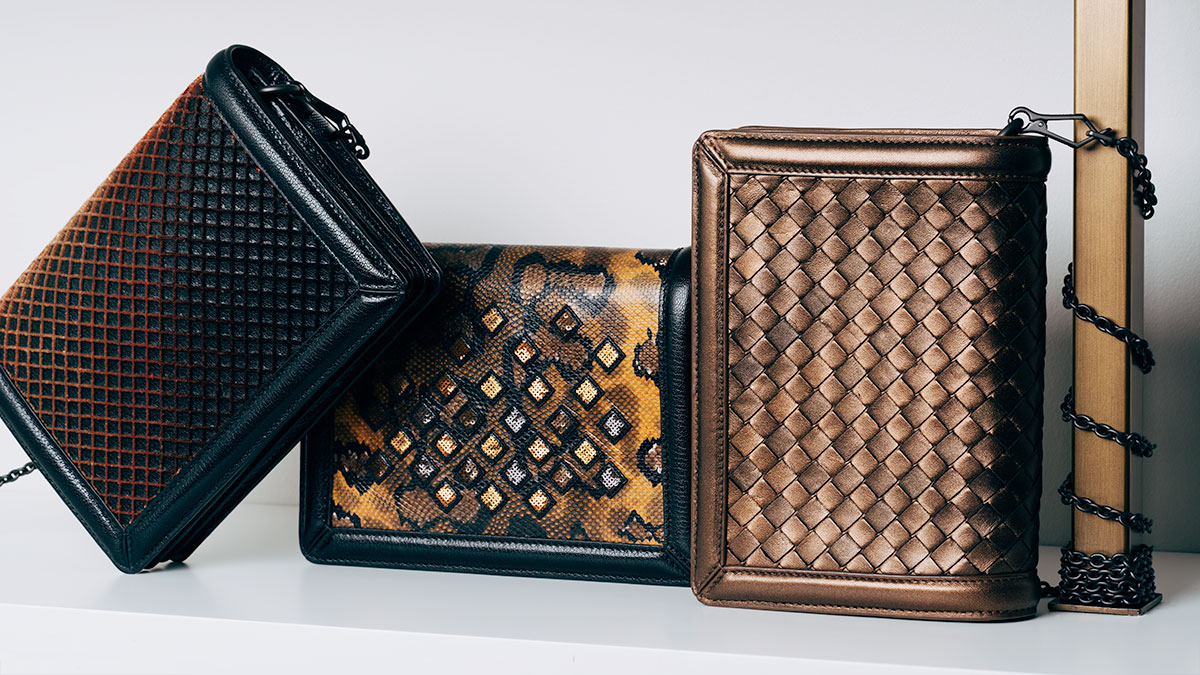 Mini Montebello Bag in Calvados Goat ($1,700) – Ocre Karung ($2,100) – Dark Copper Intrecciato Nappa ($1,700)
These bags are extremely well-priced starting at $1,700, which for the quality and craftsmanship is what I'd consider a deal. This is a bag that you can wear not just for this season, but it can easily be the bag you reach for for a quick day of running around or for a night on the town. I love a bag like this; it can be used often and become a go-to, and if you're looking for a bag that will stand the test of time, both style-wise and quality-wise, this is it.
Buy the Mini Montebello via Bottega Veneta.