Having spent all of Friday carrying my yellow Kate Spade Essex Scout Crossbody Bag around a series of furniture stores in pursuit of a new bed and mattress, I cannot extoll the virtues of a small, bright bag highly enough. Being hands-free for shopping is as convenient as you might imagine, but the flourish of color that such a bag provides is the real reason I was carrying that purse.
If you'd like something a little different than the Kate Spade bag but still in much the same wheelhouse (or if you're just a Balenciaga nut like I am), check out the Balenciaga Arena Perforated Brogues Hip Bag. It's bright, small and brimming with trendy details to get you all the way through to fall with use of both of your hands.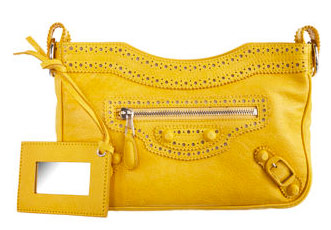 Although perforated trim is something that Balenciaga has been doing with its covered hardware for several seasons, rebranding it as broguing strikes me as a very smart move. Oxfords and brogues are reaching the height of their trendiness, and referencing that when someone's considering an accessories purchase will only be a positive association in the minds of most shoppers. And not only that, but the perforated trim is a genuinely nice touch to a bag like this – it tweaks the motorcycle aesthetic without losing the brand recognition. Buy through Barneys for $815.