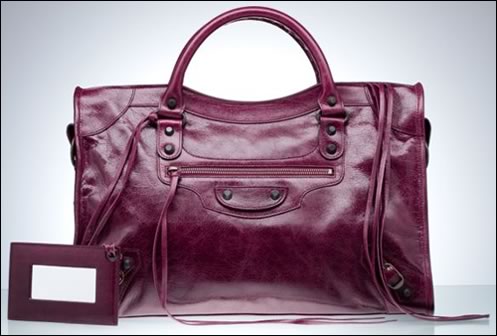 Balenciaga City
There is this huge worldwide Balenciaga craze, and somehow I have never been part of it. It is not that I do not like Balenciaga bags, actually I like them quite much. I would go on to say I adore them even, as they are just my style. Is there a particular reason why I do not own one yet? I suppose the last few times we have been in NYC we had on our list to take a trip to Balenciaga, and we just never made it.
But our next trip to New York City will surely have a stop at Balenciaga and I will leave with a new BBag. Which one is not the question. Which color is the question. The color variety that Balenciaga churns out is so massive, so unbelievable, that it makes my super huge Crayola box look skimpy.
For one of the iconic Balenciaga styles, the soft vintage crafted lambskin looks sultry and stunning in black cherry on the Balenciaga City. The City is one of the most well-known designs from Balenciaga, and this color, well, I DIE! Love it. The deep black cherry is accompanied with aged brass hardware. The signature Balenciaga signs are evident; hand stitched handles, leather strings on zips, and leather framed hand mirror. Dimensions are 15" x 9.8" x 3.9". Once I jump into Balenciaga, or even before my NYC trip, I know I will be coming to you all for suggestions! Buy the City through Balenciaga online for $1,295.