I'm 23 yrs old and about a month ago started yearning for an exotic – (preferably crocodile, however python definitely caught my interest) so your recent post on the D'Angel bags had my attention. I've spoken to a few tpf-ers who purchased the bags in March, and was wondering if you had a chance to actually try on the bag and if you had any additional thoughts on it's quality/workmanship. (We all know there's no such thing as a free lunch!). I was specifically worried about the skin coming off on the handle where I would hold it in the crook of my arm and the tassle rope (from opening/closing).

As much as I'd love to buy an exotic, I know there were some concerns about "poor quality" and was wondering if you thought the bag would hold up to occasional wearing (perhaps day-long shopping trips twice a month) and still be usable 5 years from now. Note: I recently read the great thread on Parisian women's fashion in the Chanel forum and it really made me emphasize more on quality and not quantity, which is why I'm trying to be so careful!

In addition, I was wondering if you had a color you would suggest. The Fall red didn't seem as rich as the cranberry (I *loved* the cranberry and natural from spring/summer) and I was considering getting black as it'd be easiest to match and perhaps wouldn't be as "flashy" as some of the other colors. However, I wonder if black python will end up just looking like python replica. As I mentioned, I'm quite new to exotics and would really appreciate your input on the black.

Thanks Megs!
Tiffany
Tiffany,
This is one of the most thoughtful messages that has come our way asking about a handbag. We appreciate it and have delved deep into this issue to answer it for you and everyone else who may be interested. Without being able to see a bag in person, try it on, wear it, one does not truly know the bag. I had reviewed the D'Angel Tia Tote but I did not own it nor had I even seen it in person. With your message, I realized that for such a great value bag it is of utmost importance to know what exactly you get for what you pay.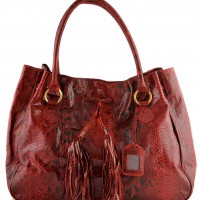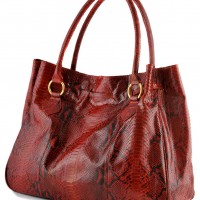 I got in touch with the designers of D'Angel Handbags, Vibri Wulandari and Dewi Sugiarto. I was in contact with Vibri from there out, asking about the bags and the quality. But asking was not enough as I said previously, and Vibri graciously sent us a Red Python Tia Tote to review ourselves (which I still have to this day).
The red is much deeper than I thought it would be, resembling more of what in my mind would be called cranberry. The bag is light, easy to get in and out of, easy to throw on your shoulder, and spacious. In all reality, the bag is a perfectly suited everyday bag in most ways.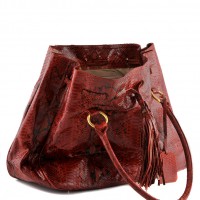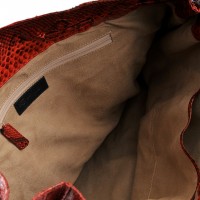 When it comes to the python skin I was again pleasantly surprised. No offense to D'Angel, but when you see a price this good you think the quality may be lacking quite a bit (part of the reason many people have asked if this bag is really as good as it seems). You know what, it is no where near a low quality python. The handles have yet to 'flake' off and in fact, the python on the bag is very smooth and soft. My Tia Tote still does not show the flaking that I have seen on more expensive python bags. I can run my hands up and down the bag without disrupting the python scales and typically, on a low quality skin, the scales would coarsely move up and down with each touch.
The bag is a sure buy if you are looking for an entry level python bag. It is not just entry level, it is a bag that will last for a few seasons. How many, I am not exactly sure, but thus far the wear has been minimal for the usage. In fact, I would call this a must have entry level exotic. You will not be disappointed. I would definitely opt for a color rather than black, especially the purple available at Lux Couture right now. Get the bag while you can for a mere $600 at Lux Couture.
For more advice on the latest in designer handbags, don't hesitate to contact me!
P.S. Please consider supporting our small, bag-loving team by clicking our links before shopping or checking out at your favorite online retailers like Amazon, Neiman Marcus, Nordstrom, or any of the listed partners on our shop page. We truly appreciate your support!