I'm always a big proponent of the daytime clutch, mostly because I think a lot of women assume that they're really hard to carry when that's often not the case. I wouldn't necessarily take one to the grocery store or on another errand that I know will require me to carry lots of bags or packages, but for a lunch with girlfriends or something similar, a clutch can be a great way to set off an outfit. After a few minutes with one under my arm, I tend to forget that it's even there.
And that's not to mention all the wonderful evening uses for a clutch. But what about a bag like the Alexander Wang Ryan Handle Clutch? This is the type of bag that requires the carrier to occupy one of her hands with its presence; the north-south shape and bulky top handle create an interesting look, but they also probably mean that it would be uncomfortable to hold under the arm as one might with more prototypical handleless options.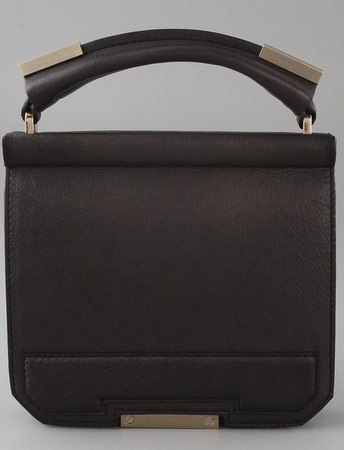 I love Alexander Wang's bags and indeed own one of this excellent metal-edged industrial evening bags, but I still can't quite wrap my mind around whether or not Wang's gaggle of cool downtown girls will want to sacrifice use of one of their hands for a whole evening. The design doesn't include an optional shoulder or crossbody strap, which might have been the saving grace for this cute little design. As it is, I think that this bag's audience will be rather limited to people who are completely dedicated to Wang's aesthetic. Particularly considering the somewhat steep price, in the context of Wang's normal pricing structure. Buy through ShopBop for $725.