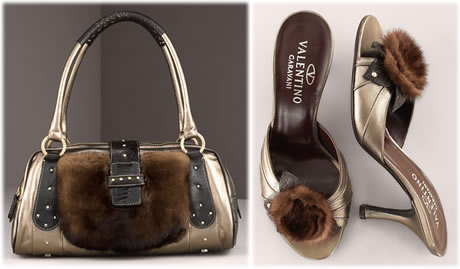 For Labor Day, I'll try something new here at our blog. Our frequent reader Chemlex suggested that we should not only focus on handbags per se, but also feature shoe accessories that would complement the bag when worn out. Great idea me thinks, and she's right when she says that it certainly ain't no requirement to match up bag and shoe anymore, but it's still great to see what today's top designers match up. If the feedback is right, we'll continue doing so, but if the crowd agrees that we should stick strictly to the bags — we shall.
Our first touple to be critically evaluated are the Valentino Mink-Trim Metallic Bag and Slides. First impression: vurrry chic, indeed. After all, we don't do much ugly and crappy junk here. The combo strikes with pure luxury, the mink contrasts fantastically with the metallic gold leather. The handbag sports a black trim and gold metallic double straps, attached via golden hardware. A croc-embossed tab with a studded keeper, and lots more golden studs across the bag's body extend the luxe indefinitely. The bag's here for pre-order via Bergdorf Goodman for $2,200.
Valentino's Mink-Trim Metallic Slides are the perfect match for the bag, giving a vibe of pure luxury just as much as their shoulder companion. The shoes feature a brown mink flower with jeweled alligator-embossed leather leaves on a gathered upper. The Italian made slides go for $540, also via Bergdorf Goodman.
What do ya'll think?