Valentine's Day has always been one of those days I've loved. While I've not always had a significant other on Valentine's Day, it is nice to sit back and remember how much love I have in my life. I have a great family, amazing friends and am constantly surrounded by love. So whether you have a Valentine this year or not, try and remember how loved you are and how many people you love!
With all of this being said, I still have a list of things I'd be more than happy to receive on Valentine's Day. Nothing too extravagant but nonetheless lovely.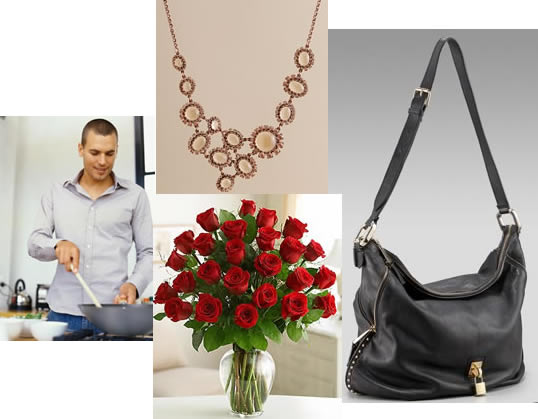 1. Two Dozen Long Stem Red Roses: I know red roses on Valentine's Day sound rather cliche, but that doesn't bother me at all. I love roses. I love how they look, how they smell and how they open up each day a bit more. I tend to believe that flowers can cheer up any room and I would love to come home this Valentine's Day to gorgeous red roses. Buy through 1800Flowers.com for $139.
2. A homemade dinner: I wouldn't necessarily turn down a night out on Valentine's Day, but I absolutely love spending Valentine's Day at home. It is so great to have your man cook you dinner or even cook dinner together. If I could choose the meal, I'd totally be up for Chicken Marsala or Lasagna this Valentine's Day. Of course, a nice side salad and some wine would be the best way to round out the meal.
3. Marc Jacobs Kate Lock Hobo: I've been thinking about this bag for quite some time now. No, it doesn't scream Valentine's Day, but I like that this is the kind of bag that I can carry all year long. Megs, covered this bag a little while back (click here for her review) and I've been drooling over it from that point forward. Sure, a little pricey for a Valentine's Day gift, but you never know, right! Buy through Bergdorf Goodman for $950.
4. J. Crew Deco Necklace: Since the Marc Jacobs bag might be too much, I've also found a great necklace from J. Crew that would be fabulous. I love this necklace because it is fun and flirty yet elegant and sophisticated. It would be a great option for dressing up or dressing down an outfit. Buy through J. Crew for $128.