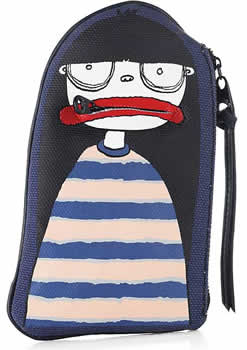 Face it, everyday is not always as good as some others. You may be sick, tired, over-worked, having an ugly naked day, who knows (unless you are annoyingly perfect, then go away ;-)). Last week if you could have seen me I would have closely resembled Miss Marc, tired, sick, and down right gross looking, that is the joy of being in the hospital.
I can picture it now, as the registration woman asks me, "May we please see your Health Care card?". I would flip out the Marc by Marc Jacobs Miss Marc Pouch in a silent but bold statement of 'Hey lady, I feel like poo, can't you tell by this pouch?!".
For the downtrodden days, this is the perfect accessory- it speaks a thousand words with the face of Miss Marc on this small pouch. There is a leather tie on the zipper for the entire pouch and a small zip pocket on the mouth. Hilarious. For the few days a year you feel like total poo, this pouch is the perfect accessory to show the world how you feel.
Not even expensive: $58 via Net-A-Porter.