23 posts tagged with
maison martin margiela
You can always rely on Margiela for a good dose of the unexpected – a magnifying glass made to look like a pair of broken glasses, peep toe shoes that peep in an entirely different way, a clutch covered with broken reflective plastic instead of sequins. Whatever your expectations are, Margiela delights in turning them on their ear.
Similarly, when you consider a grocery bag, you probably have one material very clearly in mind – thin plastic, usually white or beige. The Maison Martin Margiela Studded Leather Grocery Bag, on the other hand, takes the expected shape and turns it totally luxurious with black leather and studs. (more…)
Did you guys know that tomorrow is my birthday? Well, it is. Also, Sunday is Christmas. I bet you knew that part, though. As you might imagine, this is a time of year when people ask me what the hell it is they should buy for me even more than most people get asked that question at the end of the year, and I never have an answer. Ever. I spend my days trawling online retailers for work, so when I see something I HAVE to have, odds are I've already broken down and bought it for myself.
For example, I really wanted the Proenza Schouler Blanket Print PS1, but I bought that for myself two weeks ago. And then I really wanted some Dolce & Gabbana oxfords, but those came in the mail today. I'm an utter nightmare when it comes to gift-giving. In the spirit of having some Friday fun, I came up with an array of things that I'd love to find under the tree (or in some birthday wrapping) this weekend. Let us know what you're hoping to receive in the comments! (more…)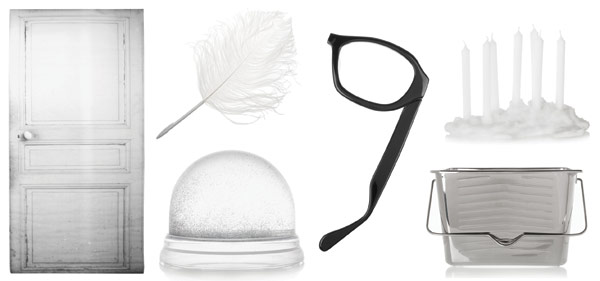 Of all the words that could potentially be used to describe the enormously innovative work done over the past few decades by Maison Martin Margiela, I think that "clever" is the most apt. Margiela's best work always makes me smile, even when the themes are dark, because the man (and the company, which he may or may not have left, depending on who you believe) always comes up with a way to take the basic thing that we all know and twist our expectations into something that makes a huge (if sometimes subtle) visual statement.
With that in mind, it only makes sense that the Maison Martin Margiela by L'Atelier d'Exercices collaboration, the subject of this week's Want It Wednesday, has yielded such an interesting crop of decor objects. From relatively mundane items like an ostrich feather pen ($60) to the downright bizarre faux door decal ($460), I'd love to have a few of these things around the house. (more…)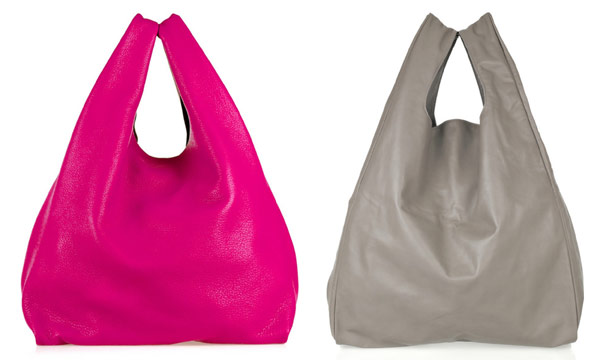 A quick glance at either the Jil Sander Market Bag or the Maison Martin Margiela Oversized Leather Shopper will let you know that the structure of these bags isn't some sort of new fashion invention. In fact, they closely resemble the shape and structure of a Target shopping bag, except rendered in luxurious leather instead of thin plastic. Sander's also includes a leather strap that runs between the handles and allows the bag to be carried like a regular hobo, which Margiela's doesn't seem to offer. On the other hand, the Margiela bag wins the size competition, and does so for a lower price. I'm guessing that this bag battle is going to come down to color, though – hot pink and cloudy grey will likely appeal to two very separate groups of shoppers. Me? I'd wear them both, so we need your help to decide this edition of Bag Battles… (more…)
Maison Martin Margiela is one of those brands that you either like or you don't, so of course the company's MM6 diffusion line is similarly divisive. I don't get the urge to buy or wear all of Margiela's stuff, but I do have a healthy respect for how the brand sticks to its distinctly urban off-kilter aesthetic and appreciate a lot of the pieces that it produces.
The Maison Martin Margiela MM6 Slouchy Leather Hobo might just be my first piece from the brand, though. The signature Margiela triangular hobo shape paired with beautifully distressed leather just can't be beat for the price if your personal style tends to skew a little bit industrial-chic. (more…)