Proenza Schouler
Page 8
What the Proenza Schouler PS1 lacks in structure, the PS11 delivers abundantly.
Just in time for spring, I have my eye set on adding a structured lady-like bag to my collection and I'm itching for something bright. I am dreaming of the Proenza Schouler PS11 in Kelly Green to be that colorful piece in my spring and summer wardrobe. The green hue is vibrant and I can imagine it looking absolutely stunning against a crisp white shirt and jeans, my go-to outfit. (more…)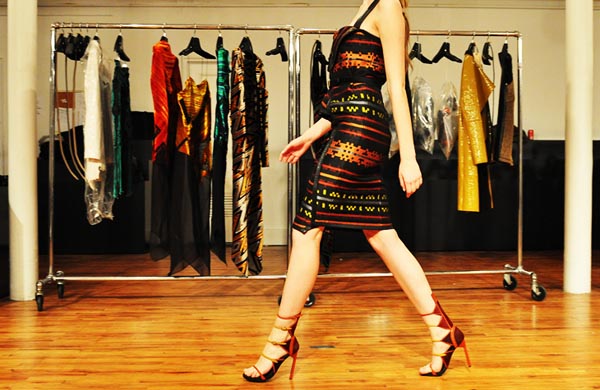 We usually try to find a handbag or at least something handbag-related for our Want It Wednesday series, but sometimes, even the most ardent of bag lovers gets distracted by all of the other wonders that the fashion world has to offer. Today, I'm totally captivated by the Proenza Schouler Fall 2011 behind-the-scenes photos by Tommy Ton over at Jak & Jil, specifically this one of a model in a deceptively simple blanket-print dress. (more…)
Megs and I are big Proenza Schouler fangirls already, as many of you might have noticed, and I'm already on the record as loving the Proenza Schouler PS1 Crossbody Pouch. The bag is functional, exactly my style and cute as a button – how could I not love it? So when you add gorgeous sueded yellow crocodile into the mix, my heart beats even faster.
Unfortunately, with crocodile comes a significantly increased price tag. If money were no object, I'd gladly plunk down in excess of six grand to have one of these little bags hanging from my shoulder. It's a great pop of color and Proenza Schouler is still a relatively small, independently run brand, after all. So it would sort of be like supporting a local small business…right? Right? Ok, maybe it's different. But the bag is still great. (more…)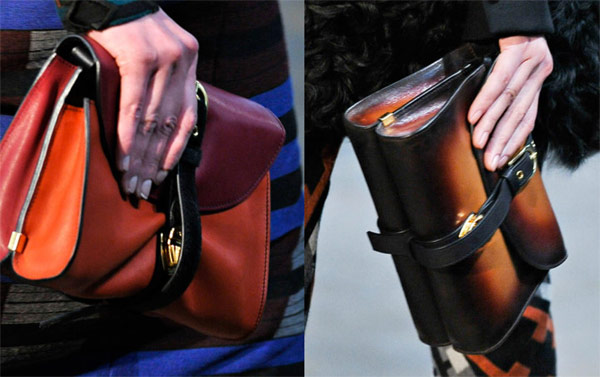 Proenza Schouler always leaves its best handbag theatrics for venues other than its runway shows, but the purses that grace the hands of the brand's models are always worth a look nonetheless. Proenza Schouler Fall 2011's handbags (and we mean "handbags" literally – all were clutches) were more straightforward and useable than that non-intuitively shaped totes of Spring 2011, and in a variety of textures, finishes and color combinations.
The double-compartment clutches represented a strong option for day-to-night wear, and the bicolor orange-pink iteration is very much in keeping with Fall 2011's color trends. Also trendy is haircalf, which graced parts of the all-black version as a textural juxtaposition to Proenza's beautiful leathers. If you're more interested in the brands PS1 staples than in its runway bags, make sure you check out the limited-time Fall 2011 pre-orders we posted about after the show! (more…)
Proenza Schouler Fall 2011 may have walked down the runway less than an hour ago, but Jack and Lorenzo have already made three of fall's bags available for pre-order – a PS1 pouchette ($975), satchel ($1925) and weekender ($1585), all in black leather and a jacquard blanket print. The bags will ship by mid-October, which seems like an eternity, but it'll be here before you know it.
I believe in handbag love at first sight and here it is. I have nothing extraordinary to say about this bag other than how absolutely amazing it is. The color, the design, and the croc skin, all come together for a symphony of perfection.
We will be seeing much more of the Proenza Schouler Keep All bags for both spring and fall 2011. But once you show me this croc version, plain leather seems too bland. Proenza Schouler has done it again and continues to do it. We thank the duo behind the brand for keeping all handbag lovers loving their designs. Price is $9,575. Buy via Barneys NY.
This bag was included in my Shop-A-Matic picks for NYMag.com, check the rest out here!
We have a first look at Proenza Schouler Pre-Fall 2011 and all I can say is amazing. If you can not already tell, we are seriously Proenza Schouler obsessed. Their handbags exude this downtown cool vibe that is hard to match. For the pre-fall 2011 collection, Proenza sticks with warm hues that we expect for fall on designs that we already know and love.
The coveted PS1 is re-done in black calfhair, adding an interesting dimension. There is a PS11 wristlet version with stripes that I am truly adoring along with a PS11 tote. And then we have the amazing PS1 Weekender, a bag that both Amanda and I are currently obsessed with. (more…)
Here I am again talking about the it-bag that was never supposed to be an it-bag which ended up making it an it-bag. Are ya following me? Because the duo behind Proenza Schouler exudes their genius by marketing a bag as an anti-it-bag that is anything but that.
If I were to personally splurge on any suede bag, it would be the coveted PS1. You all hear me constantly talk about the problem with keeping suede clean, and I fully understand that this rose hue would be that much more difficult, but I love this color for spring. (more…)
I obsessed over the Proenza Schouler PS1 all of 2010 but never bought one. It wasn't for lack of love, more for my wanting not to buy every single bag I saw that I liked – because that would get ridiculous. But I don't see me lasting all of 2011 without buying a Proenza Schouler bag, it is getting to the place of "needing" one.
Fresh for 2011, the Proenza Schouler PS1 gets a color and material makeover with brown leather, black suede and beige linen. The colors are meticulously placed on different areas of the bag, giving a very clean and eye-catching appearance. The body of the bag is beige linen with brown leather offsets and then there are black suede strap detailing. (more…)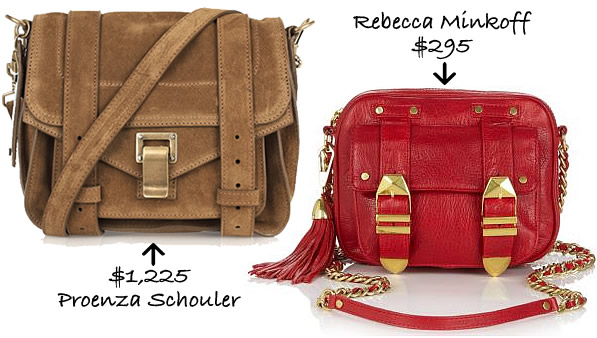 My new obsession: crossbody pouch bags. I seriously have been living in my Rebecca Minkoff BF Pouch bag. I toss my things in there and throw it over my shoulder or wear it crossbody. I love the smaller size, the lack of needing to use my hands to hold the bag, and it seems to work well for my personal style. We told you that Proenza Schouler released a line of crossbody pouch bags, and even when I saw this I was tickled pink. That is right, I just said tickled pink. I still adore the original PS1, but my crossbody smaller pouch obsession runs much deeper right now.
I have the Proenza Schouler Crossbody Pouch along with the bag I am currently carrying from Rebecca Minkoff picked out as my two favorite crossbody bags (with very different prices). (more…)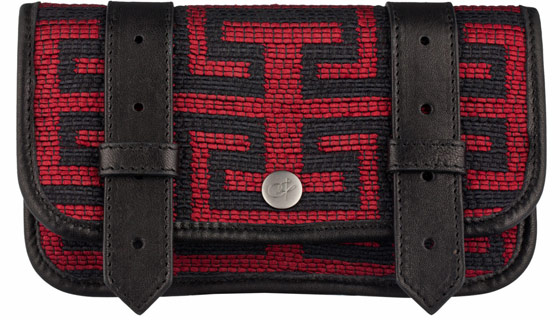 I have a chartreuse leather Proenza Schouler wallet that I use daily and find absolutely indispensable, so if you're looking for a relatively inexpensive (under $200, seriously) gift for yourself or your lucky, lucky friends this holiday season, I really cannot recommend the Proenza Schouler Mochila Wallet strongly enough. Introduce one of these little guys into your life. You'll thank me. (more…)