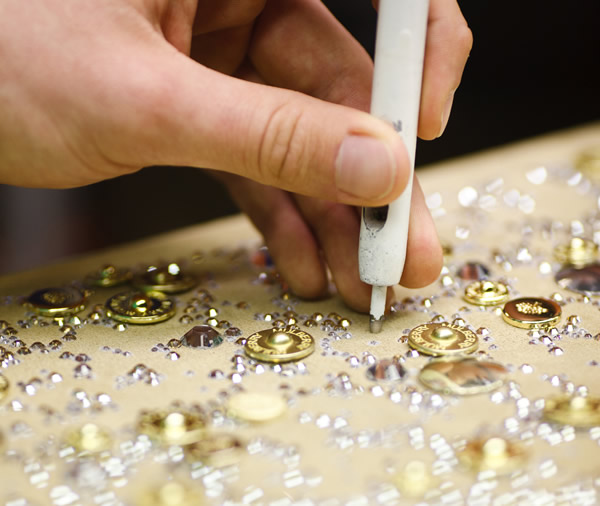 Mulberry's Lily Bag was an instant hit. There was nothing overly inventive about the design, but the design just works. And the price, compared to many other shoulder bags, is fairly reasonable.
For Spring 2011 Mulberry decided to give us an option of the Lily that is not only much more expensive but also blinged out. Yes, I just used the word bling because it is so fitting in the case of the Mulberry Jewelled Lily. (more…)
Fashion Month is half complete right now. As much as we are checking the fashion week shows to dish on the upcoming trends, we are also loving people-watching those who attend the shows. One of the must have bags of the moment is the Mulberry Tillie.
Following the huge success of the Alexa, Mulberry decided to follow up with the Tillie. The debate has ensued whether or not the Tillie is as covetable as the Alexa. (more…)

There's plenty to love about Mulberry Fall 2011, but one thing that I continually appreciate about Mulberry in general is that the brand always remembers where its bread is buttered: Handbags. Some brands only show a light smattering of purses on their runways, if any at all, but Mulberry knows that a huge proportion of its clientele exists because of the brand's famous bags, and accordingly, it provides plenty of accessory eye candy during its seasonal presentations.
Fall 2011's bags include many that will look familiar to Mulberry watchers, although the brand tweaked the Bayswater, Alexa and Tillie bags in a few detailed ways to update the designs for the new season. A few pieces fell flat, most notably an awkwardly studded Bayswater and a small hunter green satchel that didn't seem to fit the mood of the rest of the collection, but on the whole, I spotted almost a dozen bags that I'd love to add to my closet immediately. (more…)
This may seem like bold talk, but casual clutches are a totally under-appreciated and under-carried type of handbag. Please allow me to use the brand new Mulberry Alexa All In One Clutch to explain why.
On the surface, clutches may have a rather singular purpose: to look cute and unobtrusive with a nighttime outfit. But really, a good one can be so much more than that. Depending on your lifestyle and the size of bag you carry normally, this thing could do double-duty as everything from an oversized wallet to a tampon-obscurer to a place to neatly organize your travel documents. Or it could be all three of those things at once, plus act as a clutch on the weekends. Bags like these have many talents, even if they're only marketed one way. (more…)
Where does a brand go after it creates an It Bag? Designing something like the Mulberry Alexa is sort of like being in a bad that's trying to record a second album after its first suddenly went triple platinum. Do you stick with what made you a star, or do you strike out in a new direction? Mulberry clearly chose the former with the Spring 2011 addition of the Mulberry Tillie Satchel.
When I first saw this bag during New York Fashion Week in the fall, it struck me as something of a pared-down Alexa, and it still does. Much of the bag's structure is the same, but the straps and hardware have been made diminutive to give the design a simpler look. I like the hardware embossed to look like little leather straps, but I still prefer the Alexa overall. Which one would you pick? (more…)
At this point, I honestly thought that I had seen everything the Mulberry Bayswater had to show me. Yes, it's a great everyday bag. I'll never deny that. But I've seen it in so many leather, colors patterns and other materials that I didn't expect to be surprised by it any more. I was wrong.
Never doubt the ability for a resourceful brand to have one more trick up its sleeve when you least expect it, and this time, that trick is luscious soft calf leather in the shade of blue that I imagine the sky would be on the most perfect evening in the history of weather. Somehow, Mulberry managed to wrangle that color and put it on a handbag, and for that, I salute them. (more…)
Ok all, it is true, I am oddly drawn to crazy bags. As much as reviewing and dissecting bags everyday for five years has given me a discerning eye, I always remember that a handbag is an accessory and it is meant to add to your outfit. For that reason, I find myself liking certain ostentatious and funky bags much more often than not. When it comes down to it, I must love a bag before I buy it – because my handbag budget is not flowing from an never-ending geyser of gold.
The coveted and now classic Mulberry Alexa has been reinterpreted with quilted denim and a black and pink tie-dye pattern. Question is, is this rendition too crazy and tacky or is the right amount of spunk and fun? (more…)
It's so easy to get caught up in trends, gimmicks and the Next Big Thing when you follow fashion. The industry moves through ideas at a pace that can be both exhausting and exhilarating, and sometimes you lose sight of the beauty of basic things.
The Mulberry Python Bayswater Bag is not "basic" in a literal sense, but the design's simple, familiar lines go a long way toward streamlining an outfit. They also make the color variation in the beautiful gold python skin absolutely sing, which elevates this bag far above your average metallic without unnecessary complication or fussiness. (more…)
After one week in NYC I have learned one major thing when it comes to my handbags: cross-body straps are majorly helpful. As much as it is easy to order everything to arrive at your apartment door, I am walking to and fro and picking up things to bring home. That means my two hands are important assets when carrying bags from Home Depot and Bed Bath and Beyond back to our place. Cross-body straps is where it is at. And on top of loving a cross-body strap, it is important that the bag I am carrying is not overly cumbersome and heavy. That is precisely why I love the Mulberry Lily. It is both compact and has a cross-body strap. It is also super cute.
If you love the look of the Mulberry Lily but don't like the price tag, I found a look for less. In fact, this is very very very close to the Mulberry bag (as are many of the design aesthetics I have seen from the brand Ash). The Ash Camy Cross Body Bag and the Mulberry Lily are twins, more identical than fraternal at that. (more…)
It's been an undeniably fabulous year for Mulberry. The Alexa bag took off into the stratosphere with the endorsement of namesake Alexa Chung and brought hordes of new customers to the brand's signature British It Girl look, and it appears as though things won't be slowing down at all for Mulberry Spring 2011. At the brand's New York runway show earlier today, a well-edited collection of style mavens and fashion bigwigs looked on as the brand presented a polished-yet-fun line of ready-to-wear, shoes and bags.
And it's the bags, of course, that we're worried about here. Fans of the Alexa won't be let down – the design will be coming in several new colors and finishes for spring, and the brand has launched a new, similar satchel called the Tillie for anyone who already has enough Alexas in her closet. My favorite bags were the (little m) mulberry ones – purples with lots of red undertones have a spot in my heart and wardrobe any day. We have tons of detailed photos after the jump, and you can either let us know what you think in the comments or over at our Mulberry Spring 2011 discussion thread on PurseForum! (more…)
One of the most highly anticipated handbag collaborations for Target was their partnership with Mulberry. Once it was first announced, every fashionista was anxiously awaiting a peek at the line. Luckily, Gilt Groupe partnered with Mulberry to sell some of the items before they hit Target stores. The bags sold out in a matter of minutes. The look is very reminiscent of the Mulberry bags we know and love with a price tag that almost everyone can attain. The bags will hit Target stores nationwide in October. Take a look at the first batch of Mulberry for Target below and share your thoughts with us! (more…)