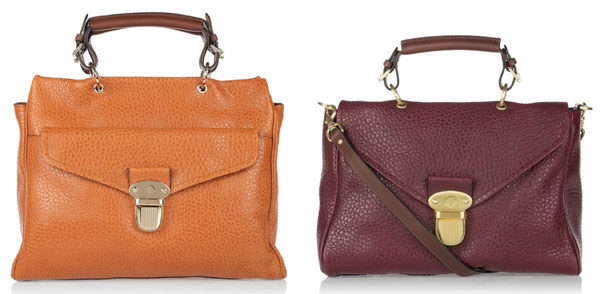 Mulberry Polly Push Tote, $1400 via Net-a-Porter. Mulberry Polly Push Satchel, $1300 via Net-a-Porter.
I'm going to let you guys in on a little secret that you've probably already figured out about me, if you're a regular reader: I was never a prep. Sure, I dabbled in it in middle school when we all went through the phase where we tried our damnedest to look like everyone else, but by age 13 I was putting ill-advised burgundy streaks in my hair and listening to punk. If you know me, you know that I never really grew out of the "putting ill-advised things in my hair" phase.
But because trends are endlessly shifting and the lines between "looks" are getting blurrier by the day, I no longer feel the kind of automatic resistance to preppy, classic designs like the Mulberry Polly Push Bags that I likely would have felt a few years ago. As long as I could get one that's not brown, that is. A distaste for brown is another thing that I've yet to outgrow.
But if brown and tan are your preferred neutrals (I have nothing against them, they just don't look quite right on me), then you'd be hard-pressed to find a bag that looks as heritage-rich as the Polly Push tote and satchel. Mulberry has been leaning more heavily on its British roots for the past few seasons, and to much success – the traditional look with a quirky touch here and there is very relevant to what's going on in fashion at the moment, and bags like these will look current for years to come because of the design's root in classic leatherwork. Buy the tote via Net-a-Porter for $1400 or the satchel for $1300, also via Net-a-Porter.