Self-admittedly, there are many great brands that don't get as much love as they deserve, and Mulberry is definitely one of them. The brand has had its ups and downs, but under the direction of former Céline accessories director Johnny Coca, Mulberry is finding its way back into the hearts and on the arms of its fans. Coca has focused on pushing boundaries at the quintessentially British brand without losing the character and sensibility that Mulberry is known for at its core. Recently, the brand launched its Softie Line, which is brought to life this season in new campaign images that celebrate the opening of Mulberry's brand new SoHo flagship on Wooster Street in New York.
Diving Into the Softie
The Mulberry Softie bag is one of the most intriguing shapes from Mulberry as of late, oozing a youthful sensibility in its relaxed silhouette and soft, pillowy leather. Curved lines and abstract quilting make for a playful bag that begs to be both seen and touched. The newest addition to the Mulberry family, the Softie collection features three sizes: Softie, Little Softie, and Big Softie. Softie and Little Softie are flap bags with chain straps, while Big Sofie is a North/South Tote style.
Each Softie Bag, like all the bags in the Mulberry line-up, is made to last, crafted with the perfect balance of quality and environmental responsibility in mind. The Softie collection is crafted from Nappa leather, filled with a thick, feathery down that re-inflates when it's squeezed. Created with tactility in mind, the Softie references some of Mulberry's most important House Codes, including the quintessential Postman's Lock closure and the bag's quilting, which directly references the braid pattern on the beloved Mulberry Alexa bag handle. Modern with classic House touches, the Softie further cements Mulberry's big return to the forefront of the handbag world.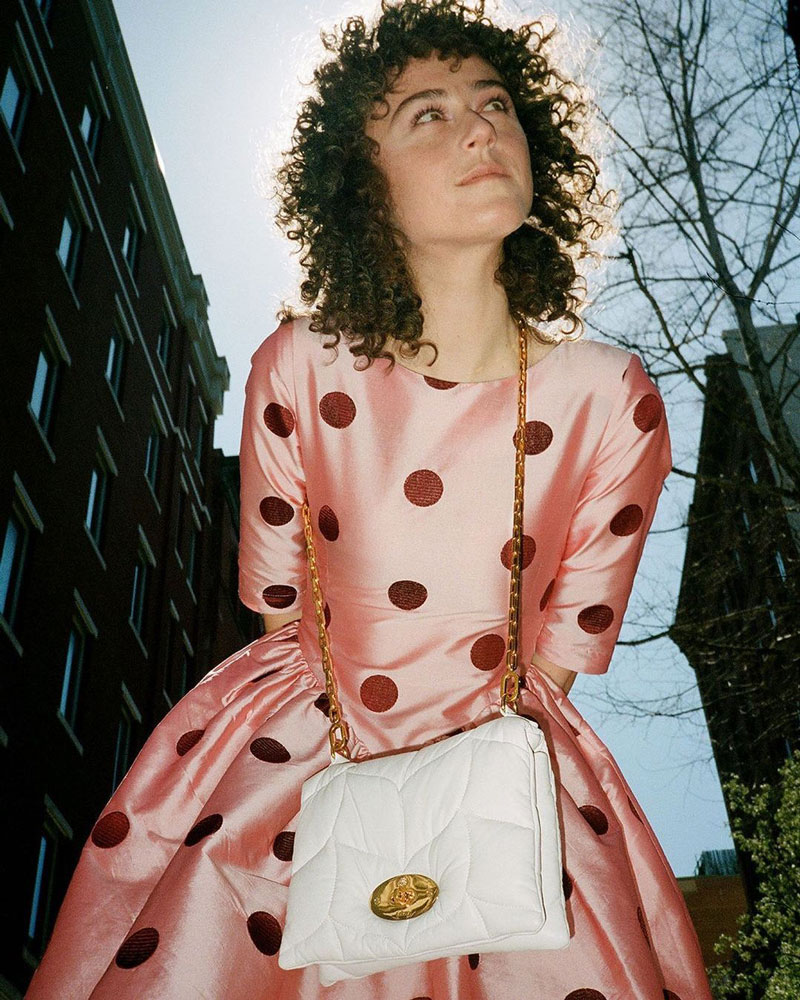 Mulberry's US Flagship
The new Softie campaign features Ella Emhoff, a model, knitwear designer, and a resident New Yorker herself. The images bring the Softie to life, but they are also meant to celebrate the opening of the brand new Mulberry US flagship store on Wooster Street in SoHo. The campaign was photographed with the idea of taking a viewer on a journey through New York with Ella. The boutique, which is now open, spans both women's and men's collections and will also feature a selection of pre-loved items from the Mulberry Exchange Program, the brand's circular economy program. Discover the Softie Bag via Mulberry.