Clutches are such a conundrum. Not only are they the smallest, least often-used bags of all the major categories, but they're some of the most expensive purses on the market because of the amount of embellishment and detail that goes into some of them. It's hard to believe that what is essentially a frame-structured silk pouch can sometimes cost as much as an all-leather everyday bag from the same brand, but that's exactly the case with the Valentino Silk Georgette Rosette Clutch, which rings up at $2495. If you're keeping score, that's only $100 less than the white Valentino Rockstud Tote that I'm so obsessed with.
Of course, that just means that we had to go out and find a less-expensive alternative for this pretty little clutch, and that's exactly what we did. Check out our alternative (and its much lower price) after the jump. (more…)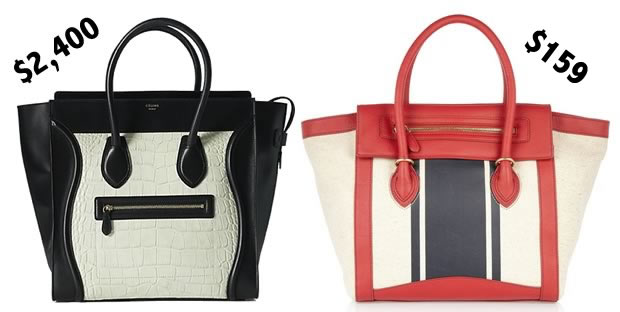 You know what? I know the obsession with the Celine Luggage Tote is waning a bit, but I just can't get enough. I love my Celine Luggage Totes, and yes, I own a few. This bag was a design that came in and changed up the bag world in the most refreshing way. We all saw something slightly different but totally practical, which is precisely why I have seen these bags on everyone. I still love my Celine Luggage Totes and I highly recommend it to any of you.
There is a problem, though. When I got my first Luggage Tote I paid right around $1750, but since then the price has skyrocketed. So much so that the new price for a classic leather option is a whopping $2400. And let's be honest, that is a major price hike. So major that it is a game changer in fact. I am delighted that I got my bags before the prices took an uphill tumble. If you don't want to drop $2400 for the Celine Luggage Tote I have a look for less that will leave you an additional $2,000 to spend. (more…)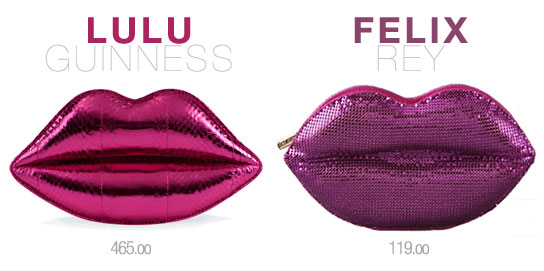 You know how they say time flies when you're having fun? I am certain that this is both cliche and true, as I have no idea how it is nearly the middle of February. For the fashion world, this means Fashion Week (aka month) is here, and for the rest of the world it means Valentine's day is upon us. As much as I love getting gifts, I look forward to putting together a Valentine's outfit more than anything.
I've been obsessing over the Lulu Guiness Lips Clutch for years and I am not the only one. My mom went gaga for this clutch and Vlad and I bought it for her for Christmas this year. This novelty item is cutesy without being over-the-top. It would make for a great Valentine's day gift but also for the perfect clutch to carry to your romantic Valentine's day dinner. But if you love this look and want a look for less, we found the perfect option. (more…)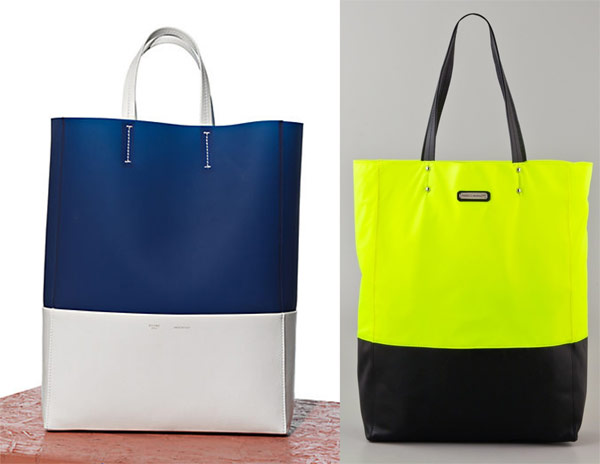 Everyone knows the Celine Luggage Tote and the Celine Classic Box, but the Celine Bi-Cabas Tote has cruised along just below most people's handbag radar for the last few seasons, largely the obsession of industry insiders and dedicated Celine fans. With its extremely minimal construction and huge colorblocking potential, the bag seems to be poised to make its biggest splash yet for Spring 2012.
But what if you don't want to pay over a grand for something relatively simple? Well, the Rebecca Minkoff Toki Tote offers the perfect alternative, but you're going to have to trade leather for nylon. You do win a healthy dose of neon in that trade, so it might be worth it. (more…)

If I'm being accurate, this post actually comes to you via my mom. A few days ago, she emailed me a link to the Marc by Marc Jacobs Totally Turnlock Python Shine Messenger with the message, "Doesn't Marc know that Proenza does this bag better?" And, well, yes. Marc probably knows that! In fact, the Proenza Schouler PS1 Pouchette just debuted in a very similar color of acid yellow. If you're on a budget, though, I think that the Marc version is a pretty reasonable alternative. (more…)
Loewe Amazon Bag, $1760 via Matches. Furla Camargue Bauletto Satchel, $495 via Nordstrom.
I didn't take much of a shine to the Loewe Amazona Bag until I saw one in person, but since I did, my borderline-obsessive interest in the brand has yet to falter. Loewe's leather really is something that needs to be experienced to be understood; I've yet to see a photo that accurately depicts the simple beauty of one of the brand's bags.
The problem, of course, is that not only is Loewe prohibitively expensive for the average consumer, but trying to find one of its bags in-store is the stuff of slight mental breakdowns. I've only seen them two places: Bergdorf Goodman, which has only one location (New York), and Jeffrey, which has only two (New York and Atlanta). The brand's website has e-commerce, but doesn't ship to the US. So what's a girl with a limited budget and limited access to Loewe do? Find a Look for Less – how about the Furla Camargue Bauletto Satchel? (more…)
Balenciaga Raffia Tote, $965 via Barneys. Rebecca Minkoff Endless Love Straw Tote, $250 via ShopBop
It is here, it is here!!! 'It' being summer. Well, kind of here, not totally 100% here but it is trying to arrive. With warm weather and vacation season knocking at our doors, many are working on their beach bodies and prepping their summer wardrobe. For an accessory lover, that should include a raffia tote.
While raffia totes are clearly only suited for May, June, July, and August, that is still a third of the year and that means it will be a great wardrobe addition. If you do not want to splurge on a designer option like the Balenciaga Raffia Tote, we found a look for less with the Rebecca Minkoff Endless Love Straw Tote. (more…)
Christian Louboutin Bikini Clutch, $995 via Net-a-Porter. MaxMara Embossed Evening Clutch, $486 via Matches UK.
Even though much of the handbag world seems to find Christian Louboutin's non-shoe accessories hit or miss, every now and then he comes out with a bag that you absolutely can't miss because not only is it adorable, but every retailer in the known universe ordered it in three colors. This season, it's the Christian Louboutin Bikini Watersnake Clutch, which comes lovely, dusty shades of cerulean, turquoise and fuchsia, which you see above.
The only problem, naturally, is that the Louboutin clutch costs a thousand dollars. For those who would rather go the faux-snakeskin route (or who would rather have a similar clutch in a neutral instead of a bright), check out the MaxMara Embossed Evening Clutch for less than half the price of the Louboutin bag. Sure, MaxMara calls it embossed lizard, but I think we all know faux python when we see it. (more…)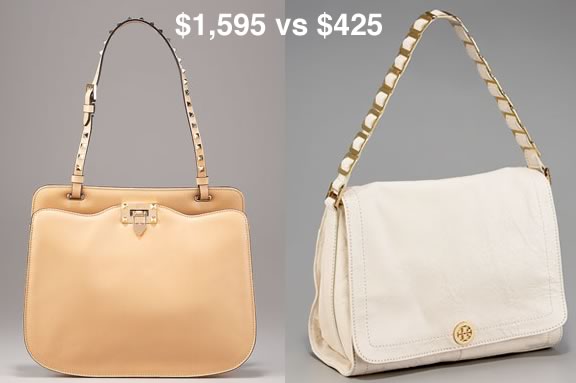 One of the hottest handbag trends right now is studded detailing. I know that this is nothing new to the fashion world, rather it is a trend that tends to go in and out of style often. The studs we are seeing as of late are a bit different, more refined and subdued, and often being used as shoulder strap accents. This is precisely the look for less I am bringing to you today: the accented shoulder strap bag.
While the Tory Burch Louisa Shoulder Bag does not technically have a studded accents on the shoulder strap, it does have a deco chain and leather strap. On the other hand, the Valentino Rock Stud Shoulder Bag is all about the studs on the shoulder strap. I know so many of you were sick of the over-studding, but both of these bags offer a touch of tough with a glam overall appearance. (more…)
When Prada's Spring 2011 collection walked in Milan last fall, there was absolutely no doubt within the fashion industry that the brand's bold stripes and vibrant colors would be hugely influential for the season. That has proved to be entirely true, which means that people who love the look but don't want to pony up huge money to get it have a few options available to them. For lovers of the Prada Striped Tote, the Milly Chevron Print Tote is one such possibility. (more…)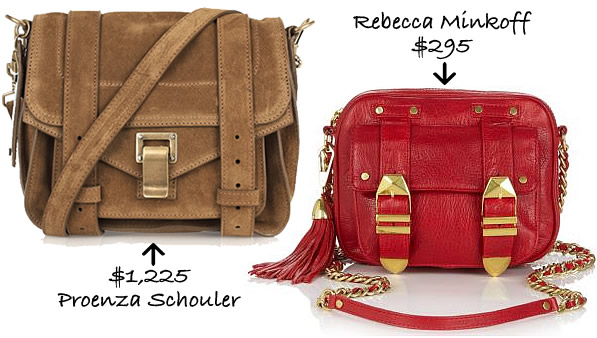 My new obsession: crossbody pouch bags. I seriously have been living in my Rebecca Minkoff BF Pouch bag. I toss my things in there and throw it over my shoulder or wear it crossbody. I love the smaller size, the lack of needing to use my hands to hold the bag, and it seems to work well for my personal style. We told you that Proenza Schouler released a line of crossbody pouch bags, and even when I saw this I was tickled pink. That is right, I just said tickled pink. I still adore the original PS1, but my crossbody smaller pouch obsession runs much deeper right now.
I have the Proenza Schouler Crossbody Pouch along with the bag I am currently carrying from Rebecca Minkoff picked out as my two favorite crossbody bags (with very different prices). (more…)