We have another fabulous giveaway for everyone following us on Twitter! We have partnered with Kooba to giveaway their Billie bag in stone valued at $595.
To Enter:
1. Follow PurseBlog and KoobaBags on Twitter.
2. Tweet the following: "We are giving away a Kooba Billie Bag worth $595! Follow @PurseBlog @KoobaBags and RT to enter http://bit.ly/9vOOe9"
Ends on Friday, June 18th, at 11:59 pm EST. Good luck! (more…)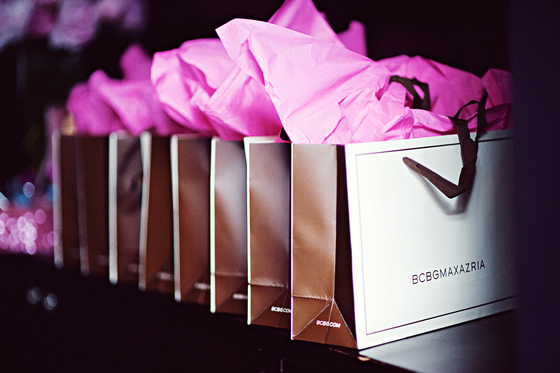 For those who are thrilled to continue reading and hearing about Sex and the City, you will love this post! Brittany Law, of Style Republic, threw a Sex and the City 2 Summer Soiree last week. From every tweet and blog post I read about the event, it was an event not to miss. But I am sure I am not alone in saying that I missed it, as did many of you. Here is the good news: Not only will I show you some pictures of the spectacular event but also we will be giving away one of the gift bags from the Sex and the City Summer Soiree! (more…)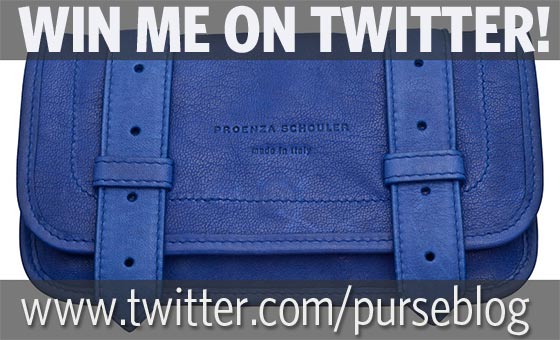 When Proenza Schouler opened up online shopping, they did so by offering limited edition items for sale. One of the items was the Proenza Schouler Wallet, which was offered in six color options. The limited items sold out quickly, yet we managed to grab three of them. And now we are giving one away to a lucky Twitter follower. (more…)
As I mentioned earlier this week, we've partnered with Zara Terez to bring an entire week of great giveaways. That's right, each day there is a new handbag up for grabs. Originally this giveaway was just for NYC residents since it involved a scavenger hunt around the city. However, Zara and her team reached out to us and will be giving away those same bags to a different PurseBlog follower each day. Sounds pretty awesome huh? Well better yet, all you have to do is follow ZaraTerez and PurseBlog on Twitter and each day post a comment as to why you'd like to win the bag of the day.
In order to peak interest, Zara or someone for her team will be stopping by this post and offering up the same scavenger hunt hints they are promoting in NYC here. Even if you aren't in NYC it will be a fun way to feel involved. Stay tuned since there are only 2 more days to go!
Good Luck!
Mondays are always a bit sluggish. It doesn't matter if you had a raging weekend or simply hung around, I don't know many people who really look forward to Mondays. However, today is a bit different. We're partnering with handbag designer Zara Terez to bring you an entire week of giveaways! (more…)
We are giving away a Marc by Marc Jacobs Classic Q Hillier Hobo to one of our Facebook Fans! Fan us on Facebook and learn how to enter to win this bag. Ends April 4th, at 10 pm EST.
Fan PurseBlog and PurseForum on Facebook HERE!
We are excited to announce our latest giveaway, with my good friend, YouTube Beauty Vlogger, Elle Fowler. You all may know her channel, AllthatGlitters21, as one of the most watched YouTube channels out there. It only seemed fitting for us to partner up for a giveaway, this being the first of many to come. This giveaway comes in time to celebrate Elle passing 200,000 subscribers on her YouTube channel, a huge feat. Pairing our love of handbags with her love of beauty and makeup products, we have a giveaway that we think you will all love.
This giveaway involves three cosmetic bags along with a brush holder, keychain, and minimergency kit from Glitzy-Glam. We will have three winners and three different ways to enter. (more…)
Congrats to Kelly and Joanna Smith!! You are our Tory Burch winners
We brought you news of the Tory Burch and Leanna Shapton Valentine's Day Collaboration. And after sharing the items with you, we thought it would only be fitting to feature an exclusive interview with famed fashion designer Tory Burch. Not only do we find out more about the collaboration, but we have the pleasure of getting a peek into the personal life of Tory Burch.
Tory Burch was able to find a few minutes in her hectic schedule and answer some questions exclusively for PurseBlog. Along with that, Tory Burch will be giving away two items from the line below. Remember to shop the Tory Burch Valentine's Day Collaboration via Tory Burch online! (more…)
Hermes Birkin from back in December. You might remember that we partnered with our friends at FabSugar and Portero Luxury to bring you the most amazing giveaway we've done thus far – the holy grail of handbags – the Hermes Birkin. (more…)
I know, I know. You've all spent the past few weeks waiting, patiently for the announcement of all announcements… the winner of that gorgeous
I think it is fair to say those of you who frequent PurseBlog and all of our sister sites, including the Purse Forum (tPF) are handbag lovers. So, while you know which handbags are coveted and for what reasons, others might not know all the details behind why certain bags are more sought after than others.
As you know, we have partnered with our friends at FabSugar and Portero to bring you the most amazing giveaway ever: a Hermes Birkin. The FabNetwork started FabTv a little while back and have produced two videos specifically for this giveaway. Both videos are unique, informative and fun. And if you haven't already, click on the orange banners on our site and enter to win this Birkin! (more…)