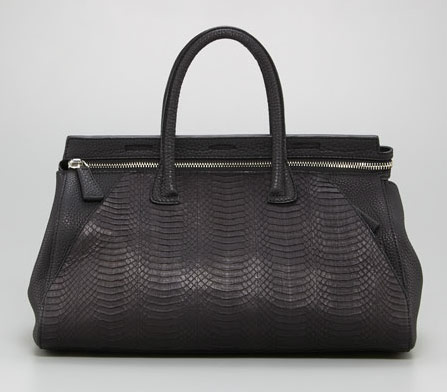 As I've said often, VBH is my absolute favorite source for a category of bags that I like to call Birkin Alternatives. When you want a bag that screams luxury and good taste from a mile away but you don't want everyone to encounter to know exactly what it is or exactly how much you paid for it, you skip the Birkin and go VBH. The brand offers many different bags in a similar east-west satchel shape and a somewhat similar (although noticeably lower, thankfully) price range, but the details of the designs are altogether more modern and a bit more subtle.
Take the utterly gorgeous VBH Milano Sunbeam Snake Bag, for instance. Instead of the cumbersome and traditional strap and lock closures that are a staple on Hermes' most famous bags, this bag has an utterly modern zipper that serves as both semi-industrial design detail and totally functional handbag closure. Because of the modern nature of that element, I could see this bag being carried by anyone from an Upper East Side doyenne to someone with a wardrobe full of Alexander Wang. (more…)
Python, brights, neon, trends, Spring 2012, etc. You guys know the drill. I've typed variations on that sentence a million times already and it's only February, and based on my own personal contemplation of the purchase of an orange lace dress yesterday, I don't think it's going to abate anytime soon. That's fine by me; summer is a time to enjoy a particular sort of fashion extreme, and that opportunity should be seized while it's still available.
Emilio Pucci, it would seem, is all about seizing the opportunity. Or at least seizing the python – the new batch of Emilio Pucci Python Accessories that just hit Net-a-Porter will envelope everything from passports to iPad in bold snakeskin goodness. The stuff inside your bag wants to get in on the trend too, naturally. Lucky for all of us, these pieces come in multiple colors. (more…)
Ok, so we've spent plenty of time lately talking about brights, neons and other assorted eye-assaulting colors that you might want to wear for spring. While Megs and I love and adore those kinds of bags, we realize that they may not be for every, either in a practical or an aesthetic sense. If you'd like something a tad more neutral but you still want to update your bag wardrobe for spring, you're in luck – snakeskin is still the texture that everyone wants to have.
We've covered the all-snake look in the past, but for many women, a bag that mixes snakeskin and regular leather is a more demure option that allows a bag to be acceptable in a work environment where it might have otherwise been a bit too showy. Plus, mixing textures is also a big trend, so you're getting a little bang for your buck here. (Your metaphorical buck, at least. Stuff's still expensive.) And yes, we included one bright option. It's almost spring, I couldn't help it. (more…)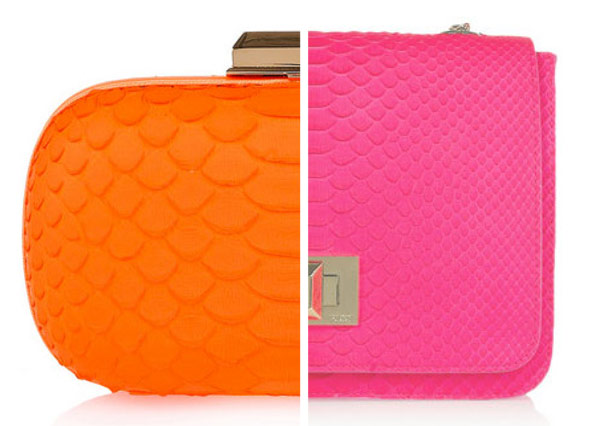 December 15th: It's 10 days until Christmas and we're in the thick of the holiday party season, where everyone's wearing great winter textures like cashmere and fur and wool and leather and heavy beading. This is the greatest time of the year for someone who truly adores clothing and accessories, and yet, I feel as though I'm stuck in a spring state of mind. The brights just won't let me go!
With bags like the Emilio Pucci Python Box Clutch and Emilio Pucci Python Shoulder Bag starting to pop up for resort and spring, it's tough to get excited about charcoal and navy. I appreciate subtlety, but I really appreciate candy-neon snakeskin. (more…)
Without a doubt, snakeskin has been the biggest accessories trend of 2011. Everyone from Gucci to Valentino to Diane von Furstenberg has clamored for a piece of the exotic pie, and we're betting that if you have a handbag lover on your list, she might want a little bit of snake in her stocking as well. Worried that you don't have the budget for an exotic? Fret not, we have you covered.
From a little to a lot of snakeskin and from printed to embossed to the real thing, the latest installment of our Holiday Gift Guide 2011 deals with all things that slither (or that walk on hooves, but now we pretend that they slither so that we can save some cash). From wallets to everyday satchels, if it has scales, we've got it covered. (more…)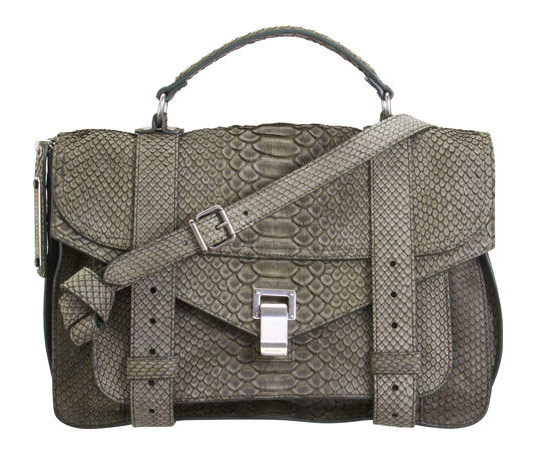 Proenza Schouler Python Suede PS1 Bag, $3645 via Barneys
As regular readers have probably noticed, Megs and I have different personal styles. I tend more toward black, she tends more toward brown. She usually chooses hippie-ish details, I prefer industrial finishes. Our tastes overlap more than you'd think, considering those big differences, and one place that we're always able to meet in the middle is over our shared love for everything Proenza Schouler – especially the handbags.
That's why it didn't surprise me when yesterday, Megs turned her laptop around to show me a bag she was drooling over and it just so happened to be the same one that I had stared at for what seemed like hours a few days prior – the Proenza Schouler Python Suede PS1 Bag. Just…look at it. (more…)