Burberry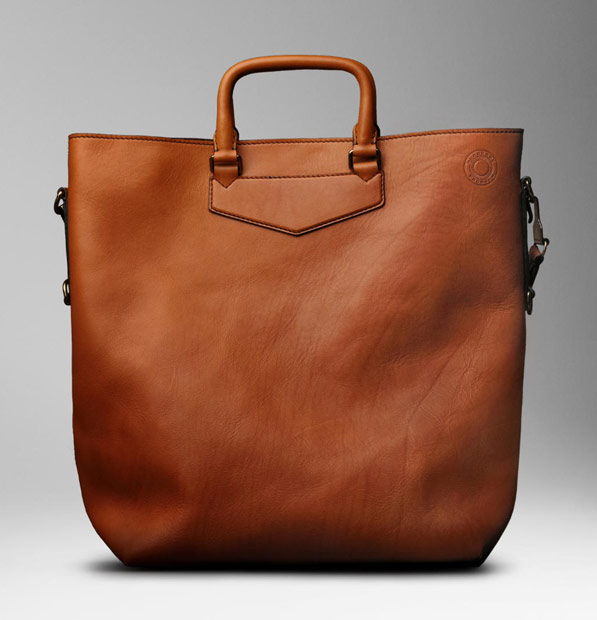 During New York Fashion Week, I found myself chatting with the designer of a burgeoning men's accessories collection about the landscape of men's business worldwide. He had a lot of interesting things to say, most notably that men in America prefer satchels, men in Japan prefer totes and men in Europe are somewhere in between, but that Americans are becoming slowly more open to other shapes and structures. Ever since that conversation, I've tried to pay closer attention to the men that I see on the street, what kinds of bags they're carrying and how those bags relate to their overall looks in general.
What I've noticed in the intervening weeks is that there are a lot more men carrying bags like the Burberry Large Washed Leather Tote in New York than I had previously realized. As with the idea of man bags in general, it seems as though specific styles that were previously more closely associated with womenswear are becoming palatable to a larger male audience. The bag-carrying male population in the US seems to be cautiously expanding its purview to totes. (more…)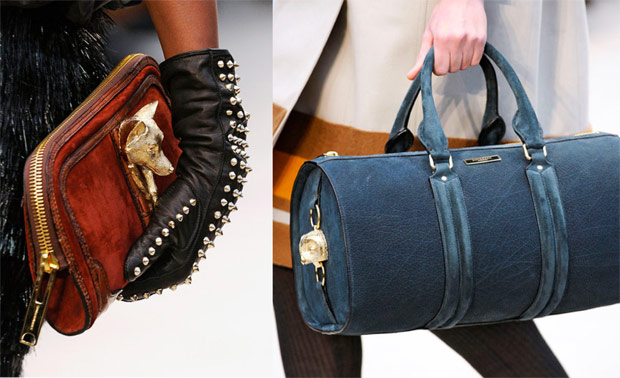 Images via Vogue.com
In two ways, I always dread the Burberry show at London Fashion Week. First, because I know that Christopher Bailey's beautiful ready-to-wear, and his outerwear in particular (THOSE COATS.), will threaten to drain my bank account all over again with one swift poke the the pleasure center in my brain, which apparently really likes wool. Second, because I know I'm probably going to have to write something unkind about the handbags. Both fortunately and unfortunately, Burberry Prorsum Fall 2012 did not break from that pattern.
The collection was yet another that made plenty of references to the Downton Abbey era, which is particularly appropriate for a brand that's so utterly steeped in British heritage, both by its own marketing and by actual history. You would think, then, that we'd be in for an accessories feast of lovely whiskey-colored leather satchels and smart, ladylike handbags with lots of structure. Instead, we got big striped and quilted totes with limited personality and clutches with animal-head door-knockers on them. The few satchels in play were the highlight of the handbags, but even they seemed a little bit unwieldy in proportion to be carried. You'll notice in the photos, though, that many of the models are carrying their bags while wearing stunning gloves made of colorful python or studded black leather. Why didn't we see any of those ideas carried into the bags? It would have made for a much stronger collection. (more…)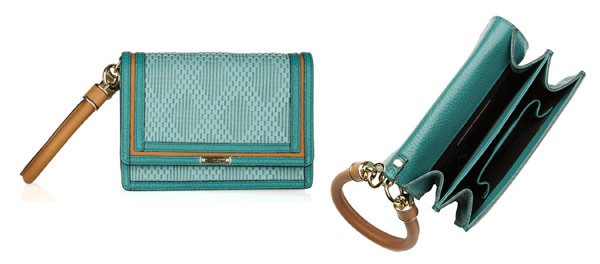 Burberry Leather Wristlet, $1195 via Net-a-Porter
In my mind, calling a bag a "wristlet" is a precarious thing to do for a manufacturer or retailer. The word "wristlet" brings about a very specific type of simple, relatively inexpensive small accessory; personally, I use a wristlet to hold the small pharmacy that I carry around inside of my real bag. I wouldn't ever pay a thousand dollars for something like that.
While the Burberry Leather Wristlet is, in fact, a wristlet like its name would suggest, it's also one of the nicer wristlets I've ever seen in my life, and a full-fledged leather clutch with multiple structured compartments. Don't let the w-word fool you, this bag is a lot more than just an accessory to your accessories. (more…)
Burberry category has been quiet for quite some time simply because many of the designs I've seen don't wow me. Sure, Burberry is known for its nova check pattern, but after you grow tired of checkered bags, there isn't much to lure you in. And then there's another problem: some designs that we see from Burberry are just… weird. All of this makes me sad because Burberry is a brand I adore, especially their Prorsum line of apparel (the jackets are KILLER).
Do you hear the crickets? Our
With that in mind, it brings me great joy to show you the Burberry East-West Buffalo Tote, which not only offers an elegant style but is also priced very reasonably. The little sliver of my hear that wants so badly for Burberry to succeed at handbags is jumping for joy right now. (more…)