Balenciaga
Page 5
Note: Balenciaga asked us to remove the images as they are for internal use only.
I'm continually surprised and impressed by our PurseForum members. The kinds of things that these ladies are able to get their hands on before the rest of the fashion community always impresses me; it's like they were all detectives in another life. If you need a handbag mystery solved, it's them you should be asking. They can find anything, even things that brands try very hard to prevent from being found.
Take, for example, this page from a Balenciaga boutique's sales book, which shows the Balenciaga Fall 2012 color swatches in all their glory and which we found in a thread on our Forum. These are the shades that Balenciaga's much-loved Motorcycle Bags will be made in for the coming pre-collection and collection, the first of which will start hitting stores at the end of the summer. Want to see how these hues are going to look on actual bags? Well, you're in luck. Check out an expandable swatch chart and a first look at the bags after the jump. (more…)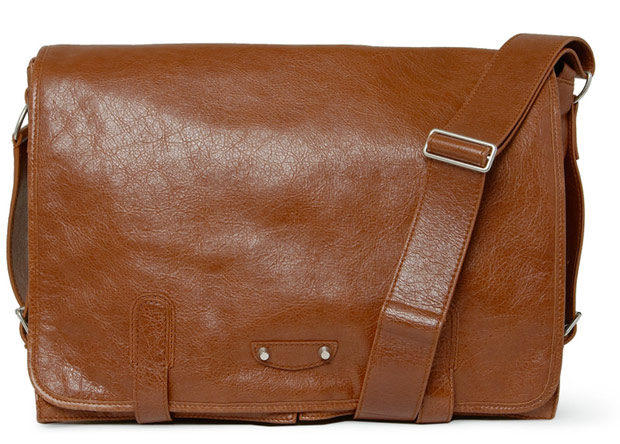 I've always loved Balenciaga's motorcycle bags for men, but I always hear the same criticism of them from dudes, gay or straight, who are concerned about looking masculine – they look too much like the women's bags to be distinctly male. And really, that's fair – there have been times when I've questioned whether a particular shape belonged to the men's or women's collection, and with Balenciaga's signature grommets, buckles and zippers on everything, it's genuinely hard to tell what's what.
It looks as though Balenciaga has heard those concerns loud and clear, at least if the Balenciaga Wide Leather Messenger is any indication. That's why it's the subject of this week's Man Bag Monday – this bag keeps the Balencaiga feel but adds a healthy dose of masculinity for regular dudes who want a nice bag. (Or for fashionable ladies who want to treat their regular dude to something special.) (more…)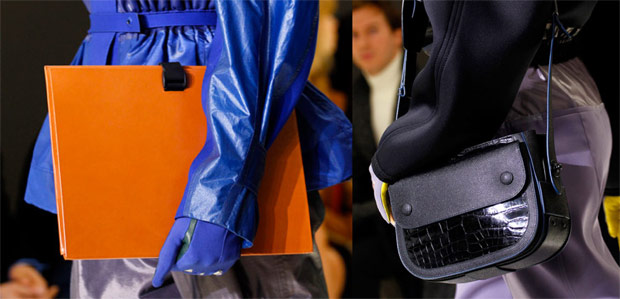 Y'all. YOU GUYS. The Balenciaga Fall 2012 runway bags are good. They manage to play with proportion in that signature Nicolas Ghesquiere way without sacrificing wearability, the combination of which is making me absolutely salivate with handbag lust. I never expect to get particularly excited about Balenciaga's runway accessories because even though I'm a fangirl who loves the brand's runway collections, the bags usually sacrifice wearability for experimental aesthetics. That's not the case for fall.
The wide, flat shoulder straps will likely be a sticking point for someone who prefers a more traditionally proportioned look, but for me, it's that element that makes the bags so utterly Balenciaga. Challenging proportions are a hallmark of Ghesquiere's often brilliant work at the brand, and to see him incorporate that into such a wearable bag makes me very, very excited. The collection's school folder-sized portfolio clutches are great too, although they might be too thin to be usable if the leather has any structure to it. (more…)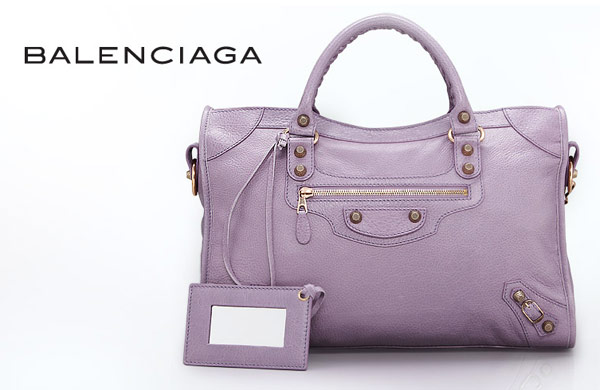 Although long a brand that had some trepidation about its digital presence, Balenciaga seems to be opening up to the beautiful pastime that is Internet shopping. Its website recently got an overhaul that made shopping on it a much friendlier and more comprehensive experience, and yesterday, one of our lovely Twitter followers pointed out to us that the brand is now available on NeimanMarcus.com. Glory hallelujah!
Balenciaga bags have been sold via Neiman Marcus' site once in the past; a few years ago, the Dallas-based department store and its website were the exclusive purveyors of Balenciaga's limited edition designs celebrating the Motorcycle Bag's 10th anniversary. It seems as though the line has come to stay at NeimanMarcus.com, though, and although it's mostly basics right now, I bet that the offerings will expand if the venture is successful. Check out some of our favorites from the first assortment after the jump or shop the entire selection via NeimanMarcus.com. Squeal! Sorry, that just slipped out. I'm kind of excited about this, okay? (Psst…there are also a couple of shoes!) (more…)
We've been diligently working on putting together Holiday Gift Guides that should help everyone figure out what handbag to give or receive this season. Somehow, though, I didn't find the right gift guide to add this little number to, but it is worth its own post.
It's no secret that I am a BBag admirer and carrier and while I love the classic-sized City bag, the Balenciaga Arena Giant Hip is too hip to pass up. I'm always telling you how I love a crossbody bag, and more often than not, I go out and don't need to carry that many items. For days like that, a small bag with a long strap is as perfect as it gets. (more…)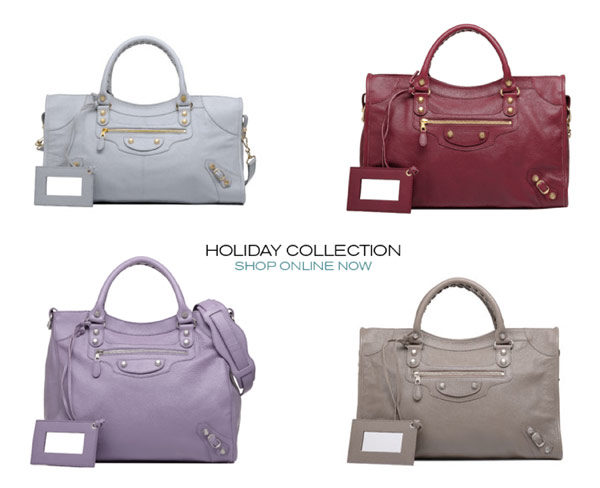 In case you're already sacked out at home and your trigger finger is getting itchy (or you're still at work for reasons that no one can really explain and absolutely bored to death and ready for some online shopping), we've got some exciting new collection news for you – Balenciaga Holiday 2011 is now available for your ordering pleasure from Balenciaga.com.
This collection is particularly handy if you'd like to get a jump on the pastels trend that dominated the Spring 2011 runways. With powdery shades of dove grey, lavender and baby blue, no messy ladies need apply. Just looking at these lovely bags in Balenciaga's new, more matte Hamilton goatskin leather is forcing me to mentally push all my dark-wash jeans to the back of my closet; color transfer is not to be fooled with. Check out some of our picks from the collection after the jump. (Really, make the jump, if only to see the Gris Poivre bag. Swoon.) (more…)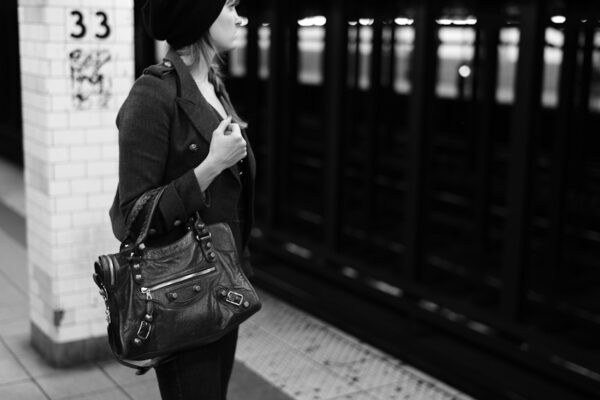 One of my absolutely favorite bags that I own is my Balenciaga Giant City in Anthracite with Rose Gold Hardware. This bag took me what feels like eons to finally find and accept to be my first leather Balenciaga Bag. The reason for this is the color conundrum. While being known for their colors, Balenciaga has a way to find hues that literally change like mood rings in different lighting, and you need to see the bag up close to know that it is the color you desire. I thought I found the perfect BBag before, a Seigle Giant City, but I ended up returning it since the bag was more taupe in person than tan. But when I opened the box to unveil this Anthracite BBag, my heart was immediately taken and this bag has fast become one of my absolute favorite bags that I own. Click to see how my Balenciaga Giant City scores!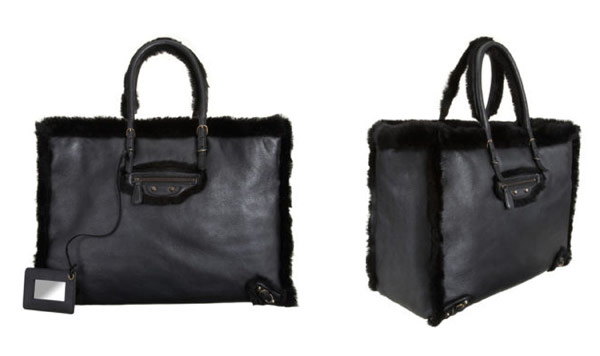 Balenciaga A4 Papier Tote, $2795 via Barneys
…and then I saw the fur-trimmed version of the Balenciaga A4 Papier Tote, and I knew I had been mistaken all along. Today is a sad day in the life of this Balenciaga fangirl, PurseBloggers. (more…)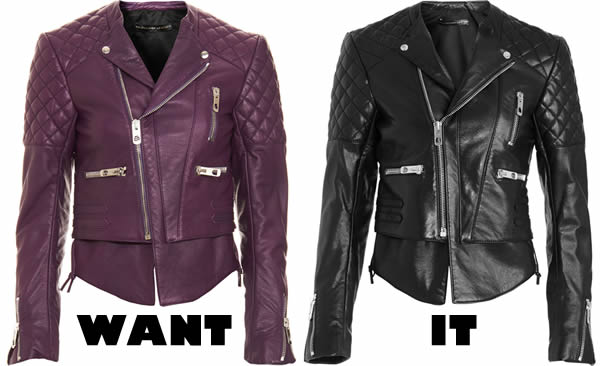 Balenciaga Motorcycle Jacket, $2,865 via Barneys
Wednesday has come and almost gone, but the only thing I have on my mind is how much I want this Balenciaga Motorcycle Jacket. I have always known of its existence and have always had a feeling I would like one myself, but this version of the jacket has my heart going boom boom boom.
And get this, I want the purple one. I don't know what is making me want a purple leather jacket other than the fact that Balenciaga perfects colors and the hue is just enough to make the jacket totally interesting while remaining wearable. Perfect to pair with skinny jeans, a dress, maxi skirt, or just about anything, a Balenciaga Motorcycle Jacket would become an instant wardrobe staple. And this dear readers is why I want it oh-so-badly. Buy via Barneys for $2865.