Just like many of you, I have been self isolating at home for myself and my community. In this alone time I've had moments to truly reflect on and appreciate everything I have. One of them being my handbag collection. At a young age I started getting really into fashion. My Grandma had always told me that quality is more important than quantity, and I took this to heart, especially with my personal style. When I turned sixteen I decided to pool together all of my birthday and Christmas money to buy a (very) used Louis Vuitton Speedy 30 off eBay. That was the spark of my obsession, and from there I jumped right in. Since then I've worked in consignment, as reseller, as a stylist, and as an in-brand handbag specialist for a major luxury house.
Through all of these different periods of my life I've also been collecting for myself. Learning what worked for me, pushing the boundaries of my own taste, and ultimately figuring out how to express myself through personal style which has become a huge part of my identity. I've owned A LOT of bags, but I've also let go more than I have kept. I even have a rule, I can only buy bags with the money I make selling bags. I've stuck to that for the most part, and it has helped me differentiate the things I really want from the things I really admire. A lot has happened this year, and while we sift through the bad and work together to get through it, I wanted to try and reflect on some of the positives. So after a decade of collecting and loving handbags, here is where my collection stands:
The Workhorses: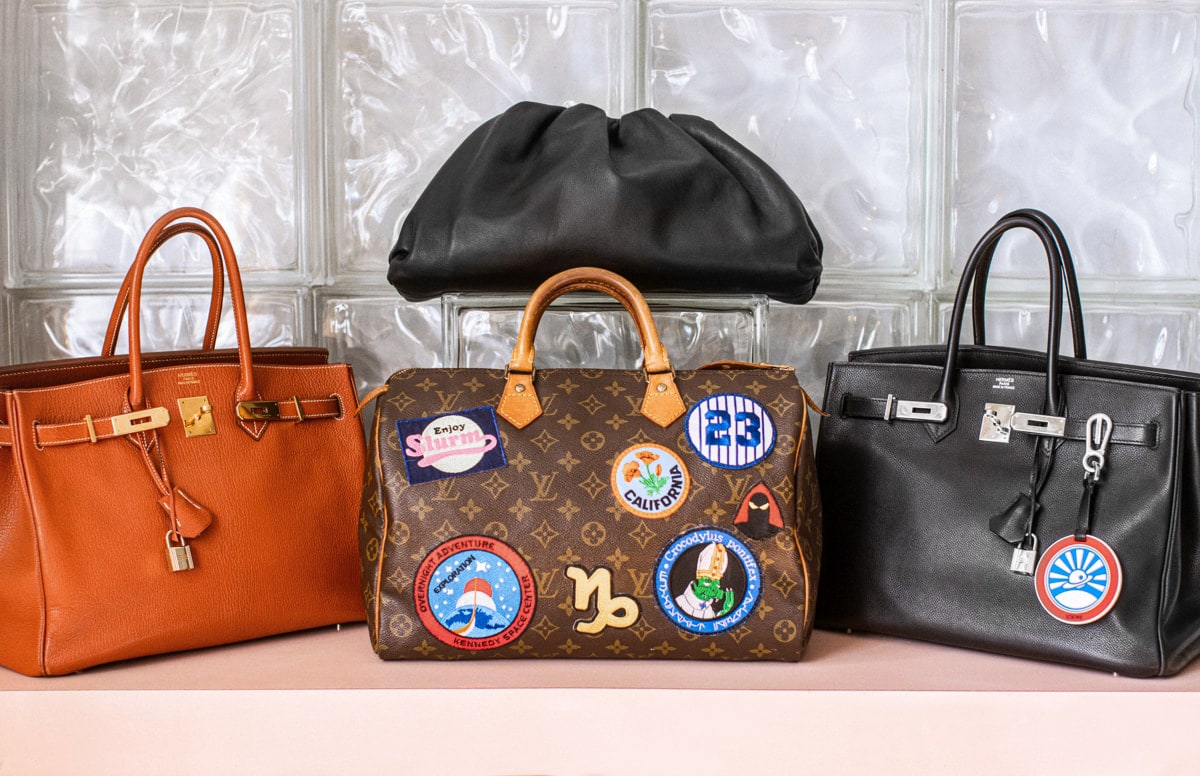 Hermes Birkin 35 in Chevre Brique
Hermes Birkin 35 in Evergrain Noir
Personalized Louis Vuitton Speedy 35
Bottega Pouch in Black Calfskin
My daily load tends to be on the larger side—I like to carry my Pocketo Planner with it's leather organizer as well as a small umbrella, and some days I even have to carry my laptop or Camera. I live in Brooklyn, NY and walk most places, so I need tough bags that can keep up with my lifestyle. These bags have never let me down, and I can count on them to not only keep my things safe and in order, but to elevate my outfits, even on my roughest days.
The Light Load Ladies: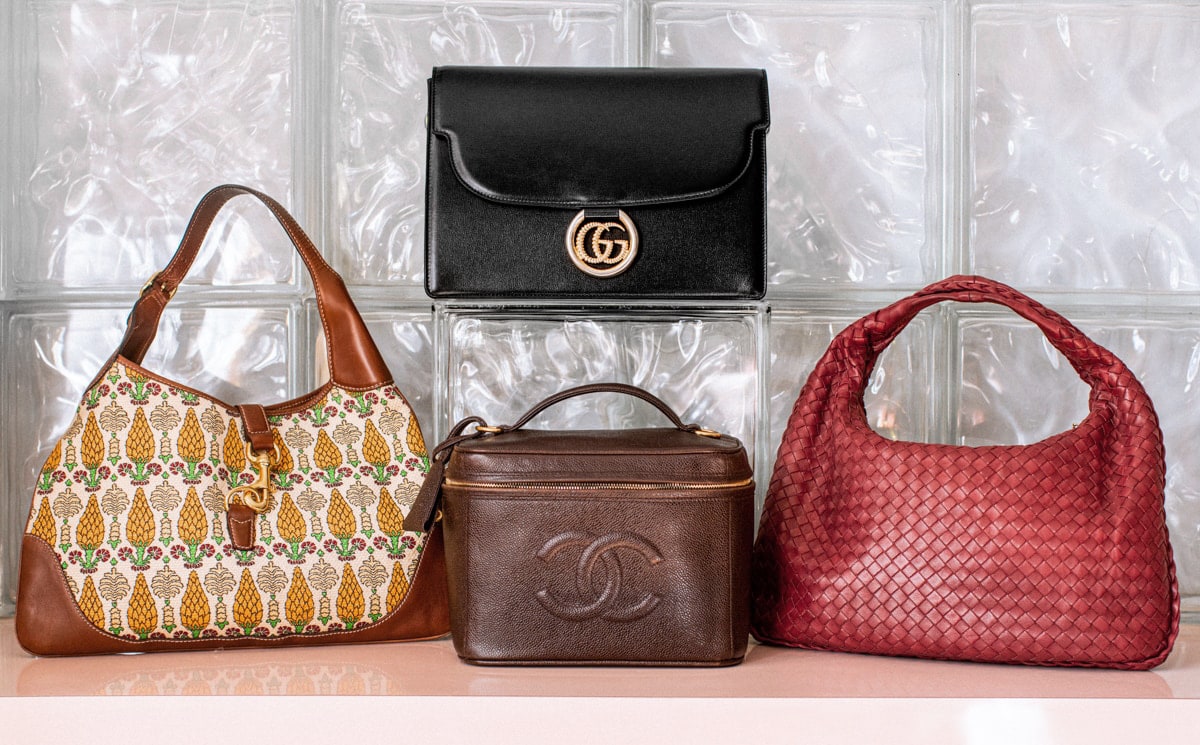 Gucci GG Ring bag in black Calfskin
Chanel Vanity in Brown Caviar
Bottega Venetta Hobo in Burgundy Lambskin
Gucci Jackie in Pineapple Canvas
I naturally gravitate towards large top handle bags but those tend to be heavy and not very convenient. So my light load bags provide my collection with some balance, as I keep these in a heavy rotation along with my workhorses to try and preserve my bags AND my shoulders. They are the ones I pick up when I'm out and about running errands, or doing something that requires free hands, because all can be worn cross-body or on my shoulder.
The Good Time Gals: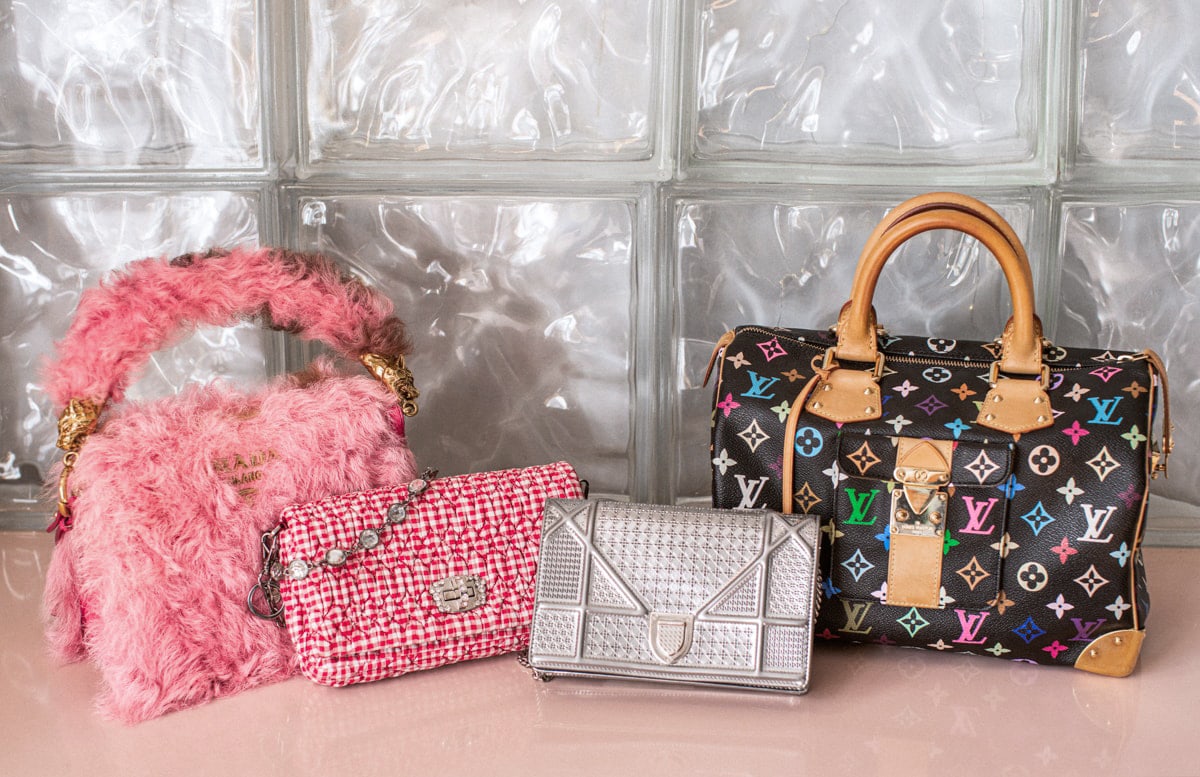 LV Speedy Multicolore 30
Prada Frame Bag in pink shearling
Miu Miu Crystal Bag in matelassé gingham
Dior Diorama WOC in silver Microcannage
These are some of my favorite bags to style and perhaps some of my most "risky" purchases. Most of these bags are fun twists on classic silhouettes that I like to wear when I'm feeling playful or need a pop of color. Although they are pretty, they are not the most practical bags and some of the materials require an eye kept on them at all times.
The Less Than Perfect Loves: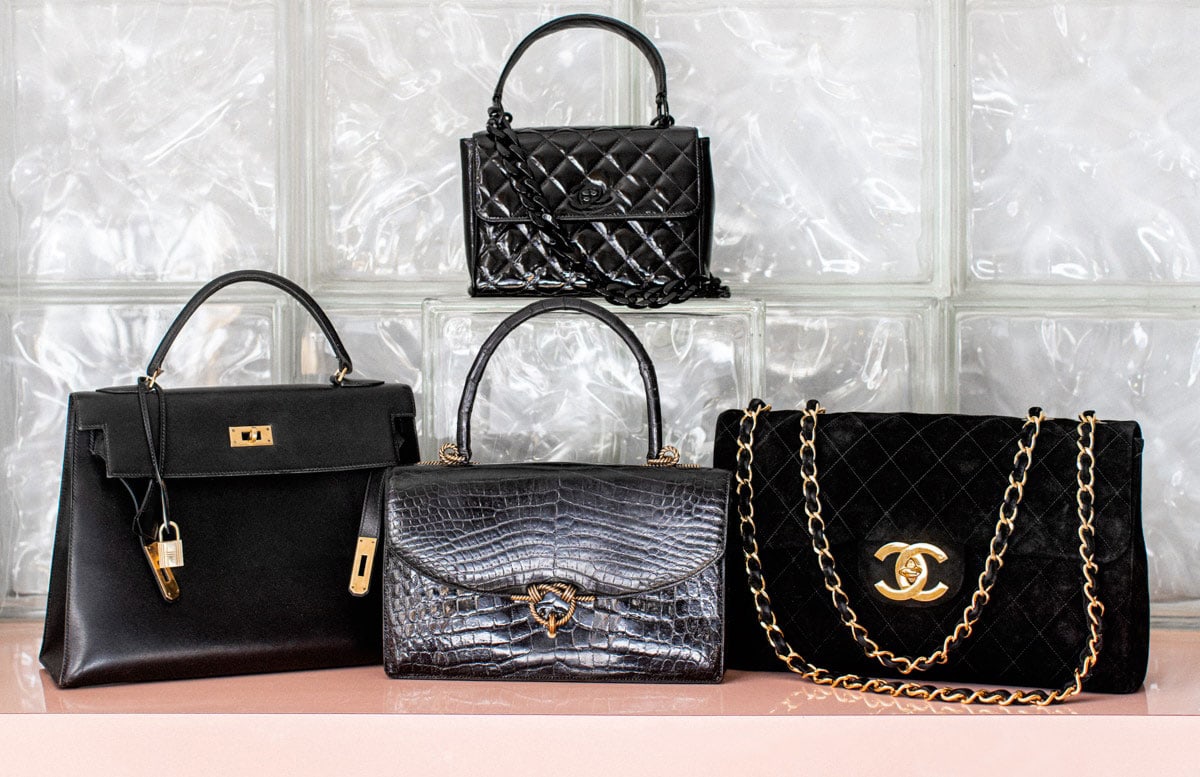 Hermes Cordeliere Bag in Crocodile Noir
Hermes Kelly 32 in Noir Box
Chanel Maxi Flap in Suede
Chanel Top Handle in Patent So Black
A lot of these were project bags that I restored myself or started and had finished by a professional. Even though they are far from perfect they are still some of my favorite bags and because I've worked on all of them to some extent, they have a very special place in my heart. They do require care when wearing and that doesn't suite my daily life but I'm glad to have these bags in my collection nonetheless. They are unique classics that you just don't see a lot which is why I think they are worth keeping.
Now that you know where my collection currently stands here are some things I've learned along the way and wanted to share with you.
CARE
Caring for your bags is key when it comes to protecting your investment, and there are a lot of simple things that can be done that often get overlooked. Storage is definitely one of these things. I currently have my bags on display but every now and then, to give them some relief, I lay them down on their backs. I keep them stuffed with acid free tissue paper and out of the sun's reach to keep them in good shape while in "retirement". I personally do not store them in dust bags or boxes because it can get humid where I live and I want to avoid mold. If you want to store them covered, be sure that the fabric is breathable. If the bag is going to be out of commission for a long time, consider wrapping any hanging hardware with tissue to avoid and denting and scratching.
Keeping a healthy rotation is also great, as it keeps your bags from taking on too much stress and wearing out, especially with a heavy load. This also goes along with being realistic about your needs, and what level of care you can or are willing to put into a bag. There are certain materials that I know I do not have the capacity to care for, calf hair, snakeskin, and most lambskins. The more you're around leather, the more you learn what works for you, my personal favorite is Chèvre or goatskin. It's often pretty light and has a slight sheen, a fine grain, and high tolerance for abuse (aside from corner wear). Last but definitely not least, moisturizing your bag is everything! Keeping your bag properly moisturized helps reduce scratches, prevents rippling and cracking, and is key to avoiding DRY ROT.
CONNECTIONS
Being apart of a community where you can share knowledge, personal experiences, and advice can be super helpful when making big decisions. I've been a member of the PurseForum since 2012 and find the platform so incredibly valuable. Whether you're looking for modeling shots of your bag, doing research on a future purchase, or looking for a trust worthy repair person, they always have great answers. Also about that repair person; when you find them, hold them closely and never let them go. Well ok maybe that's a bit much, but finding someone you can trust to work on your precious pieces gives you the freedom to wear your bags more freely.
Also do not underestimate the power of your Sales Associate, they can truly make the difference when it comes to your experience with a brand. Aside from just helping you get the latest bags, or giving you heads up on sales, they will often go above and beyond for their loyal customers. That could mean rushing your repairs, or getting advice from their craftsmen, and paying personal attention when handling your other after care needs.
Lastly, when shopping consider bringing a non-bias friend. I like to shop with people outside of the purse community as they help provide a perspective outside of my own. For example: do I really like this bag, or do I just know it's a deal for the brand? Outside sources tend to be not as sensitive to things like brand names or when the item was seasonally released for example, so they can act as reminder to stay on track and help make sure you purchase what you really intended to.
REFINING YOUR COLLECTION
Learning how to refine your collection is one of most exciting, yet frustrating aspects of collecting. There have been bags that I've adored that just didn't suit my needs leaving me frustrated. There have also been some purchases that I thought were a good deal, but ended up never seeing the light of day. I've found that I can avoid these feelings by not making it all about market and resale value. I've found that spending more on something I know I will wear, despite its perceived value, is always more satisfying.
Learn from ghosts of handbag's past too. If you've found that a certain silhouette just didn't work for your lifestyle in the past, avoid purchasing it again. This sounds like an obvious one, but I cannot count the times I've made this mistake myself. Even with that being said, don't forget to break some rules, take risks, and have fun with it. Some of my favorite bags to style are bags that I purchased despite their unknown resale value.
If you want a safer bet, vintage is always a good idea. Most of the bags in my collection are vintage (20+ years) and I do find the quality to be generally better. But the real plus of vintage is that a lot of the pieces are unique, so there's less chance of getting burnt out seeing it everywhere. Fashion is also cyclical and there's a good chance that bag's value will skyrocket when it has its moment again.
Due to this recent pandemic, and our current economic climate, it will be a long time before I purchase another premier designer bag. I hope this advice is something that you all find valuable for future purchases, or if you are fortunate enough to be able to make a purchase. Now more than ever I am turning to my communities for inspiration and companionship and invite you to tell me your thoughts, anecdotes, and what you think the future of collecting will look like in the comments. Stay safe!