Let's be honest, there has not been much praise from the PurseBlog team given to Versace. And it is kind of sad, because Versace is one of the most well-known design Houses alive. Today I have found a Versace bag that still will not appeal to many, but has some aspects that are totally quirky but alluring for me. I'm ready for the comments saying otherwise (and hopefully some that agree with me).
The bag I will be reviewing today is the Versace Block Color Python. We first see bold eye-catching colors that stand out, including turquoise, yellow, and white python offset by tan leather panels. And then there are studs. And a chain strap. And everything seems to get a little overwhelming. That is what Versace does though, create bags that are entirely packed with color and design elements that can be seen as over-done. Yet somehow this bag works for me.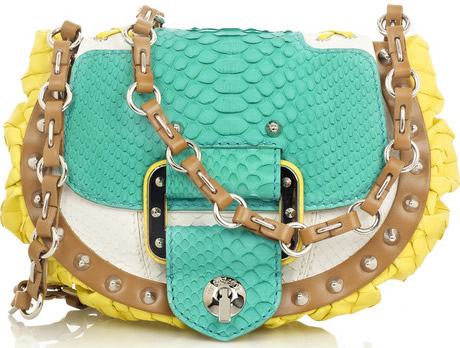 I don't doubt that even looking at this bag, the elements may appear to be overdone. But they are over-done just right, not overly-done. And I can handle it. And I even want to wear it with a pair of jeans and button up blouse. I always talk about jeans, because I literally almost always will be found in jeans. No lie there. And when you are a jean and simple top wearer, your handbag is allowed to be ornate and is allowed to add pizazz to you outfit.
This collection from Versace is inspired by Tim Burton's Alice in Wonderland. The use of color and panels makes sense, though I am not remembering many pastel hues from the movie. Nevertheless, the small bag with the long chain handle is all the rage right now. Versace prices are always on the high end of the spectrum, as it is with this bag. Buy through Net A Porter for $2,895.