Valentino using a bow with their handbag design. In fact, I am not finding fault with the bow design, in fact, I am quite a fan of it. However, I actually didn't even see the bow at first with this bag. Instead I was a tad overwhelmed with all of the studding. We've gone back and forth for months now about the use of studding on handbags. Yet, this is the first one that actually stands up and says, "love me or hate me, you WILL notice me".
This is not the first time we are seeing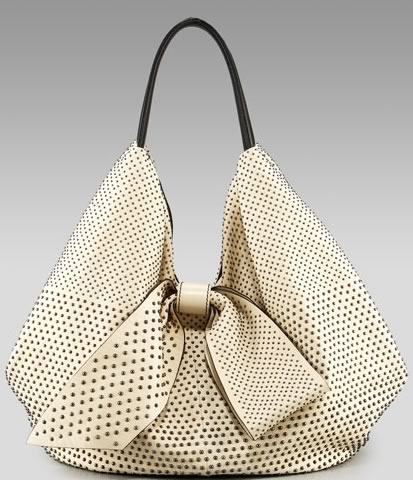 Leave it to Valentino to pull together a handbag with a very noticeable look. The Valenitno Shiny Nappa Studded Tote has a fabulous design which is nothing but lost behind all the studding. I for one am a fan of studding, when done correctly. However, here, it looks as though someone was a bit too stud-gun happy.
I am completely disappointed that such luxurious, creamy and soft leather has been overtaken by mini studs. This handbag would be a knock out if it weren't for all the studs. Don't you think? Per usual, Valentino handbags come with a hefty price tag, but the overall design of the bag is timeless and classic. So, if I were looking for an investment piece and was willing to drop big bucks, this bag would be right up my alley if it weren't for all the studs. Buy through Bergdorf Goodman for $2695.