I know that many of our readers are categorically opposed to fur, but the material is so trendy for fall that we wouldn't be doing our jobs correctly if we ignored it. Most stores only have early pre-orders available for their cold-weather collections, and already fur bags from major designers are starting to show up here and there.
Of the options I've seen so far, the Tod's D-Styling Bauletto Medio Bag is easily my favorite. Instead of taking on the bushy, overly plush look that befalls so many fur designs, the laser-cut fox has a finish that's both luxurious and visually interesting. This bag is one of very few that I've seen where the use of the fur actually adds something to the bag's aesthetic.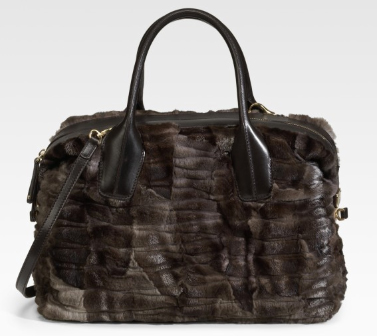 Depending on your feelings on fur, this bag is either a smart take on a big trend or an overpriced, dubiously ethical fluff ball. Principally, however, my job is to decide whether I think it's a nice looking bag, and I think that it is. I don't understand why it wouldn't be just as nice looking in faux fur, though. Buy through Saks for $1995.