We all know that drawstring bucket bags are a huge trend for spring and summer, so we thought we would examine the bag that created the genre: the Louis Vuitton Noe Bag. More specifically, let's talk about the style and function of the Louis Vuitton Epi Petite Noe.
As with many other iconic bags, the Noe was created with a specific purpose in mind: carrying a bottle of champagne. The design debuted in 1932, and it eventually expanded beyond its original purpose to become the popular shoulder bag that we know today. Drawstring bags had their first burst of mainstream popularity in the 80s, and just like everything else from that decade, they've become popular once again.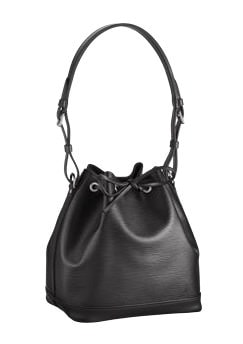 For the record, I would count myself as moderately pro-drawstring. It's not my favorite shape, but when done correctly (and this utterly elegant Epi leather version can definitely be described as "done correctly"), the bags are a timeless option for those that like a roomy shoulder bag. Not only is the story behind the design great, but the bag is functional and stylish. How do you guys feel about drawstring bags? Buy through Vuitton.com for $1160.