It came on suddenly for fall 2016, and last fall it was back with a vengeance—yes, my friends, I'm talking about velvet. Whether or not this trend is as big as it was last year—was fall 2017 the climax?—remains to be seen, but one thing I know for sure is that designers are still out there including velvet bags in their fall lineups. Many are releasing fan favorites in this new fabrication, but some are designing brand new bag shapes and giving us a treat by creating them in velvet as well. This fall, Valentino gave us a treat with its new Rockstud bag: The Valentino No Limit Bag. Like the Rockstud bags of the past, I loved this bag immediately when I saw it, and when Valentino sent us options to shoot, I was super intrigued by the velvet version. Not surprisingly, I loved it in black, and when I saw it in person, I thought it was the perfect velvet bag for fall.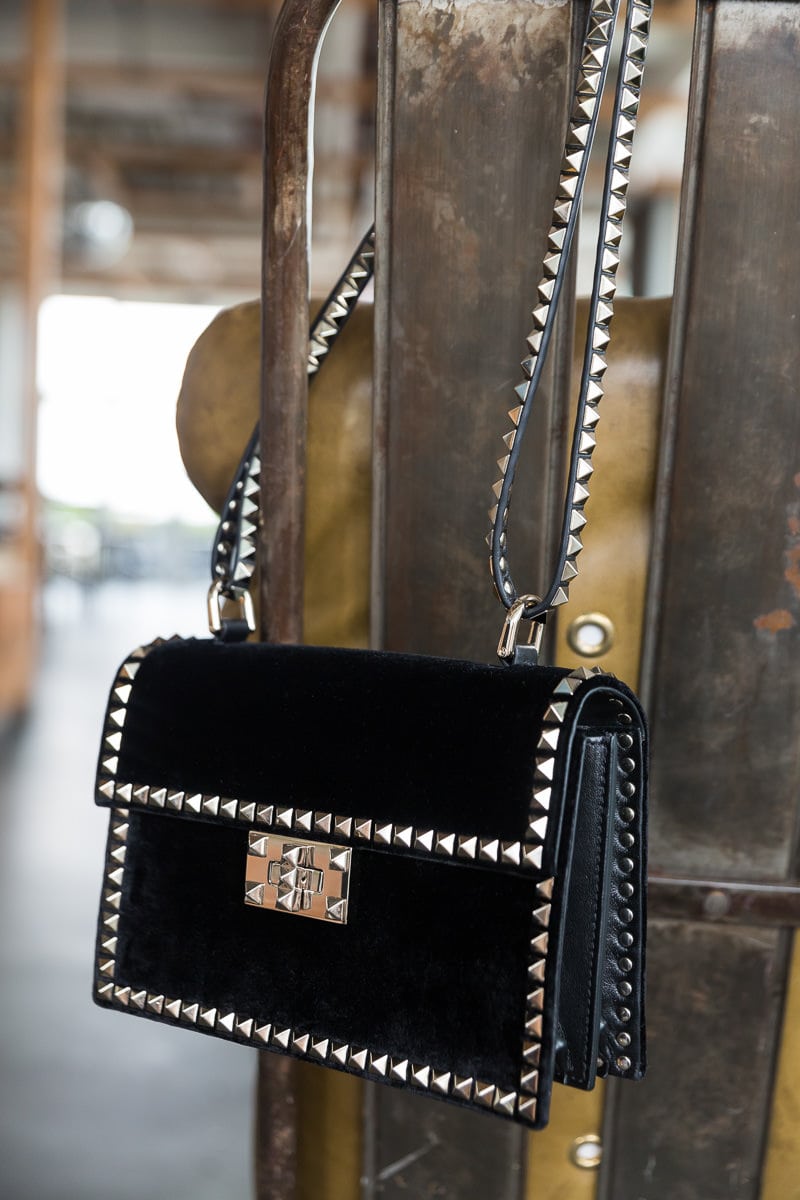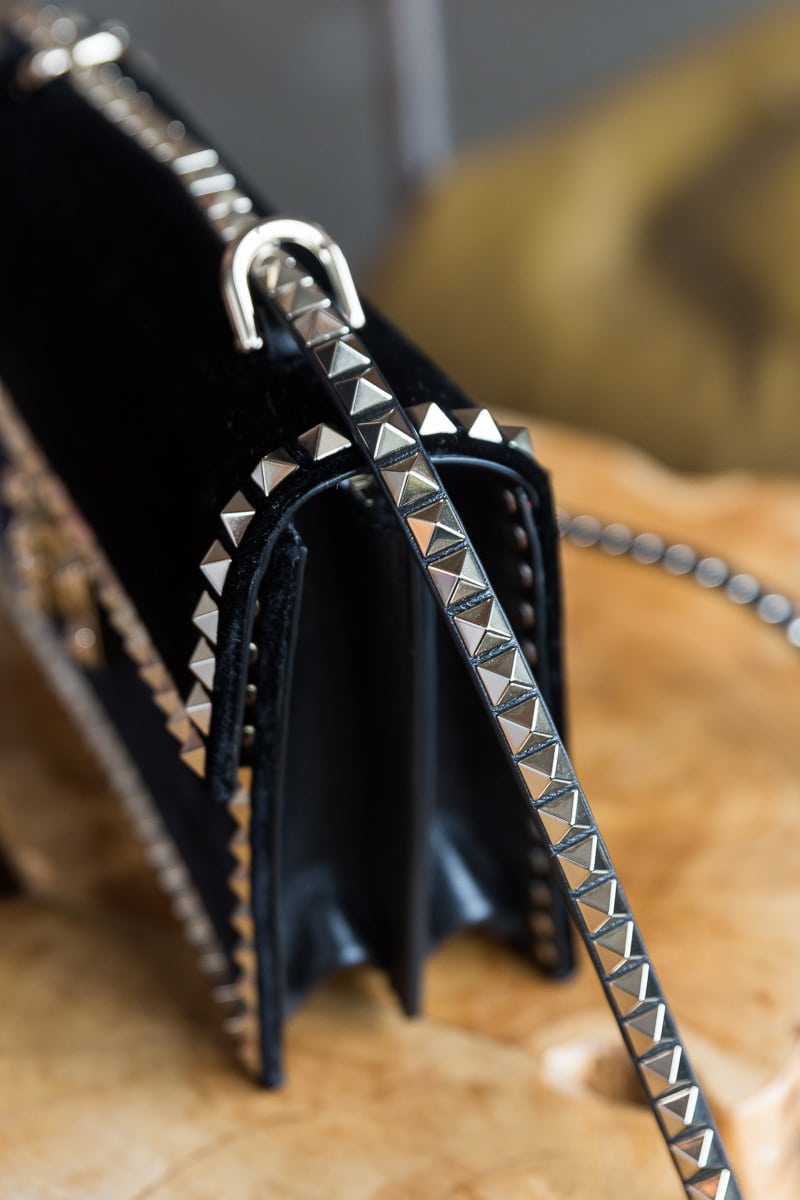 Like the Rockstud bags of the past and present, this bag is eye-catching and elegant. Valentino does details so incredibly well, and this brand new addition to the Rockstud line is no different. The studs are not too big, nor are they too small—they're just right! The studs lining the bag work so well with its rectangular shape while framing the pretty black velvet fabric. The bag features a shoulder strap, which is completely studded as well, and though it's not adjustable, it can be doubled.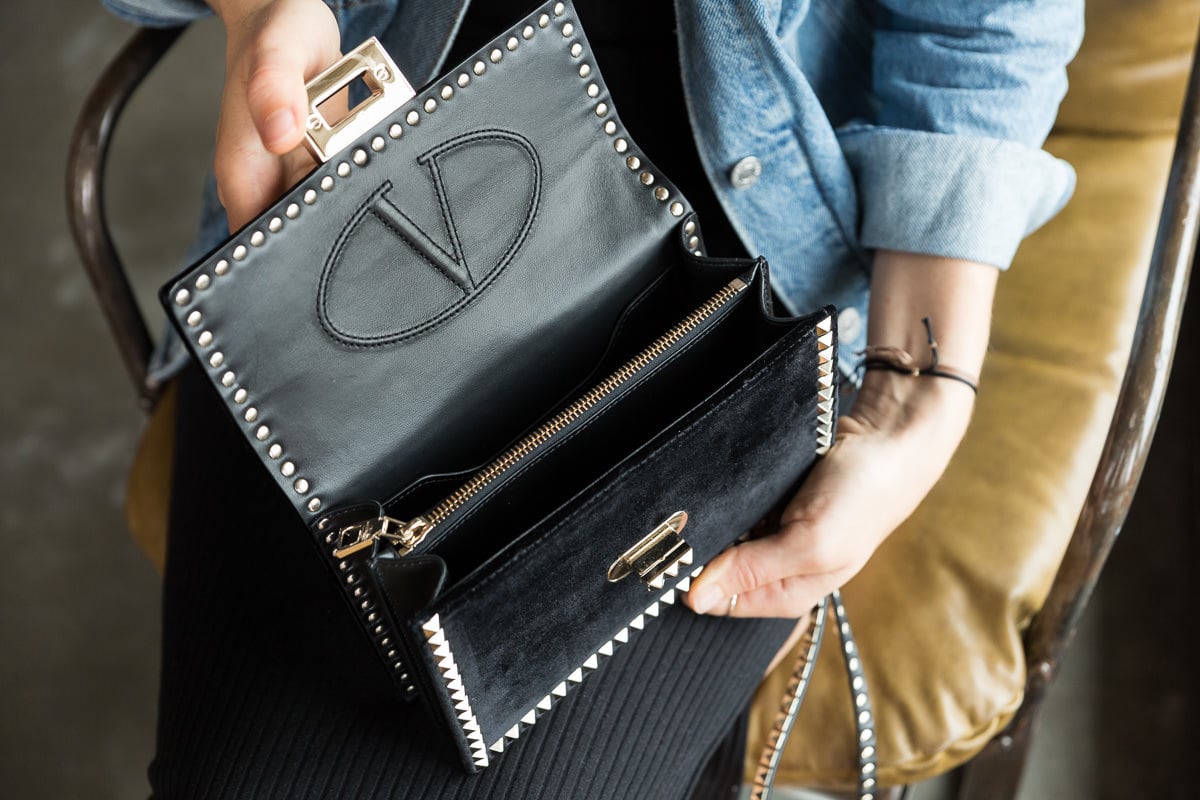 The No Limit bag features a classic flap with a turncock closure that also features four Rockstuds, with one in each corner. This structured bag is fairly roomy inside, as it has two compartments that are separated by a long zippered pocket. Also inside on the back interior of the bag is a long slit pocket, and outside on the back there is a small slit pocket, which lately is my new favorite bag feature! I wish more designers would start doing this on their bags. Overall dimensions of the Rockstud No Limit Bag are 5.9″H x 8.3″W x 3.2″D, which retails for $2,445 via Bergdorf Goodman.
If you're looking for a bag that's been around the block a little bit more, than look no further than The Valentino Rockstud Spike Chain Bag. We've covered this bag in the past, and it's a bag I loved then, and still love now in this stunning black velvet version. I've considered getting this bag so many times, both when it was brand new and over the last couple of years since. Something about the all-over studs really catch my eye, but I love this bag even more in black velvet. There's just something about the combo of Valentino's silver-toned studs and the soft black velvet that I really adore—that goes for both of the bags we shot, and if you're into finally adding a velvet bag to your wardrobe, this would be the way to do it. The Rockstud Spike Chain Bag in black velvet retails for $2,745 via Farfetch.