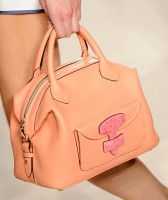 Did you think that we'd stop covering Fashion Week collections just because Fashion Week is over? NEVER! Now that the chaos has died down, we're going to go back and take a look at some of the smaller brands who got lost in the shuffle, starting with Loewe's Spring 2011 handbags. Regardless of whether or not these bags appeal to your personal sense of style, Loewe definitely wins the season's award for Most Unabashedly Gleeful Handbag Collection.
Sherbet has never been my favorite dessert or color palette, but somehow, Loewe creative director Steven Vevers makes it work on the clean shapes for which Loewe is known. Much has been made of Vevers' arrival at the brand from Mulberry and has commitment to New Minimalism, but these bags don't strike me as minimal so much as classic. Flourishes like haircalf leopard print and tiny appliqued flowers hint at the transformation Vevers made at Mulberry, so we'll see if his newfound support for minimal design actually bears itself out over the next few seasons.
Photos via Vogue.com.