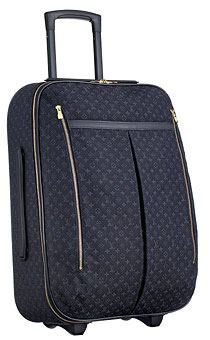 We all travel. And we all carry luggage. The thing about luggage is that usually we don't think about it as a fashion statement; beleive me, it is. Have you ever thought about how many people you pass from airport to airport, not to mention picking up your luggage at baggage claim. Do you want to be that person picking up the unmatching, worn in, ugly baggage or the one who everyone watches picking up your matching LV baggage? I damn well know I'd love to be envied, rather than pitied.
Do us all a favor, trash the old stuff and buy yourself some totally trendy luggage.
I suggest the totally obviously hip Louis Vuitton Annette luggage on wheels. For a short weekend trip, this will do the trick. The bag allows for easy travel and sports the LV black monogram canvas with leather trim, sturdy noiseless wheels, and a double zipper with a pretty spacious inner compartment. The bag is not huge, but can be used as a carry on bag and fit nicely overhead so you can avoid baggage claim, which is alwaya a huge plus. As with any other Louis Vuitton bag the price isn't cheap, but who cares if you can look that good. Goes for a steep price tag of $1,780.