Note: I wanted to add some details about the bag. The De Couture Tote has leather lining behind the perforation with a bit of little gold peeking out, which is really subtle. Because of this, the bag will not get dirty. Also, the bag wipes completely clean with a damp rag. I just wanted to add this for those of you worried about the bag getting dirty easily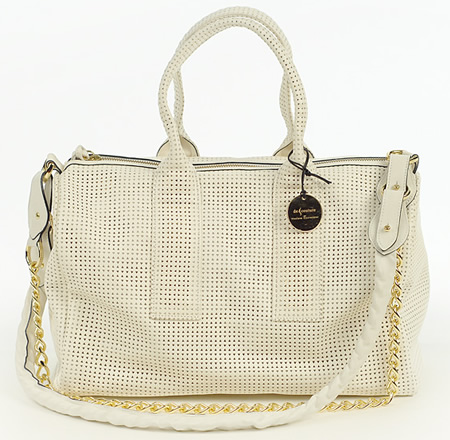 De Couture Perforated Leather Tote
Our friend Sari Brown, who owns Lux Couture, has brought us new designers along with new bags time after time. Most recently you all, along with me, fell for the D'Angel Tia Tote which was such a hit that we (as in Purse Bloggers) bought out all of the stock at Lux Couture. If you are still interested in this bag and it says out of stock, just tell Sari we sent you and she will take care of you. Sari has always brought me new information on new designers who many times have hit it big (Katherine Kwei and Jennifer Alfano come to mind!). The next designer that is on the radar of Sari and I is De Couture.
Just in time for the white hot bag trend is the De Couture Perforated Leather Tote. This bag has been a favorite among magazine editors, and the clean sporty white appeal must be why. The perforated leather is found on top of a layer of plain leather and this duffel is the ideal casual chic bag. The LV perforated bags were huge hits, but the blank canvas of this bag gives a calming feel. The handles are are designed with covered leather chains and there are two shoulder straps (one chain and one leather covered chain). I am continuously hearing about the move from well-known designer labels to the more unknown, unbranded bags. Now is the time to do this and now is the time to bring out your white handbags. Measurements are 15.5″ w x 10″ h x 6.5″ d. Available through LuxCouture for $1,750.
Vibri Wulandari and Dewi Sugiarto began their line of exotic skin bags by making small purses just for themselves and friends that could be worn both during the day with jeans and at night with cocktail dresses. With such a real-life, practical focus from the beginning, it's not surprising that their collection of handbags is extremely wearable and classic. Made in Indonesia (both are from Indonesia, Dewi now lives in Jakarta, while Vibri currently resides in from Vancouver), the python, cobra, watersnake and lizard skins used are tanned in a traditional way that gives each their unique appearance and adds to the chic, luxurious look of each hand made purse.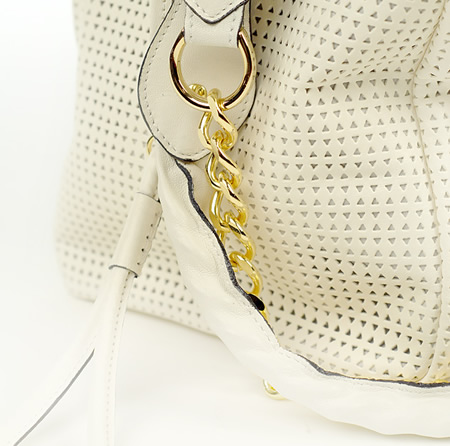 De Couture Perforated Leather Tote close up